Avocado toast with za'atar oil
Ever since the guacamole song, I've had a split relationship with avocado. Every time I think of the delicious fruit, I hear that stupid song in my ears. It's maddening! "Peel the avocado - peeeeel the ... guac-amole..." AAAAAH!
Nevertheless, I don't let it spoil my quick and healthy breakfast! The combination of freshly toasted, crispy toast and creamy avocado is just too good. And when the topping with the za'atar oil is drizzled over it... "Guac-amole Guac Guac-amole". You don't know which song I'm talking about? Okay, then look - but don't say I didn't warn you!
You can watch the video here: Terrible Avocado Song.
Still here? Okay, then I wish you a nice weekend in the loony bin - and of course GOOD APPETITE 😅
---
Recipe for avocado toast with za'atar oil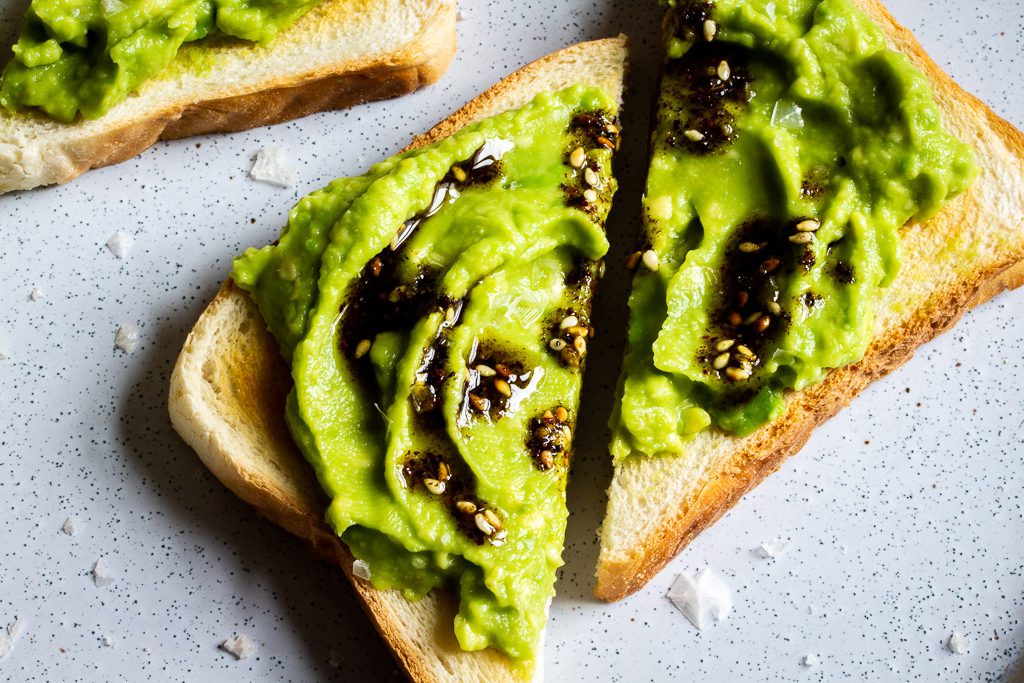 Print recipe
Save recipe
Saved!
Preparation
Mix the za'atar with the olive oil and leave to infuse for 10 minutes.

Scrape the flesh from the skin and mash with a fork to make a cream.

Toast the toast in the toaster until crispy.

Spread the cream on the toast and pour the za'atar oil over it.

Season to taste with salt flakes. (Alternatively, normal salt also works, of course)
Nutritional values
Calories:
150
kcal
|
Carbohydrates:
16
g
|
Protein:
3
g
|
Fat:
9
g
|
Saturated Fat:
1
g
|
Polyunsaturated Fat:
1
g
|
Monounsaturated Fat:
5
g
|
Cholesterol:
0.2
mg
|
Sodium:
134
mg
|
Potassium:
275
mg
|
Fiber:
4
g
|
Sugar:
1
g
|
Vitamin A:
83
IU
|
Vitamin C:
5
mg
|
Calcium:
37
mg
|
Iron:
1
mg