Christmas menu from the Levant
When you think of Christmas, in your mind's eye you usually see a warm living room, a beautifully decorated Christmas tree with lots of presents underneath and a festively laid table with delicious treats. Outside it's snowing beautifully and there's Christmas goose, potato salad with Wieners, roast venison with dumplings, proper gravy and red cabbage, for example. These are all dishes that I associate with Christmas and also enjoy incredibly. But I can imagine that there are some of you who would also like a little variety at Christmas. It's definitely worth taking a look at a region that many people don't expect to have a Christmas flair: the Levant.
Christmas in the Levant
Personally, I was never lucky enough to spend Christmas with my extended family in Lebanon. The visits there were always limited to the summer. That's something I should change. But here in Germany, I'm lucky enough to get two big menus right away at Christmas. Since my mother's birthday is also on Christmas, I will be with her and my siblings on 24 and 25 December, and on the second holiday I will be with my parents-in-law.
But back to the Levant... It's also wonderfully Christmassy there. Christmas markets and Christmas lights are set up and everything is beautifully decorated. In Beirut, for example, there is even a classic Christmas market with many stalls offering their wonderful treats. Lebanon in particular is characterised by a great diversity of denominations, but at the table it looks very similar everywhere. So what specialities are there in the run-up to Christmas and what is served as a Christmas menu on the holidays?
I can tell you one thing right away: even if it's hard to imagine, there is no classic Christmas menu in the Levant. There is also no order of courses. Nevertheless, I have made a small selection for you here for a great Levantine Christmas menu.
Festive pastries
Before the Christmas menu is served, people in the Levant are also busy baking. The best-known and most popular biscuits are probably the filled ma'amoul and the wonderfully buttery ghraybeh.
Ma'amoul are baked for Ramadan, the Feast of Sacrifice and Christmas. They classically come in two super delicious fillings. One filling consists of a mixture of nuts and spices and the other is filled with delicious date nut. Personally, I can't decide which one I prefer. So I always take both...
Christmas menu? Until the tables bend...
At Christmas, my mother serves a selection of "simply everything! Just the complete "Best of Badia" is served, plus pastries and a few snacks for "in between". As you can probably imagine, I'm completely comatose on these days and can hardly get off the couch as I'm fed more and more food even there.
As already mentioned, you won't find a classic Christmas menu in Levante. But that doesn't mean it's not just as delicious and festive. The tables are filled with many different dishes, creams and salads in no logical order until there is simply no more room. At my mother's, sometimes even a small table is added because not everything fits on the big table.
At the in-laws' house, things are a bit more "civilised". There is more food than I can eat in one day, but here we have a menu with delicious dishes from my mother-in-law.
Feel free to let off steam in the blog categories Classics and Mezze. Somehow, everything always goes well together. To help you make your choice, I've put together a few recipes that will make a wonderful Christmas menu.
Starters for the Christmas Menu
Hummus with roasted Brussels sprouts
The classic chickpea cream hummus has become an indispensable part of world cuisine and can be combined in an absolutely ingenious way. This version is a fusion of creamy hummus, delicious roasted Brussels sprouts and a fresh, tangy mint-sumac dressing. So delicious that, in theory, you don't need anything else. For me, this dish is the perfect starter to a Levantine Christmas menu.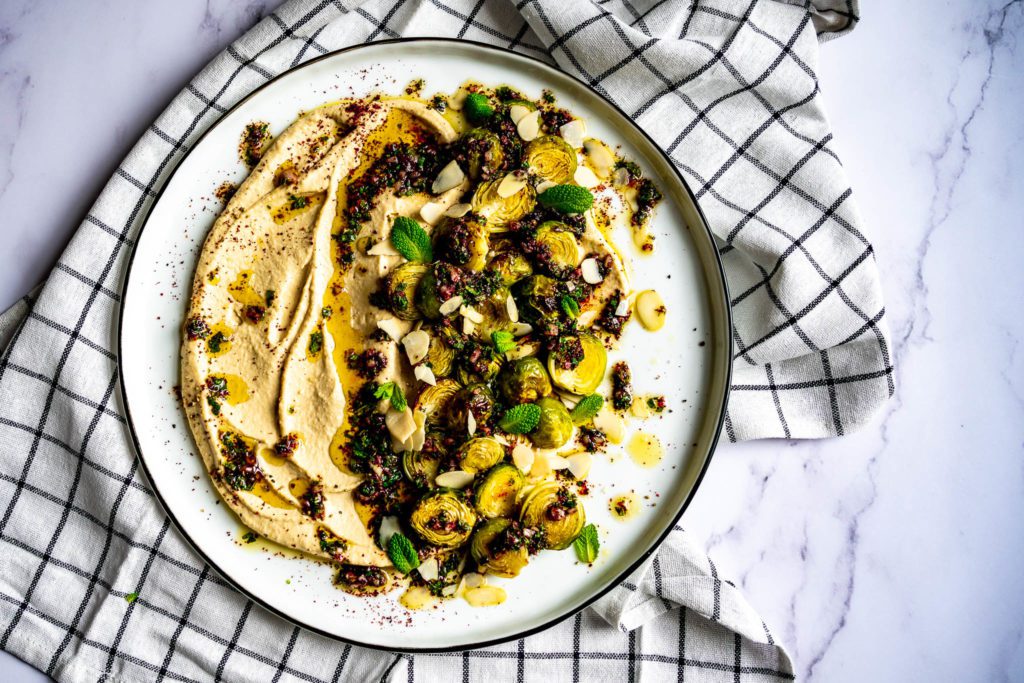 Pita bread
No Levantine table without fresh pita bread! How else are you supposed to eat the creamy hummus? With a knife and fork? Never!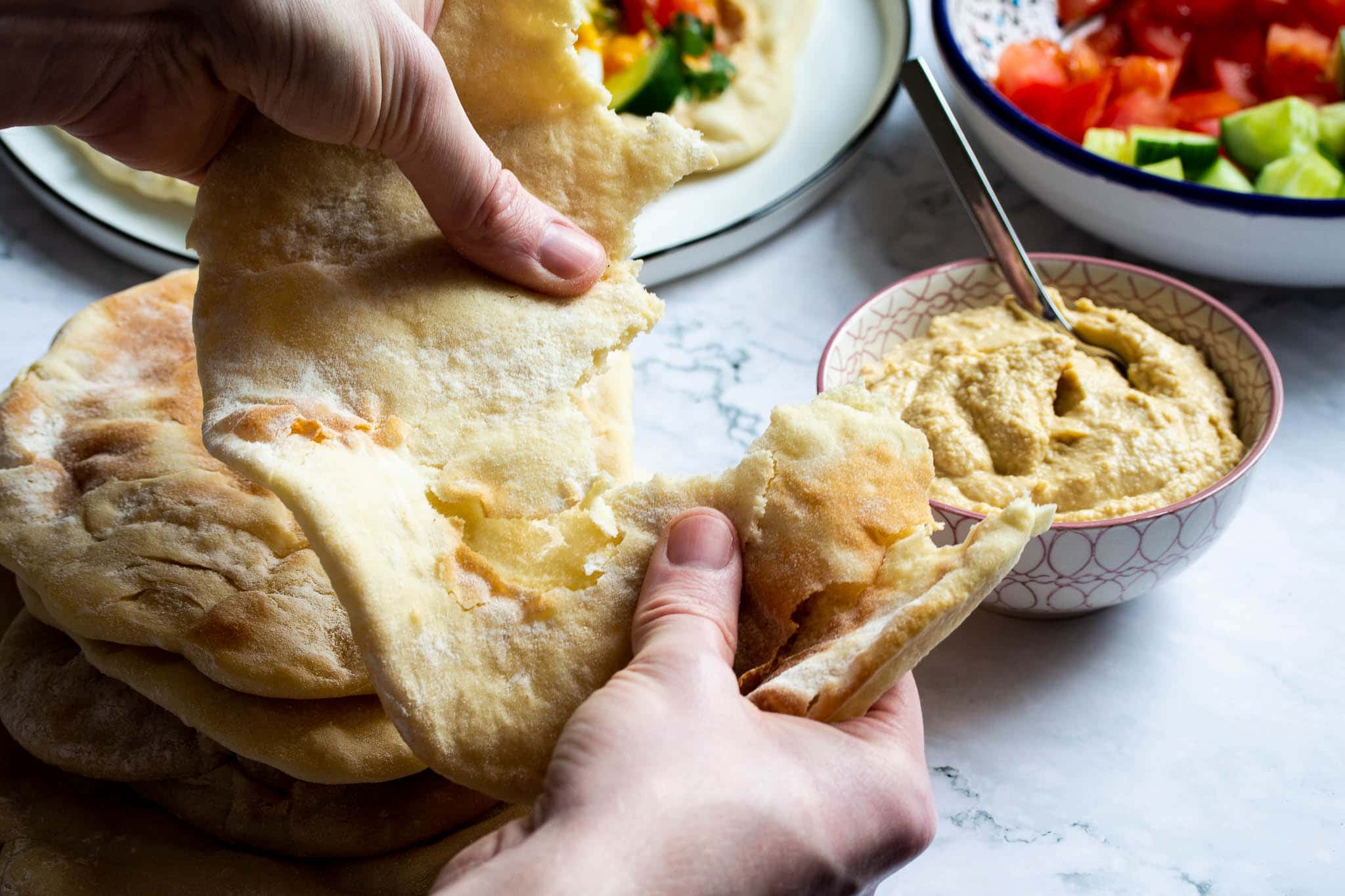 Persimmon mozzarella
Tomato-mozzarella is popular all over the world, and rightly so. A slightly different variation is this salad with persimmon and mozzarella. The typical Levantine flavours are here in the delicious coriander-sumac dressing.
Taboulé
If there is one salad that is a must on a Lebanese table, it is the classic parsley salad taboulé. Even if some supermarkets try to sell you something else, this is not a couscous salad, but a salad made of lots of parsley and a little bit of fine bulgur. In terms of colour, taboulé also goes perfectly with the Christmas tree.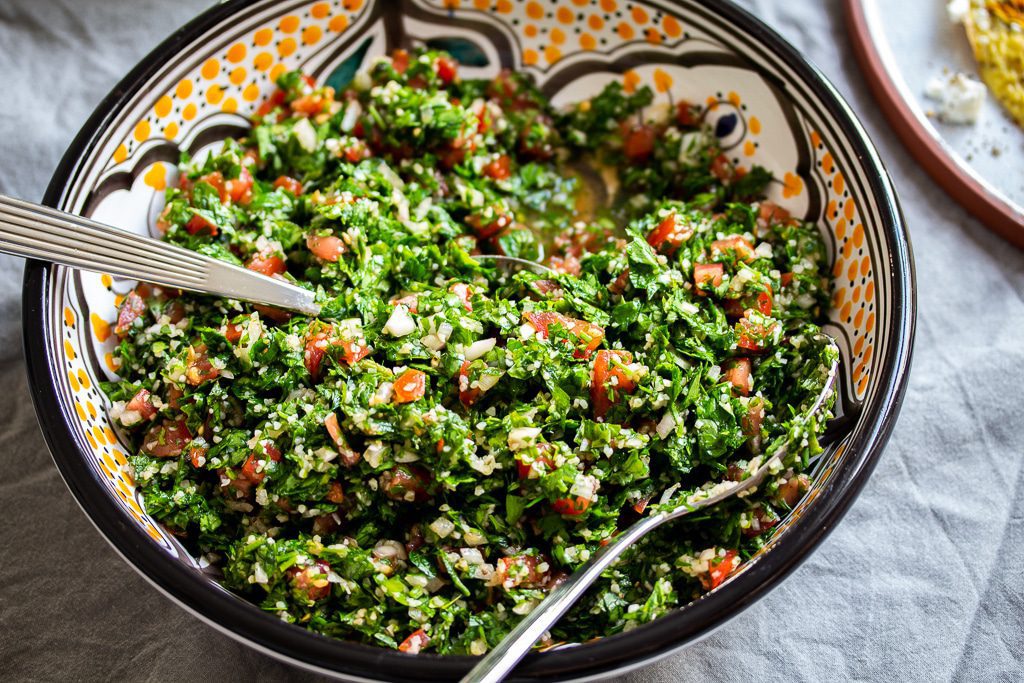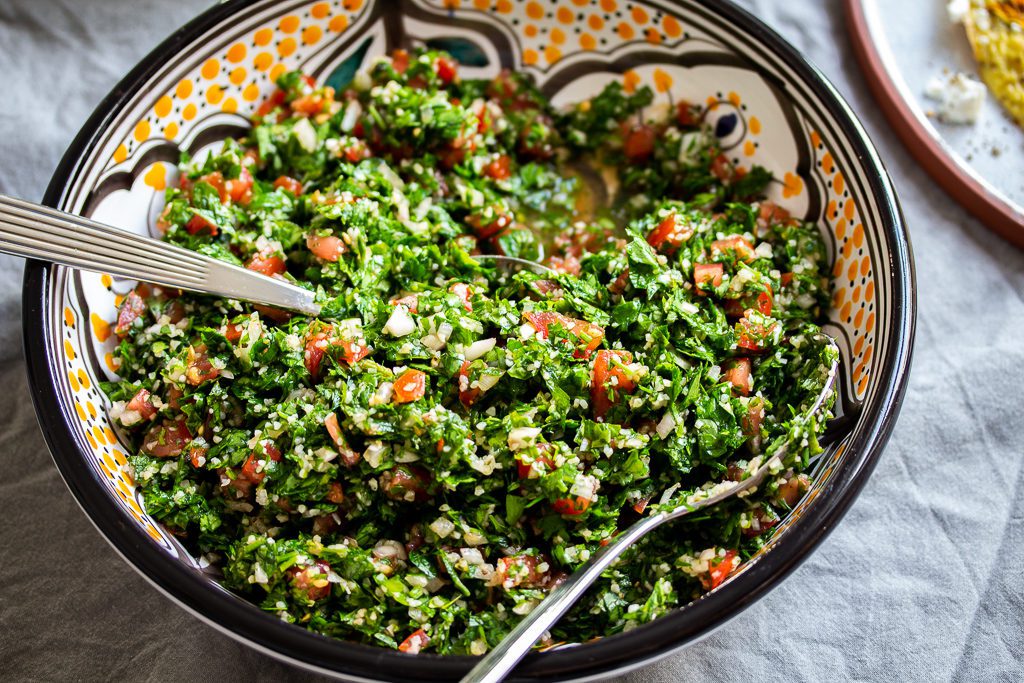 Main courses for the Christmas menu
Musakhan
Musakhan is a dish that is festive through and through. Originally, it was always used to celebrate the olive harvest and thus also the olive oil extracted from it. Really good olive oil can not only be used cold for salads, but also heated very well. That's how this dish got its name: Musakahn means heated - and this refers to the heated olive oil that finds really great use in this classic dish. Musakhan is really very easy to prepare and doesn't require that many ingredients, but it tastes like a real feast. A perfect main course for a Levantine Christmas menu.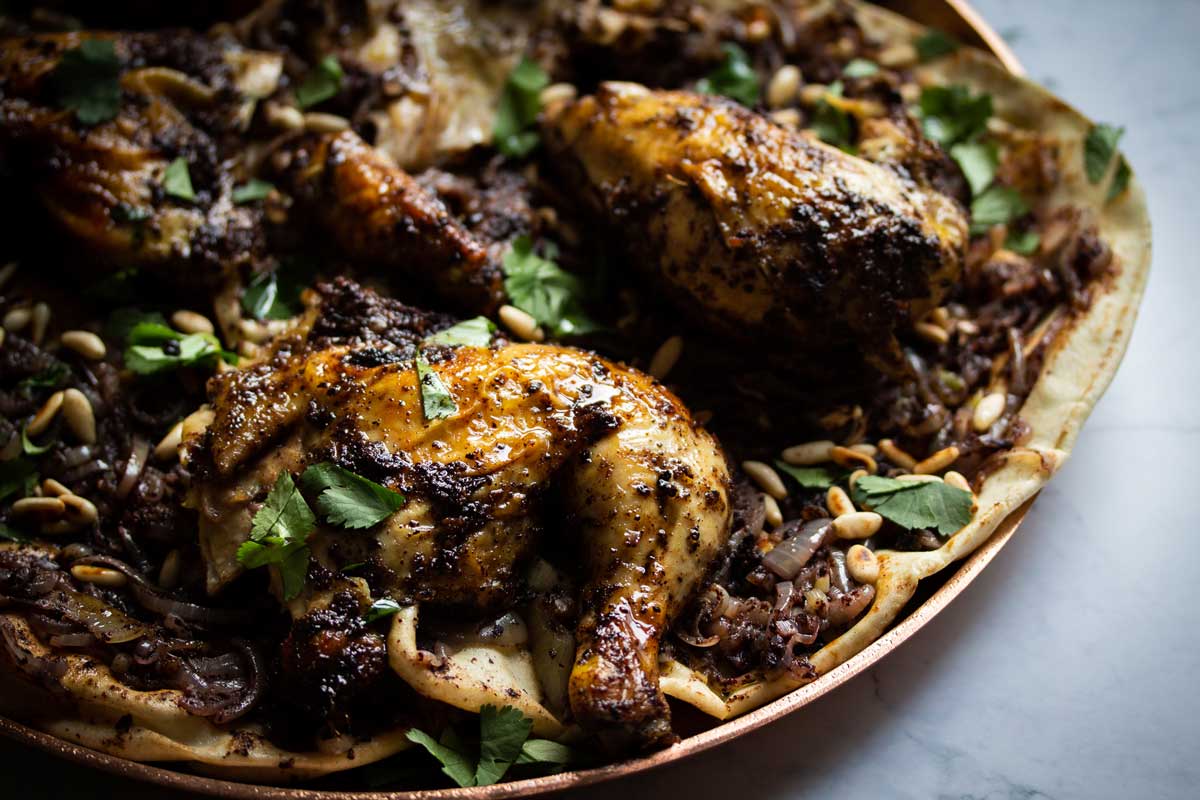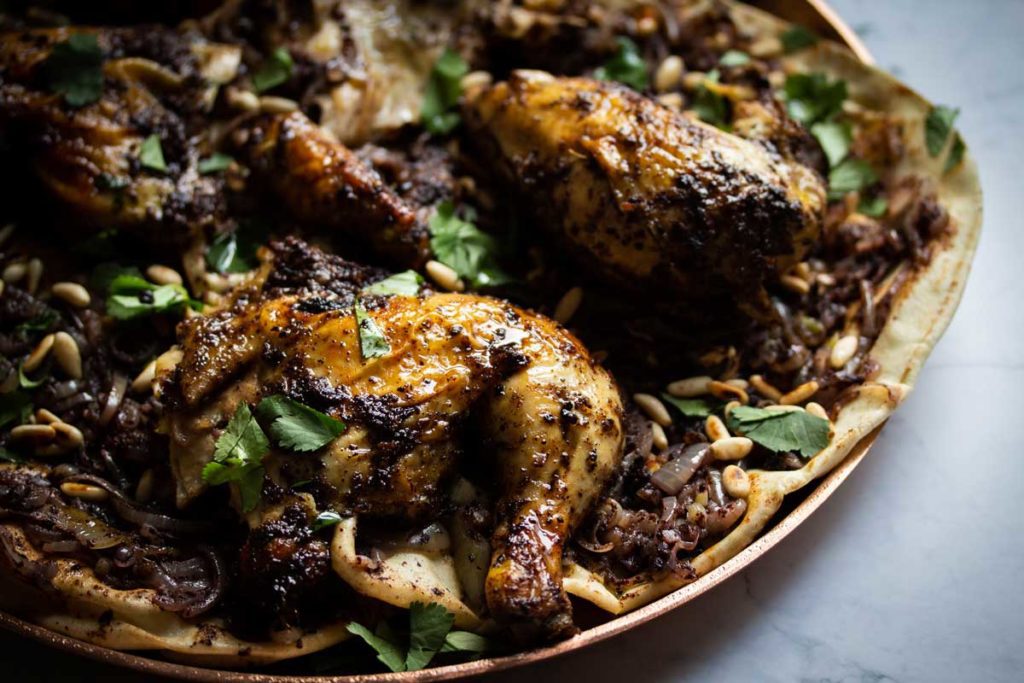 Aubergine Fatteh
As a vegetarian alternative to musakhan, I would like to warmly recommend aubergine fatteh. Fatteh is a classic dish that is prepared throughout the Levant and the Arab world. The name fatteh comes from the fact that pita bread is plucked into pieces for the dish. Plucking = Fatteh 😉
The pita bread is toasted and a warm yoghurt-tahini sauce is poured over it. On top, there are pine nuts roasted in ghee or butter. Believe it or not, fatteh is classically a breakfast. There are now many variations of fatteh - one of the most popular is with aubergine.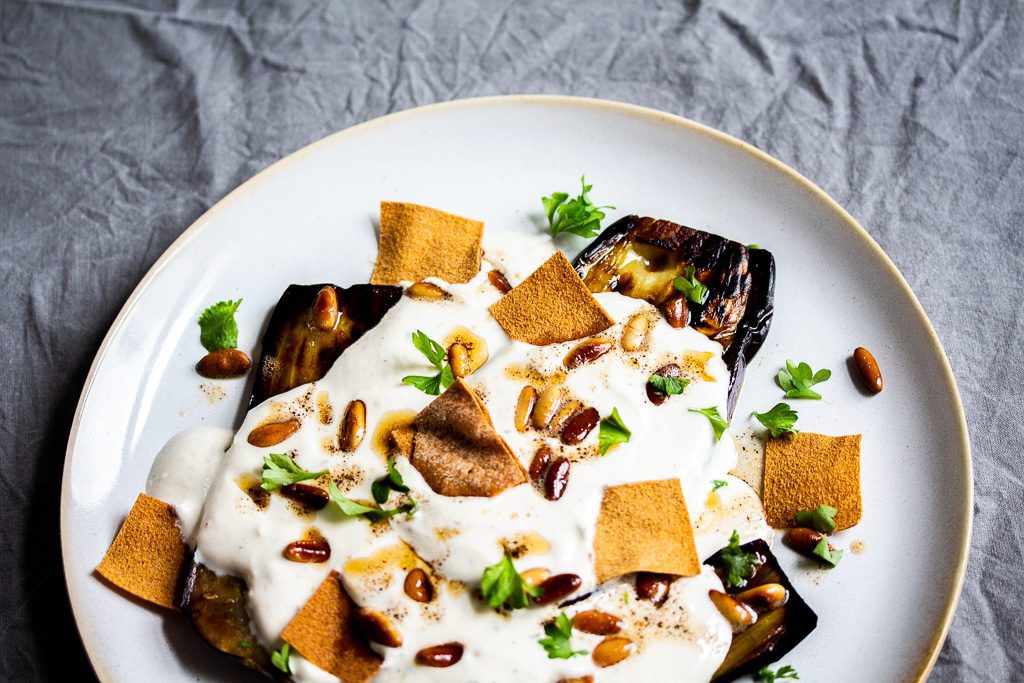 Desserts for the Christmas Menu
Meghli
Meghli is a rice pudding that is classically always prepared for the birth of a child. So it's no wonder that meghli is also a popular dessert at Christmas. The delicious pudding is garnished with coconut and a whole range of seeds and nuts.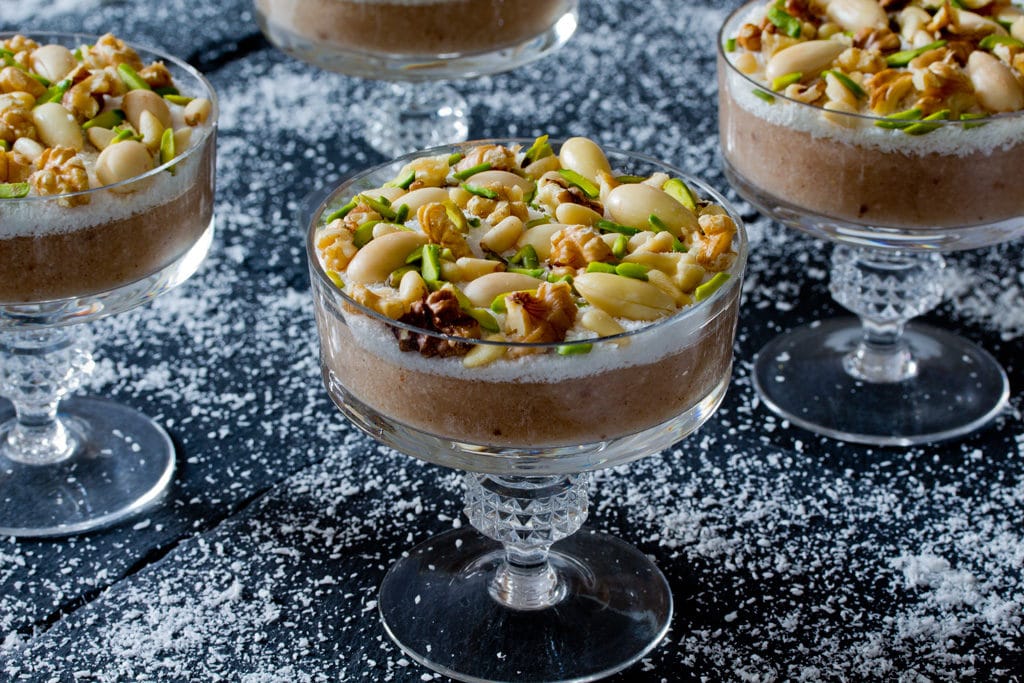 Muhalabia
Muhalabia is also a classic pudding that can be served plain or garnished with a delicious compote of your choice. I personally like muhalabia with a compote of strawberries and rhubarb. But be creative - at Christmas, cranberries and the like will certainly fit here too.
Knefeh
Knefeh is probably one of the most popular desserts in the Levant. People just can't get enough of it. And what's also super nice is that there is always a slightly different way of preparing it, depending on the region. The Lebanese version is called "Knefeh Na'ahme" - which means something like "soft" or "tender" Knefeh. The dessert got this name here because the topping is not made of coarse kadaif, but of a grated semolina dough. In my recipe, I show you a few tricks that make the recipe super easy to prepare from simple, local ingredients. In any case, Knefeh is a worthy end to a great Christmas menu.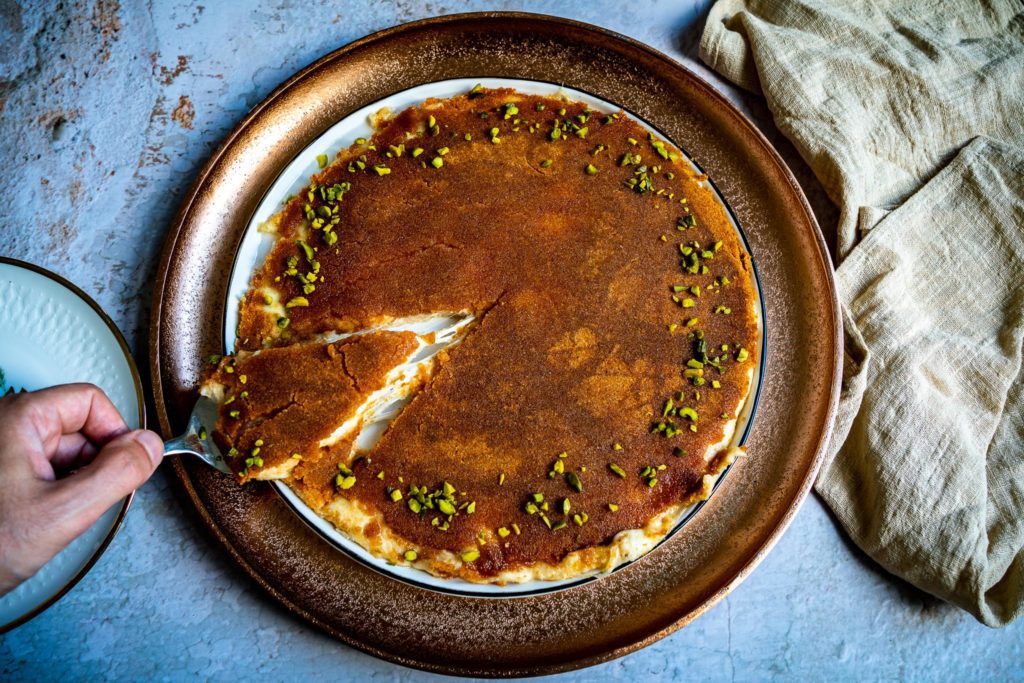 I hope I've whetted your appetite and inspired you to try a slightly different Christmas menu. If you agree that a great menu doesn't need to be in order, then make a really big mezze table at Christmas - until the table bends.
If you want to learn more about Levantine cuisine, take a look here.