Falafel: This recipe makes them perfect!
I don't even know where to start here... When we came to Germany as refugees from Lebanon in 1984, falafel (these delicious vegan meatballs made from chickpeas) were largely unknown - or at least not really widely available.
I was 3 years old at the time and I can hardly remember that time. My parents told me that we were stranded at the airport in Berlin at that time and just went on by train. My parents, who didn't speak a word of German at the time, just lifted their passports at the ticket check and said "Asylum?".
When we were allowed to move from the refugee home to our first own flat - we lived in a small village in the Lüneburg Heath - my parents began to make friends with the villagers. And so I did too - in kindergarten.
While my parents unfortunately struggled a bit with the language, I soon spoke German better than Arabic! Even my dreams and thoughts were in German - my parents thought it was crazy, but good. But we still speak Arabic in the family.
Back to the falafel. On my birthdays - or those of my siblings - my parents always liked to invite the neighbours and their children as well as the classmates. And now guess what they always had for dinner?! That's right, falafel!
Falafel as a meatball with hummus or baba ghanoush. Rolled into a wrap with tahini sauce (or rather, a wrapped bride). With ketchup, with mayo, mustard, plain or - disgustingly - dipped in cola... Yes, kids try funny things....
All right, there was cake too, of course 😉
You quickly get to know a foreign culture through its cuisine. My parents always made the greatest effort to share our (food) culture with their friends from the village, and we in turn took part in the village life with curiosity.
In every kitchen there is a real star - for us - but also for our Israeli or Syrian neighbours - it is the falafel. And in the meantime, falafel are known everywhere and enjoy extreme popularity.
So the vegan meatballs played a big part in our integration - a very tasty part, in fact.
I would also like to thank our former neighbours from the village of Wieren for their openness, help and warm-heartedness!
---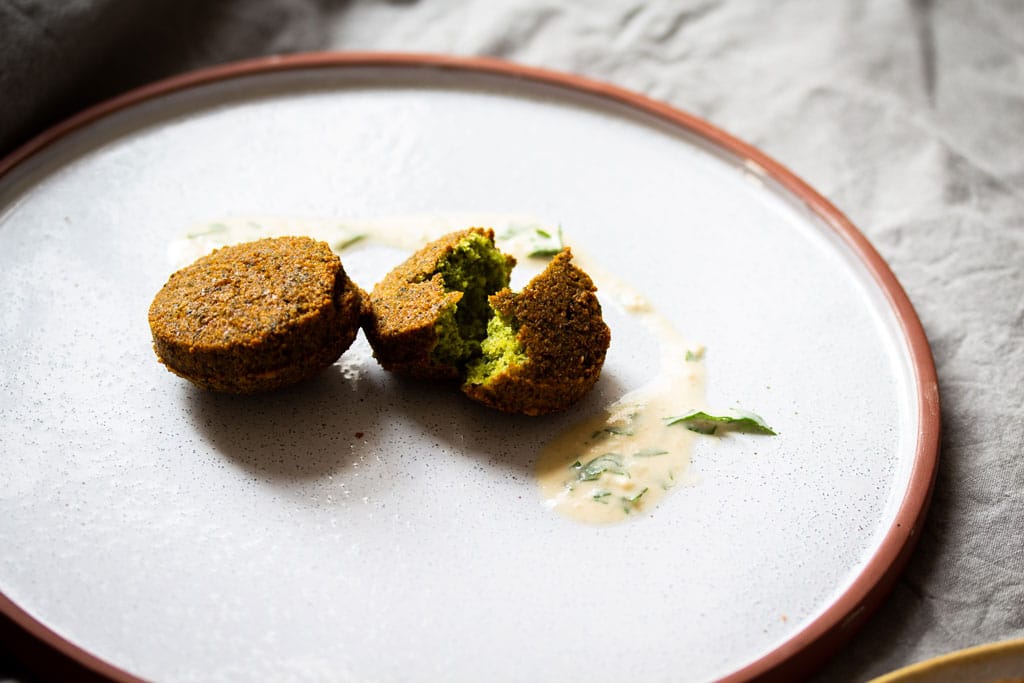 Print recipe
Ingredients
250

g

dried chickpeas1

2

Garlic cloves

1

Onion

1

small bunch

Coriander

1

bunch

flat leaf parsley

2

TSP

Cumin (cumin)

1

TSP

Coriander seeds

ground

1

TSP

Salt

Oil for frying
Preparation
Soak the chickpeas in water overnight. (At least 12 hours)

Peel the onion and garlic. Cut the onion into quarters.

Strain the chickpeas in a sieve.

Blend the chickpeas with the garlic, onion, coriander (fresh and ground), parsley, cumin and salt in a powerful blender until homogeneous. To avoid overloading your food processor, you can also produce the mixture in 2 - 4 parts and mix by hand afterwards.

Transfer the mixture to a bowl, flatten and place in the fridge for approx. 1 hour to infuse.

Heat the deep fryer or a pot with the oil.

Now shape the mixture with a falafel scoop and place it in the hot oil. If you don't have a portioner, you can shape the mixture with spoons or your hands. The taste remains the same 🙂

Fry the falafel for approx. 3 minutes until golden brown.
If you liked the recipe, I am very happy about a small tip. You are helping me to bring more great recipes to the blog. Thank you so much 🙂
Donate here: continue to Paypal
You can find all the information about chickpeas in the chickpea guide. Falafel are also available as croutons for salads.