Harissa is one of my favorite spice pastes for spicy food. I love spicy food and love to take on any challenge! Only once has a spicy dish thrown me completely off track. That was in Düsseldorf in a Laotian restaurant. There were 4 levels of spiciness to choose from: Mild, medium hot, hot and very hot. I thought to myself "It's probably adapted to the local taste anyway" and ordered my meal in "hot". What happened next? Tears, sweat, hiccups, red face... It was still tasty somehow. On my next visit to Lao, the waitress, who seemed to remember me, took my "mild to medium spicy" order with a pitying look. Fortunately, with the seasoning paste Harissa, I can estimate the degree of spiciness better than in the restaurant.
Yes, I know - Lao food has nothing to do with harissa... But, somehow this encounter has left a big mark on me and I have to tell it again and again when it comes to spicy food. It gnaws at me - someday I'll take up this challenge again!
What is Harissa actually?
Harissa is a spicy seasoning paste that consists mainly of chilies. I like to use a super spicy paste made from small, hot Thai chilies. I don't seed these nasty little things for this purpose either. That way it's hot as hell. You can get the little Thai chilies dried in any Asian supermarket and often in the supermarket around the corner. Depending on the desired degree of spiciness, I then take either more or less harissa.
If you generally prefer it "medium hot" or even just "mild", you can of course also take another type of chili. Chilis are such a thing. There are so many varieties and they all taste different and have a different degree of heat. You can find a nice overview of the most important varieties at Pepperworld.
However, harissa is not only about spiciness, but also about many flavors that unfold during cooking: Cumin, coriander, cumin, garlic and rose water. In Lebanese cuisine, the food is often perfumed with rose water and gives just the harissa a very special and unexpectedly floral gentle note.
Of course, the point of Harissa is not to make your food as spicy as possible, but with a targeted dose for the special "Britzeln" in the mouth to conjure and lift the taste of the dish. For dipping, by the way, I would rather not take the paste - rather to spice up a dip 😉
Curious now? Here I tell you how you can make harissa yourself. It's very simple!
---
Recipe for harissa with rose water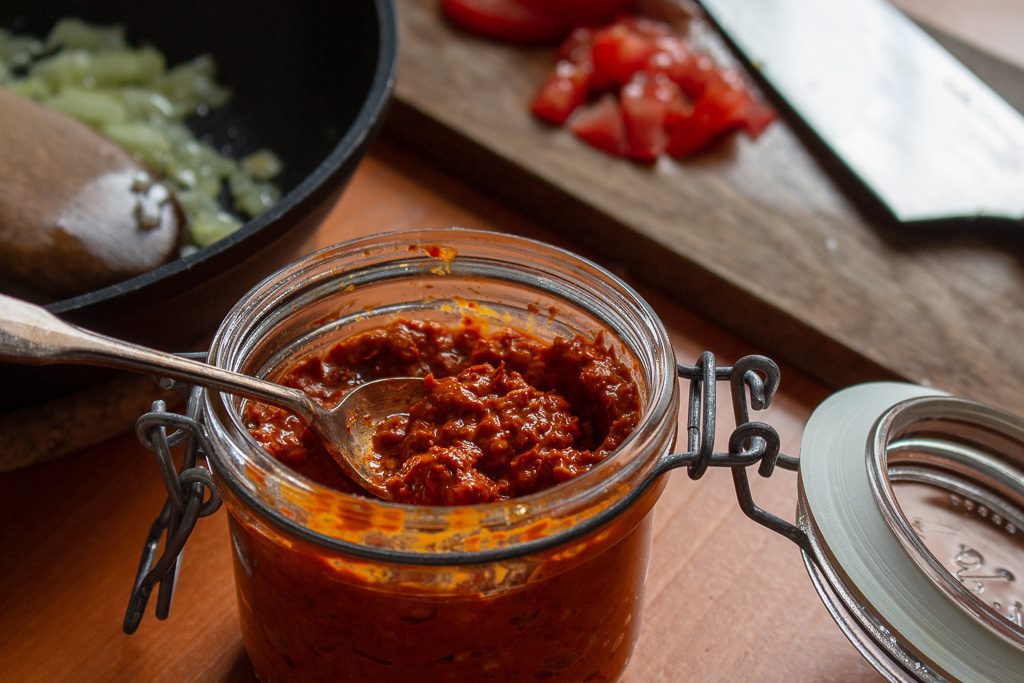 Print recipe
Ingredients
30

g

dried chili

1,5

TSP

Rose water

1/2

TSP

Coriander seeds

ground

1/4

TSP

Cumin

ground

1/2

TSP

Caraway

ground

1/2

TSP

Salt

1/2

TBSP

Lemon juice

1

Garlic clove

2

TBSP

Olive oil

+ something to cover the paste in the jar
Preparation
A warning in advance: Please take care of your hands. Avoid direct skin contact during preparation. If this does happen, rinse your hands thoroughly and do not touch your eyes even after washing!
Put the dried chillies in a glass or aluminium bowl.

Pour boiling water over the chilli and leave to infuse for approx. 1 hour.

Optional: Core the chilli and discard the seeds.(Use disposable gloves!)

Place the chilli with the remaining ingredients in a tall measuring jug and finely puree with a hand blender to make harissa.

Put the harissa in a small preserving jar and cover with olive oil.
Harissa will keep for several weeks in the fridge if covered with olive oil.
Notes
*Recipe contains affiliate links.
If you liked the recipe, I am very happy about a small tip. You are helping me to bring more great recipes to the blog. Thank you so much 🙂
Donate here: continue to Paypal
Nutritional values
Calories:
2
kcal
|
Carbohydrates:
0.5
g
|
Protein:
0.1
g
|
Fat:
0.1
g
|
Saturated Fat:
0.01
g
|
Polyunsaturated Fat:
0.02
g
|
Monounsaturated Fat:
0.04
g
|
Sodium:
4
mg
|
Potassium:
12
mg
|
Fiber:
0.2
g
|
Sugar:
0.2
g
|
Vitamin A:
159
IU
|
Vitamin C:
0.2
mg
|
Calcium:
1
mg
|
Iron:
0.04
mg
---
Need some ideas on what to use your homemade harissa with rose water for now? It goes great with batata harra or crispy harissa chicken with oven vegetables.