Lebanese semolina churros
Are they churros or rather mutzen?
Churros or muffins? These little things are difficult to describe. In Lebanon, they are simply called "macaroni". But why? For the life of me, I can't see any resemblance to the Italian pasta. And actually, they have only a distant relationship to churros. But let's start from the beginning.
Although I have known and loved the fried pastry since my childhood, somehow the wildest misunderstandings always arose when I told people about it. At the time when I was still at school, hardly anyone here knew about churros. So I had to explain it somehow. In the end, it was always easiest to offer a so-called macaroni to anyone who asked for it. 
These churros, mutzen or macaroni - call them what you like - consist mainly of semolina, milk, yoghurt and a few spices. The dough is not sweetened, because after baking in hot oil, it takes a short bath in sugar syrup with rose and orange blossom water. To prevent it from becoming soupy, they are quickly removed from the bath. This gives them a pleasant consistency and sweetness.
The special spice that no one can really define is mahlab. What does it taste like? It is somewhat diffuse ... It tastes slightly of bitter almond and tonka bean. Mahlab is extracted from the seeds of the rock cherry. You can find more information here: Click.
You can get mahlab from Lebanese, Syrian or on the net. For example, here: Click*.
And how do they taste now? Here are a few quotes from friends:
"Hm ... mega yummy! Are those oriental muffins?"
"What are these funny churros?! Tastes a bit like rose and aniseed."
"Awesome, they're like Tulumba Tatlisi - only not as blatantly cute."
And why do the Lebanese now call it macaroni?
I think it's because: you take a small amount of dough and roll it into a little sausage. Then you slowly press this sausage down against a pasta strainer with your fingers. In the course of this movement, the sausage begins to curl and eventually forms a small roll with a mini-small cavity. The pattern of the pasta strainer is imprinted on the outside. Depending on the pasta sieve, the outer structure is then fine or coarse. Presumably, the name macaroni has become established due to the cavity and the use of the pasta strainer. 
So now you are right to ask me: Why do your churros, mutzen, macaroni look so ugly? Because I actually made them myself for the first time. But I think they turned out really well - and they were definitely delicious.
I can't wait to hear how you describe this macaroni after you've tried it. They are really easy to make - I dare you 🙂
---
Recipe for Lebanese semolina churros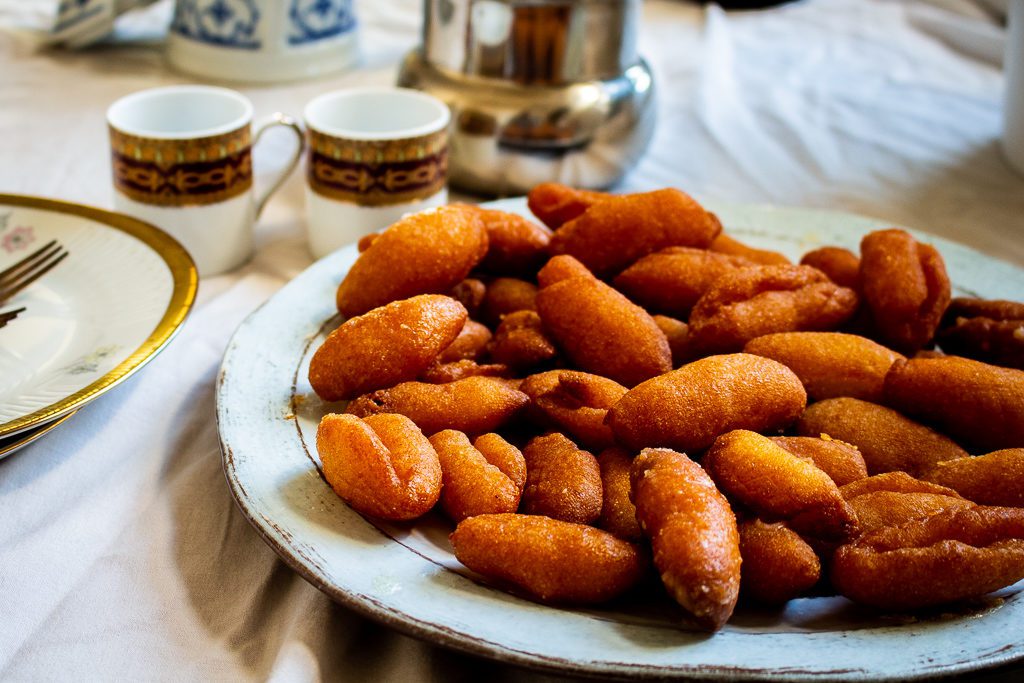 Print recipe
Save recipe
Saved!
Preparation
Syrup
Dissolve the sugar in the water in a saucepan and then simmer until it becomes a syrup (about 10 minutes).

Stir in the rose and orange blossom water.
Semolina churros
Knead all the ingredients into a soft dough.

Take about 1 tablespoon of dough and shape it into a small sausage. Theoretically, you can now go straight to step 5.

Optional: Now take the sausage and gently press it against a pasta strainer with your fingertips and run your fingertips down. The result is a "macaroni".

Alternatively, you can just gently press the sausage in lengthwise with your fingertips to create a hollow. 

Set aside semolina churros. 

Heat the oil to approx. 160 °C and deep-fry the little things for approx. 4 - 5 minutes until golden brown and then drain well.  

Bathe the hot semolina churros in the sugar syrup for approx. 2 - 3 minutes, then remove and leave to cool. 
Notes
This little delicacy goes perfectly with a cup of mocha with cardamom.
Recipe contains affiliate links.
Nutritional values
Calories:
156
kcal
|
Carbohydrates:
25
g
|
Protein:
2
g
|
Fat:
6
g
|
Saturated Fat:
3
g
|
Polyunsaturated Fat:
0.3
g
|
Monounsaturated Fat:
1
g
|
Trans Fat:
0.2
g
|
Cholesterol:
14
mg
|
Sodium:
51
mg
|
Potassium:
41
mg
|
Fiber:
1
g
|
Sugar:
13
g
|
Vitamin A:
166
IU
|
Vitamin C:
0.02
mg
|
Calcium:
14
mg
|
Iron:
1
mg