Fuhl Medammas - or: how to make bean purée sexy
There are dishes that you can't really explain. Simply saying "That's delicious!" is usually not enough. When I say "That's vegan!"only my vegan friends react with gasps. Bean puree doesn't sound very sexy either ... So let's call a spade a spade: Fuhl Medammas. But, how can I introduce someone to a rather ugly mush made of chickpeas and fava beans? That's right, I simply put it in front of the guests without warning and hope that they like it.
Fuhl Medammas: Best breakfast in the Levant!
I'm really incredibly happy that not only has everyone enjoyed it so far - but that everyone has even been enthusiastic about it. Well, fuhl (or ful or foul) is a mush made from beans and chickpeas, which is dressed with garlic, lemon juice and cumin. But that alone does not make the dish. My mother always says "Fuhl you have to spoil!" So how do you spoil chickpeas and beans? With herbs, fruity tomatoes, fresh and pickled vegetables. Accompanied by olives and delicious tea.
So you have this mush as a base, add a small handful of chopped parsley and mint on top and cover the herbs with sweet diced tomatoes. Fuhl gets the final touch with a good dash of olive oil. So, I present this to my friends - and they look at me with wide eyes. Something is missing ...
It is eaten with the hands!
No spoon, no knife and no fork ... "How are you supposed to eat that?!?"
I hand over thin Lebanese flatbread and demonstrate how I would eat Fuhl. I tear off a piece of pita bread, hold it between my thumb and forefinger and press the bread into the fuhl. While doing so, I try to absorb as much of the delicious bean puree as I can. I then have some of the puree, fresh herbs and tomato cubes in the flatbread - and everything is glistening from the olive oil. I eat that then and smile at my friends invitingly. After a few failed attempts, they all succeed and the smiles spread.
Ful is a really tasty and, above all, very sociable affair. When preparing it, pay attention to the quality of the ingredients, especially the olive oil. For snacks, I always serve a selection of fresh and pickled vegetables and olives. This is accompanied by either black tea or mocha.
---
Recipe for Fuhl Medammas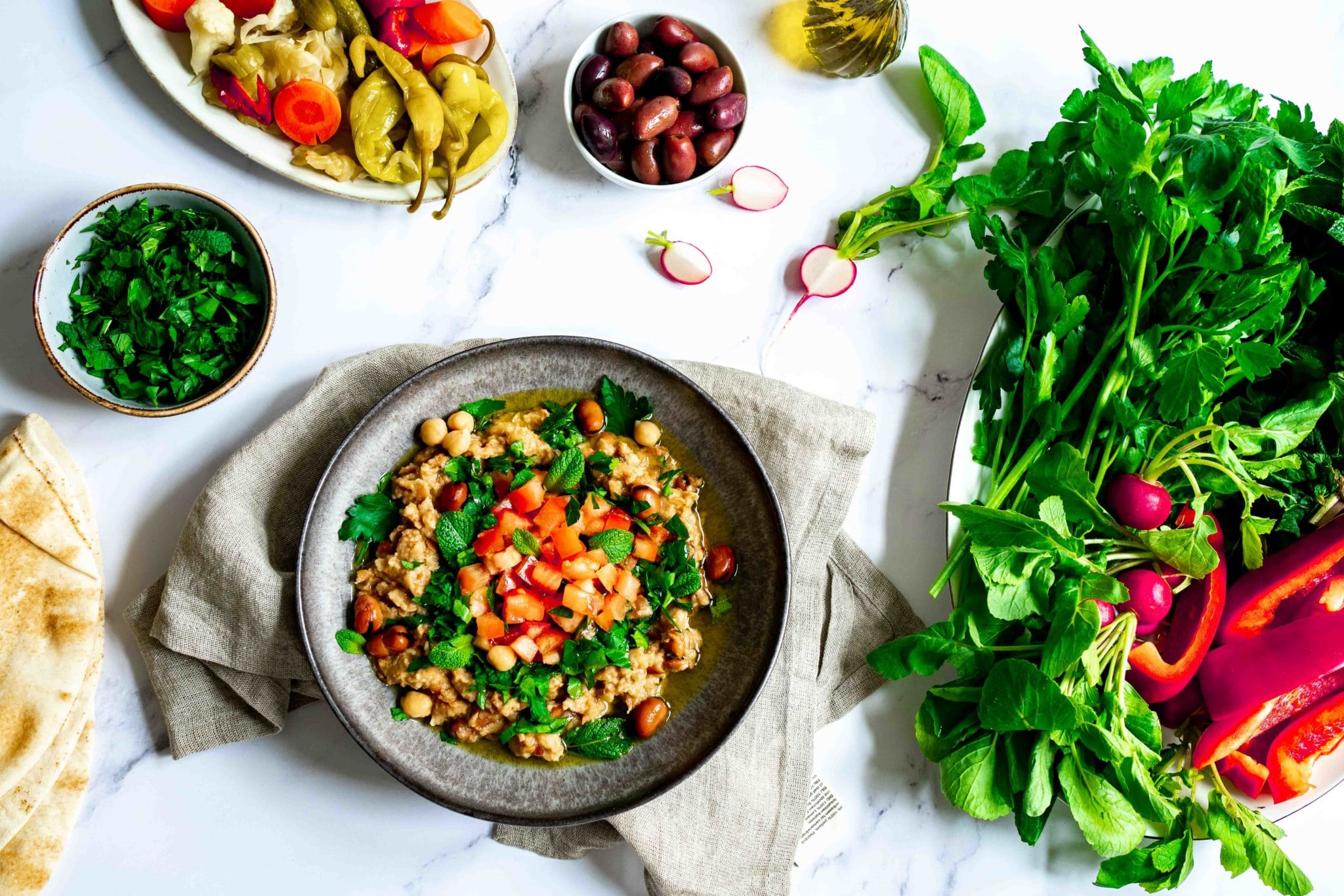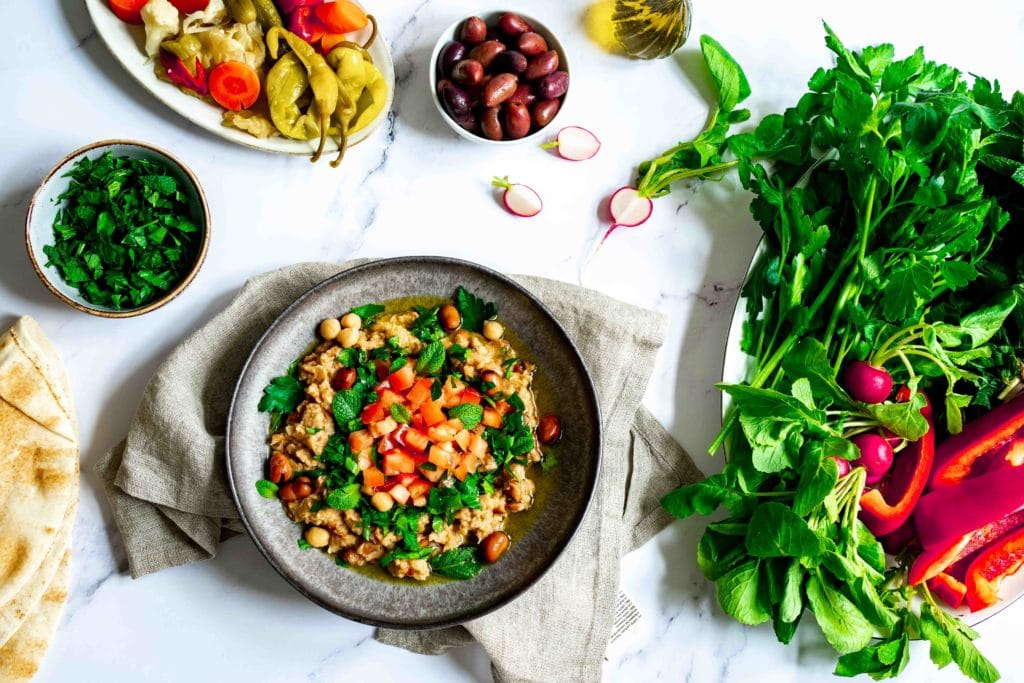 Print recipe
Ingredients
For the Ful
500

g

Cooked fava beans / broad beans

250

g

cooked chickpeas

2

Garlic cloves

1,5

TSP

Cumin

1

Lemon

1

TL

Harissa

Salt
For the topping
1

bunch

flat leaf parsley

4

Branches

Mint

3

Tomatoes

Olive oil

abundant, at least 3 tablespoons per serving
Preparation
Cover the fava beans and chickpeas with water in a pot and heat over medium heat. You don't need to cook anything here - just make sure everything is nice and hot.

Peel the garlic and crush it in a mortar with a little salt.

Mix the crushed garlic with the lemon juice and cumin in a bowl.

Chop the parsley and mint leaves. You can mix them together and put them in a small bowl.

Put the beans and chickpeas with 1/4 of the liquid into the bowl with the garlic and mash coarsely with a potato masher.

Stir and season with salt and harissa. If the bean puree is too thick, you can stir in more of the liquid or a little water.

Divide the fuhl among 4 bowls, top with parsley, mint and diced tomatoes.

Pour plenty of olive oil over the fuhl.

Serve Fuhl Medammas still warm with pita bread, olives and pickled and fresh vegetables of your choice.
Notes
*Recipe contains affiliate links.
If you liked the recipe, I am very happy about a small tip. You are helping me to bring more great recipes to the blog. Thank you so much 🙂
Donate here: continue to Paypal
How do I serve Ful?
Divide the bean puree among small bowls or deep plates.
Each person garnishes their Ful with chopped parsley, mint and tomatoes. Finally, pour a good drizzle of olive oil over the Ful. Don't be sparing with the olive oil - a small ditch of oil is allowed to form.
How do I eat Ful?
Ful is eaten with the hands.
Tear off a piece of pita bread and hold it between your thumb and forefinger. Press the bread into the ful and try to take in as much ful as you can. Then put it in your mouth.
What do I serve with the ful?
You can serve various fresh and pickled vegetables with the ful: fresh peppers, cucumbers, radishes, chilli peppers etc.