Baklava Cheesecake | Super nutty and deliciously creamy
What's better than nutty baklava and creamy cheesecake? It's obvious: a fantastic baklava cheesecake! It all comes together here - crispy thin filo pastry, a whole lot of freshly roasted nuts and a deliciously creamy filling. This is the ultimate cake fusion!
Baklava meets cheesecake
Baklava is a very tricky subject for me. I am extremely spoiled when it comes to quality. For me, baklava must be crunchy and nutty, and the syrup must not dominate. The whole thing should not be a liquid-sticky matter. That's why I was a little skeptical at first about the idea of mixing baklava and cheesecake. But brooding helps nothing, you just have to try it! So get to the baklava cheesecake!
The bottom of the cake consists of several layers of filo pastry spread with butter. Then, after a few layers have been created, the freshly roasted and chopped nuts go on top (lots of them!) before the fun of layering can continue. I did this procedure directly in a springform pan and let the dough overlap the sides of the pan. This way, firstly, you don't have to cut anything directly and then the Baklva Cheesecake ends up looking like a beautiful crispy crown.
Once the base of baklava is ready, the cheesecake mixture is added. And so that this part also gets the taste of Levant lent, a few drops of rose water in the cheese cream may not be missing. Then it's off to the oven! Now, if you thought the nuts in the base were enough, you are so wrong - of course, we throw a whole load of pistachios and walnuts on top of the finished baklava cheesecake! And then I would like to see if you dare to cut this beauty 😛 Bon appetit!
---
Baklava cheesecake recipe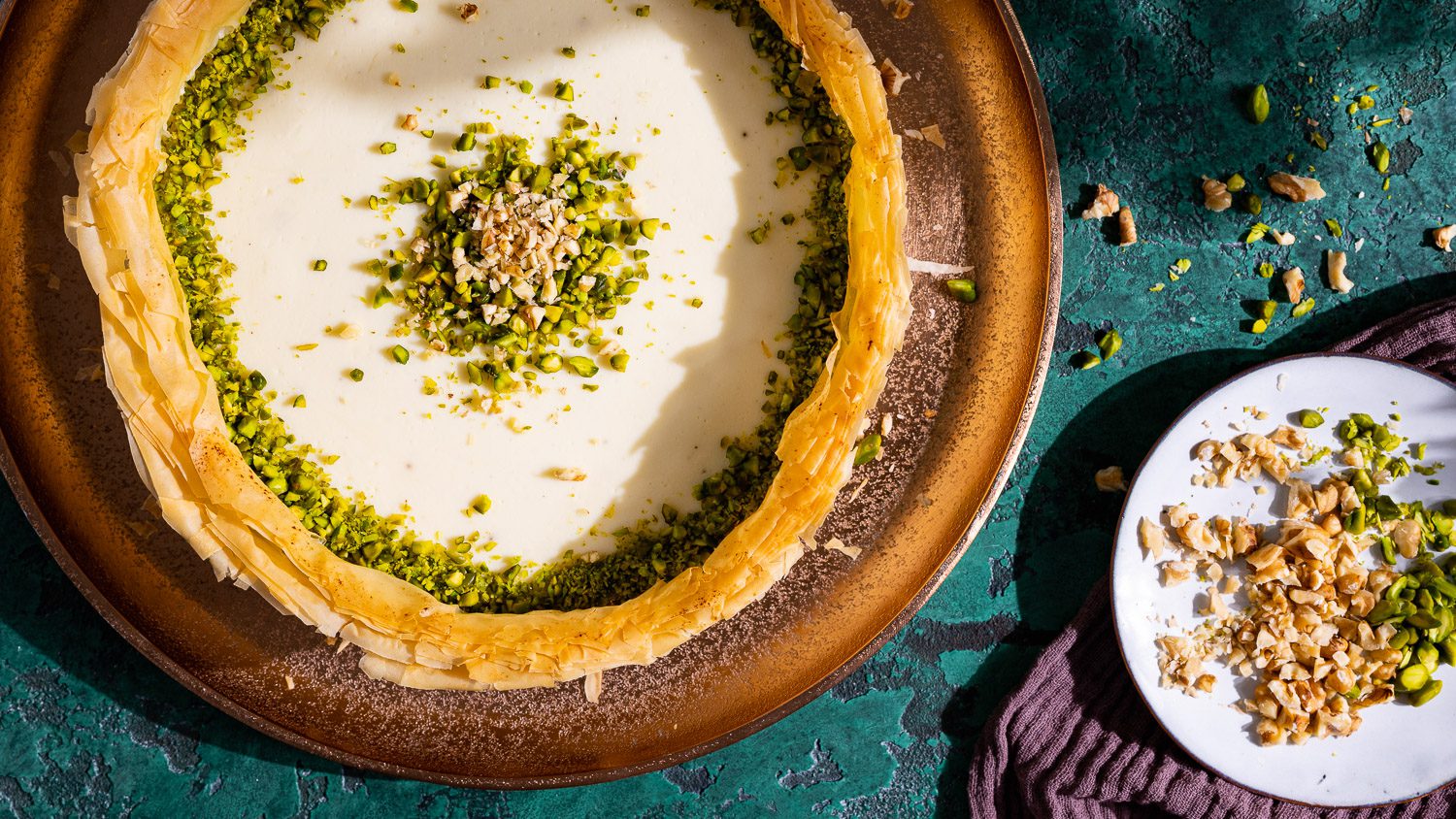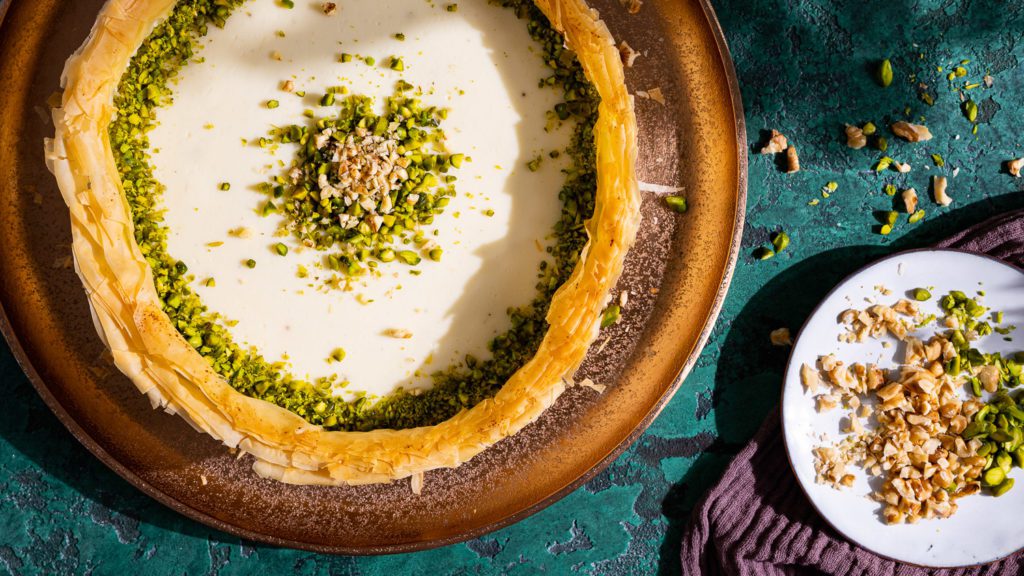 Print recipe
Save recipe
Saved!
Ingredients
For the Baklava Cheesecake
80

g

Walnuts

80

g

Cashews

600

g

Cream cheese

230

g

Low-fat curd cheese

150

ml

Cream

1

Egg

200

g

Sugar

3

TBSP.

Cornstarch

5

TBSP

Lemon juice

1

TSP

Vanilla extract

1

TSP

Rose water

50

g

Butter

9

Leaves

Filo/Yufka dough
For garnishing
30

g

Pistachios

20

g

Walnuts
Preparation
Preheat the oven to 160 °C top/bottom heat. Fill a heatproof bowl with water and place on the bottom of the oven. Grease the springform pan. Bring all ingredients to room temperature.

Toast nuts in a pan without fat until they begin to smell. Chop nuts and set aside.

Mix cream cheese, low-fat curd, cream, egg and sugar in a large bowl with a hand mixer.

Fold in cornstarch, lemon juice, vanilla extract and rose water. Set aside.

Carefully place a layer of filo pastry in the greased springform pan and brush with butter. Repeat this process 2x, so that you have a total of 3 filo layers.

Sprinkle nuts on top, cover with two sheets of filo pastry, brush with butter and repeat this process 2x more times so you have a total of 3 layers of nuts.

Carefully pour the cream cheese onto the dough. If too much dough peeks out, cut off the edges so that you can easily remove the cheesecake from the mold later.

Bake Baklava Cheesecake in preheated oven for about 60 minutes until it has a golden top and no longer seems runny in the center.

Turn oven off and let cheesecake cool in oven for 30 minutes with oven door open.

Take out cheesecake, carefully remove ring and let cool completely at room temperature. It is best to let it cool well overnight in the refrigerator.

To garnish, chop pistachios and walnuts and spread on the surface of the cheesecake. You can of course also use other nuts or decoration.
Notes
Recipe contains affiliate links.
Nutritional values
Serving:
1500
g
|
Calories:
5430.1
kcal
|
Carbohydrates:
419.2
g
|
Protein:
109.4
g
|
Fat:
365.9
g
Also try the date cake, Knefeh, the apple pie or the cinnamon buns with pistachios.