Coconut macaroons with pistachios | quick & easy
At the latest a few weeks before Christmas, the oven also goes on with me and thunders through some cookies and cookies. Since juicy coconut macaroons may not be missing, of course. These macaroons have not only chocolate as a base donated, but also chopped pistachios. The result is absolutely delicious! The recipe is made quickly and easily.
What are coconut macaroons?
So ... if you've actually managed to never run across this delicacy in your life, I'll tell you - but am still speechless. Coconut macaroons are small, extremely moist cookies made of coconut flakes, egg whites, sugar and a base of dark chocolate.
For my coconut macaroons I put the juicy cookies after the melted chocolate directly on chopped pistachios. This creates an incredibly delicious pistachio crust as a base for the macaroons.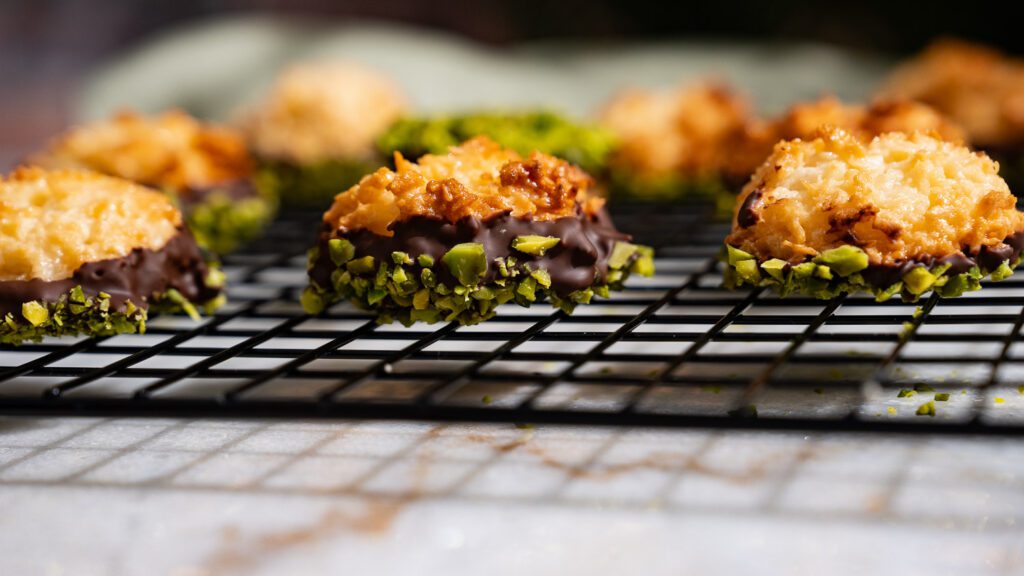 The preparation is really very simple
The preparation of the coconut macaroons is really very simple and also goes pretty quickly. Basically, you just need to mix the coconut flakes with the sugar and with egg whites and heat them in a small pot or saucepan and stir until the stirring is not so good.
Then the dough is already ready and you can already shape the coconut macaroons. Since the macaroon dough is sticky, you simply shape it with two small spoons.
Simply take some dough with one spoon and try to form a small ball with the second. Place the ball on a baking tray lined with baking paper and bake the coconut macaroons at 160 °C for about 15 minutes.
The macaroons then need to cool well. In the meantime, you can melt the dark chocolate coating and chop the pistachios.
When the coconut macaroons have cooled, you can take them at the top of the round part and just dip them briefly in the chocolate at the bottom of the flat part. Then place the macaroon with the warm chocolate directly on the chopped pistachios and then on a plate to cool the chocolate.
By the way, there are also recipes where the egg whites are first beaten until foamy and only then mixed with the coconut flakes. However, I have always obtained better and juicier results with the method I described.
Store coconut macaroons
If you store coconut macaroons properly, they stay nice and fresh and juicy for a long time! So let's say they should last longer and are not enjoyed directly.
It is best to store your coconut macaroons with pistachios in airtight packaging. Either in a good cookie tin or a freshness box. Your homemade macaroons will then keep for approx. 2 weeks at room temperature. If you store them in the fridge, they will keep for longer.
If you also love coconut macaroons so, you should perhaps still know that a macaroon according to my recipe has about 112 calories. But who cares about that in the winter ...
I wish you lots of fun baking and snacking.
---
Recipe for coconut macaroons with pistachios
Print recipe
Save recipe
Saved!
Ingredients
4

Protein

160

g

Coconut flakes

210

g

Sugar

150

g

Dark chocolate coating

80

g

Pistachios
Preparation
Preheat oven to 160° C convection oven. Line baking tray with baking paper.

Place egg whites, coconut flakes and sugar in a saucepan and lightly toast over medium heat, stirring constantly, for about 5 minutes. When the macaroon mixture sticks together and can no longer be stirred well, it has reached the right consistency.

Allow the macaroon mixture to cool briefly. Form macaroons with two small spoons, place on baking sheet and bake in hot oven for about 15 minutes until golden brown.

Let macaroons cool on the baking sheet and then carefully remove from paper.

Melt the couverture over a water bath and allow to cool briefly.

Chop the pistachios and put them in a small bowl.

Dip coconut macaroons with the base in the chocolate, then dip in the chopped pistachios and dry on baking paper.
Notes
Tip:
You can also beat the egg whites until stiff, fold in the coconut flakes and sugar and then bake in the oven. The consistency of the mass is then a little fluffier and it may be that they run apart a little.
Recipe contains affiliate links.
Nutritional values
Calories:
112
kcal
|
Carbohydrates:
14
g
|
Protein:
2
g
|
Fat:
6
g
|
Saturated Fat:
4
g
|
Polyunsaturated Fat:
1
g
|
Monounsaturated Fat:
2
g
|
Sodium:
10
mg
|
Potassium:
66
mg
|
Fiber:
2
g
|
Sugar:
12
g
|
Vitamin A:
14
IU
|
Vitamin C:
0.4
mg
|
Calcium:
5
mg
|
Iron:
0.3
mg
Fancy more cookies? Then why not try ...