Ashta milk pudding with passion fruit
Ashta is a type of milk pudding that is traditionally used to fill desserts, such as the filled pancakes atayef or the pudding rolls. The pudding is hardly sweetened, because afterwards it is always sweetened with sugar syrup. However, Ashta does not necessarily have to be hidden in a pastry. The milk pudding is also a super delicious dessert on its own, especially with passion fruit and honey.
Many roads lead to the Ashta
Originally, Ashta isn't really a milk pudding, but rather a homemade cream that is quite similar to Italian mascarpone. So, if you've got the time, you can heat up fresh milk and skim, flavor, and puree the skin that forms on the surface over and over again. But honestly, who does that? Another variation is to heat milk with cream and add a little vinegar to separate the whey, then skim off the separating cream and put it in a strainer. Is already easier, but still more work than it should be.
You can really make it very simple and make an "Ashta Kisbeh". The name means something like "Fake Ashta". The cream tastes very similar to the original, but is actually more like a pudding. All you need is milk and cornstarch. To give it the typical taste, the pudding is flavored with rose and orange blossom water - done. Sugar is actually added very little, because we prefer to give the milk pudding a sweet topping with honey and passion fruit afterwards.
Not only a feast for the eyes
If you make ashta by this pudding method, it has the advantage that you can turn it. Like panna cotta. But of course you don't have to. You can also serve everything in a dessert bowl. Ashta is ready really super fast after this method and can be topped to your heart's content after cooling. My mom even serves Ashta with honey and nuts for breakfast. But here I opted for beautiful and super fruity passion fruit aka passion fruit. Simply cut it open, pour it over the milk pudding and season with honey and a little mint - you've probably never made such a visually and tastefully spectacular dessert so easily.
---
Recipe for ashta with passion fruit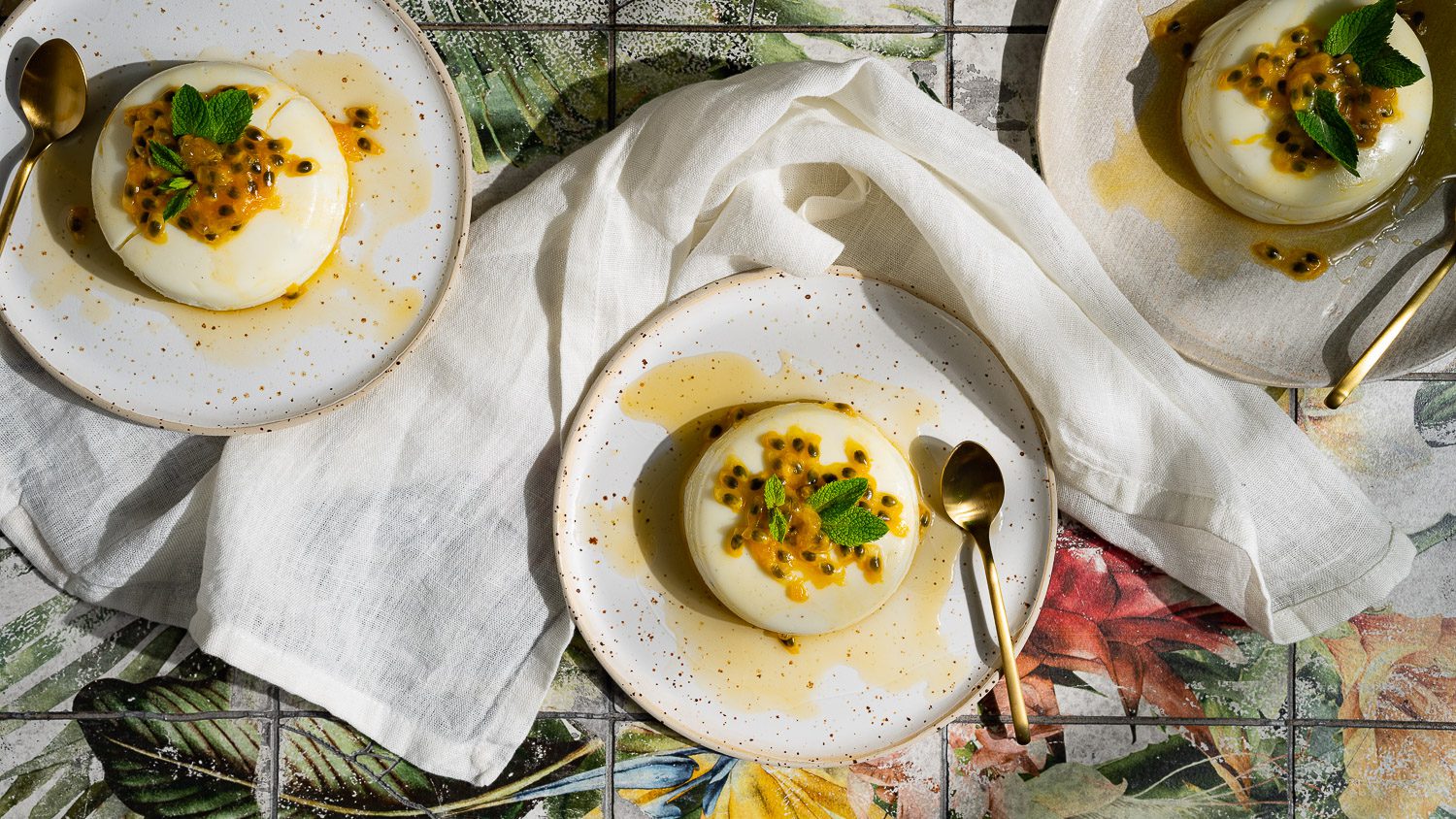 Print recipe
Save recipe
Saved!
Ingredients
700

ml

Whole milk / Vegetable milk

7

TBSP.

Cornstarch

1

packet

Vanilla sugar

2

TBSP

Sugar

2

TSP

Roseflower water

2

TSP

Orange blossom water

2

Passion fruit

8

TSP

Honey or agave syrup

5

g

Mint
Tip: To make it even creamier, you can also use 50/50 milk and cream. Keep in mind, however, that the nutritional values change 😉.
Preparation
Remove a few tablespoons of milk and bring the remaining to a boil in a saucepan.

Stir in vanilla sugar and sugar until dissolved.

Turn off the stove. Mix the drained milk with cornstarch and add to the milk, stirring until the pudding thickens.

Fold in the rose petal and orange water and let the pudding cool. Depending on whether you want to make one large bowl or several small ones, dump the pudding into the designated containers while it's still hot.

Wash mint and pluck leaves. Cut passion fruit in half.

Turn out cold pudding onto plate or leave in bowl. Garnish with passion fruit, honey and mint.
Notes
Recipe contains affiliate links.
Nutritional values
Serving:
230
g
|
Calories:
280.01
kcal
|
Carbohydrates:
48
g
|
Protein:
6
g
|
Fat:
7.1
g
Also be sure to try the creamy semolina dessert Layali Lubnan, Muhalabia or Labneh with caramelized beet and walnuts.