Baklava - The basic recipe
For really an eternity I was looking for the best baklava recipe ever. And I can tell you directly already: I found it for me! Actually, it should be quite easy, but I did not want to be satisfied with any classic recipe, but was looking for the baklava flavor that I know from a small store in Aley in Lebanon. And here it is finally: my basic baklava recipe - Bistro Badia Style! Whooop!
Layers for the perfect crunch
Believe it or not, there really are quite a few different varieties of baklava. And each variety has its own name. This baklava here is the mother of all varieties. The absolute basic recipe. The classic par excellence. Delicious layers of crispy filo dough with a layer of freshly roasted nuts. It doesn't take much to prepare a classic baklava. But just then, every little bit counts to make it truly perfect! The choice of nuts and their weighting to each other. Then the amount of layers and the fat to separate these layers and make them crispy. And last but not least, the flavored syrup is added to the still hot baklava.
I can tell you right off the bat that my baklava recipe is sweet too, of course, but not as crazy sweet and dripping with syrup as you may have tasted. My focus for developing the recipe was to find a perfect balance of crunchy, nutty and sweet. That's why I struggled so much despite the few ingredients needed.
Ghee instead of butter and cashew instead of walnut
Okay, the headline here isn't quite right. I didn't completely eliminate the walnuts, but reduced them and mixed them with a larger portion of cashew. This mixture ensures that the baklava not only tastes nice and nutty, but also super tender. Instead of the traditional butter, I opted for. Ghee, aka clarified butter. Ghee has again a slightly own and more intense flavor than butter and really harmonizes perfectly with the nut mixture. But ghee has another advantage over butter: Ghee contains only a little water and this circumstance ensures that your baklava is not slabbery, but nice and crispy.
So far, so good. So when you start with the baklava, you'll need a few layers of fine filo dough. You can then simply cut the dough to size depending on the casserole or springform pan you have. I chose a rectangular baking dish. You then start by brushing the first layer of filo pastry with melted ghee.
Baklava step by step
After the first layer comes directly the next layer of filo dough, which you need to brush again properly with ghee.
Then, when you have about 8 layers done, come the chopped nuts, which you simply sprinkle and spread on top of the last greased layer.
And once you've spread the layer of nuts, we'll follow up again with layers of filo dough. Of course, each layer is also properly brushed with ghee. If air bubbles form here, you can simply brush them out with the flat of your hand.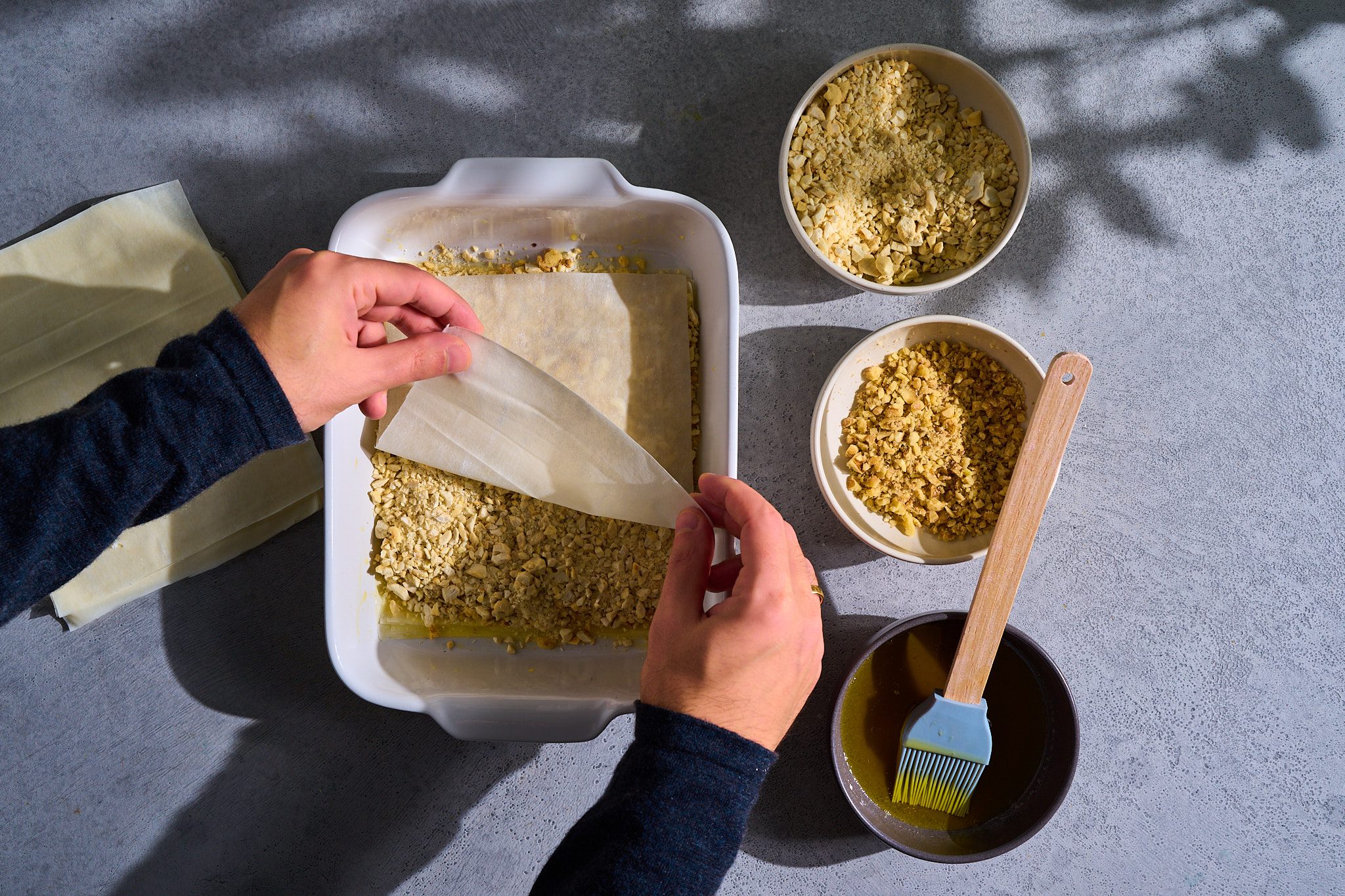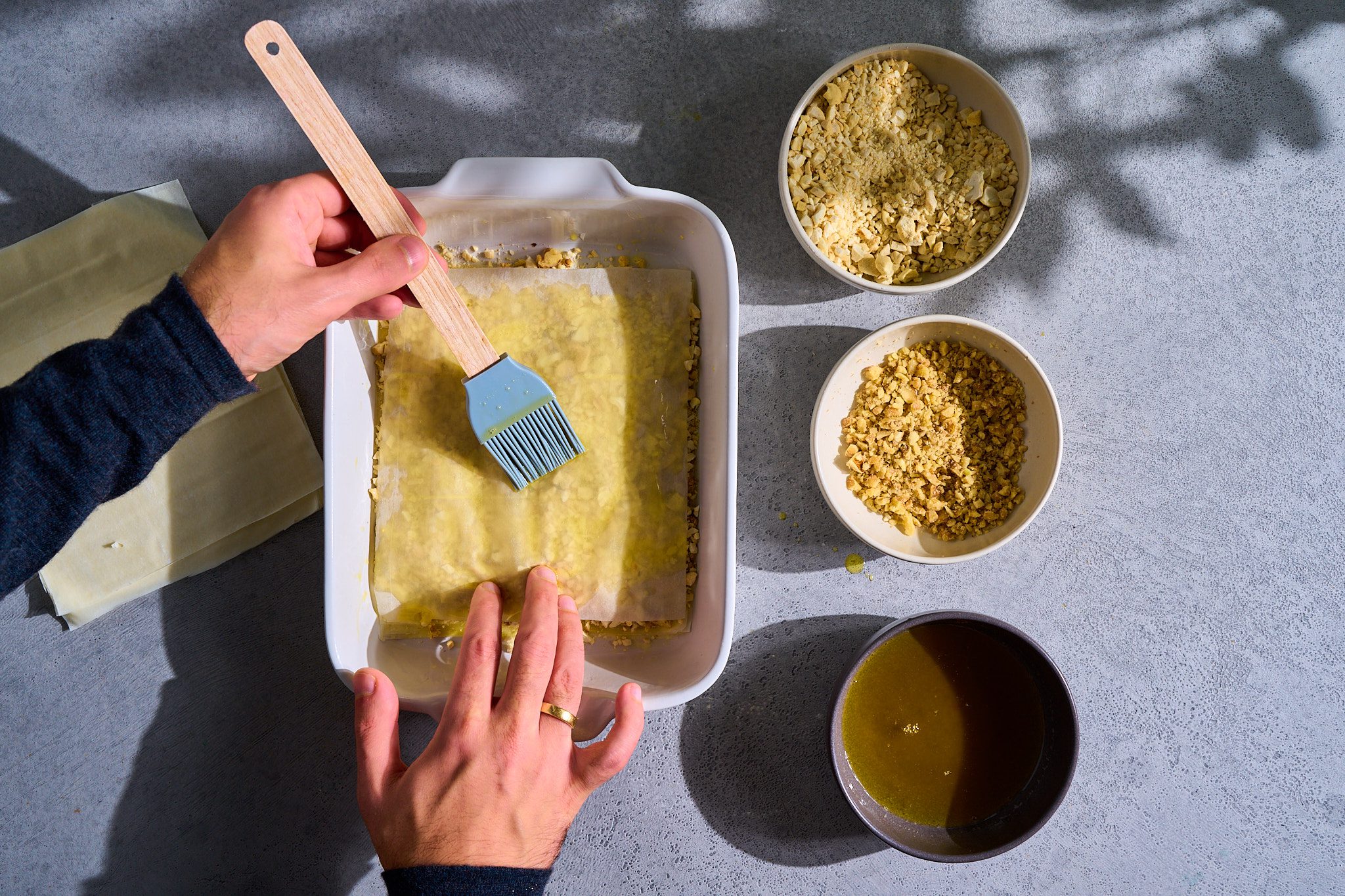 When you have all the layers ready, there is a tricky part: the baklava has to be cut. The classic pattern is lozenges, but you can also cut rectangles or squares. It is important that you use a sharp knife or pizza cutter and hold the dough while cutting. Otherwise, the layers may shift. For lozenges, cut diagonal strips first and then cut straight from top to bottom. Make sure you cut all the way through to the last layer.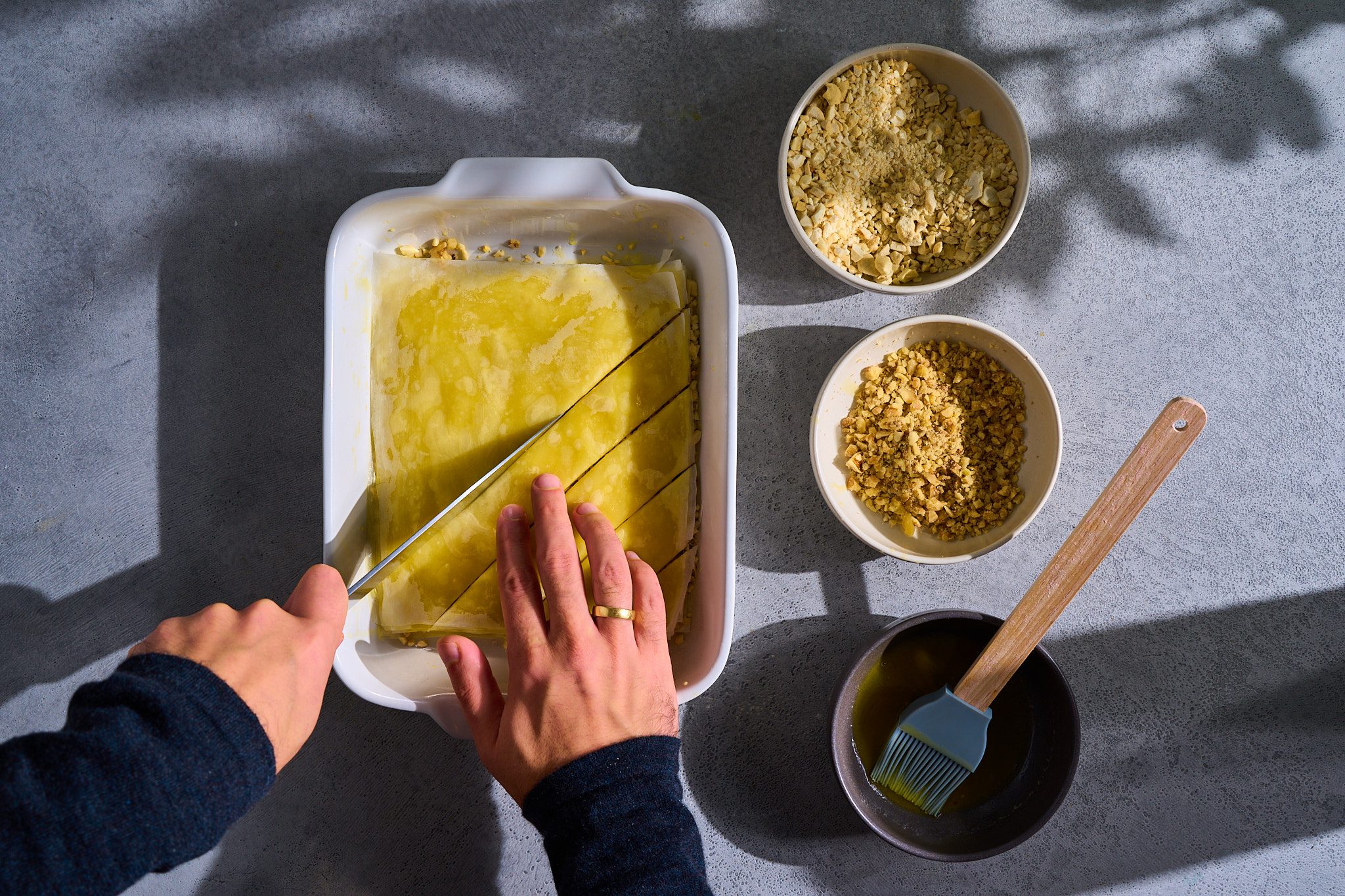 The roughest part is done and the baklava can now be baked in the preheated oven at 180 °C for approx. 30 - 35 minutes.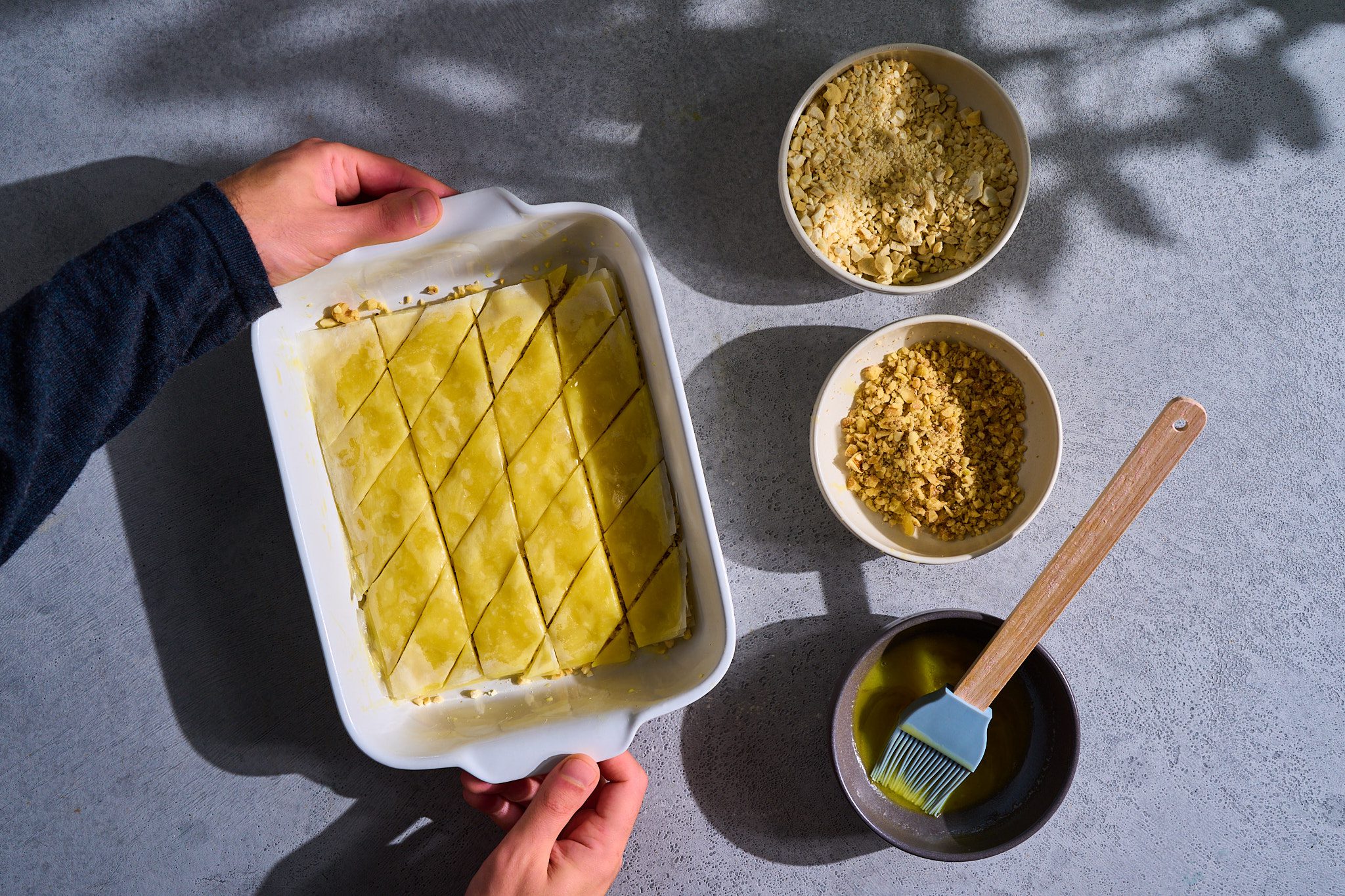 When the baklava comes out of the oven, it has a wonderful golden brown roast and the many layers have risen to a crisp. You should now be met by an incredibly delicious aroma of ghee and roasted nuts. You must immediately pour the prepared and cooled syrup over the still hot baklava. The sound you'll hear is really good. It crackles really loud. I poured about 8 - 10 tablespoons of syrup over the hot baklava.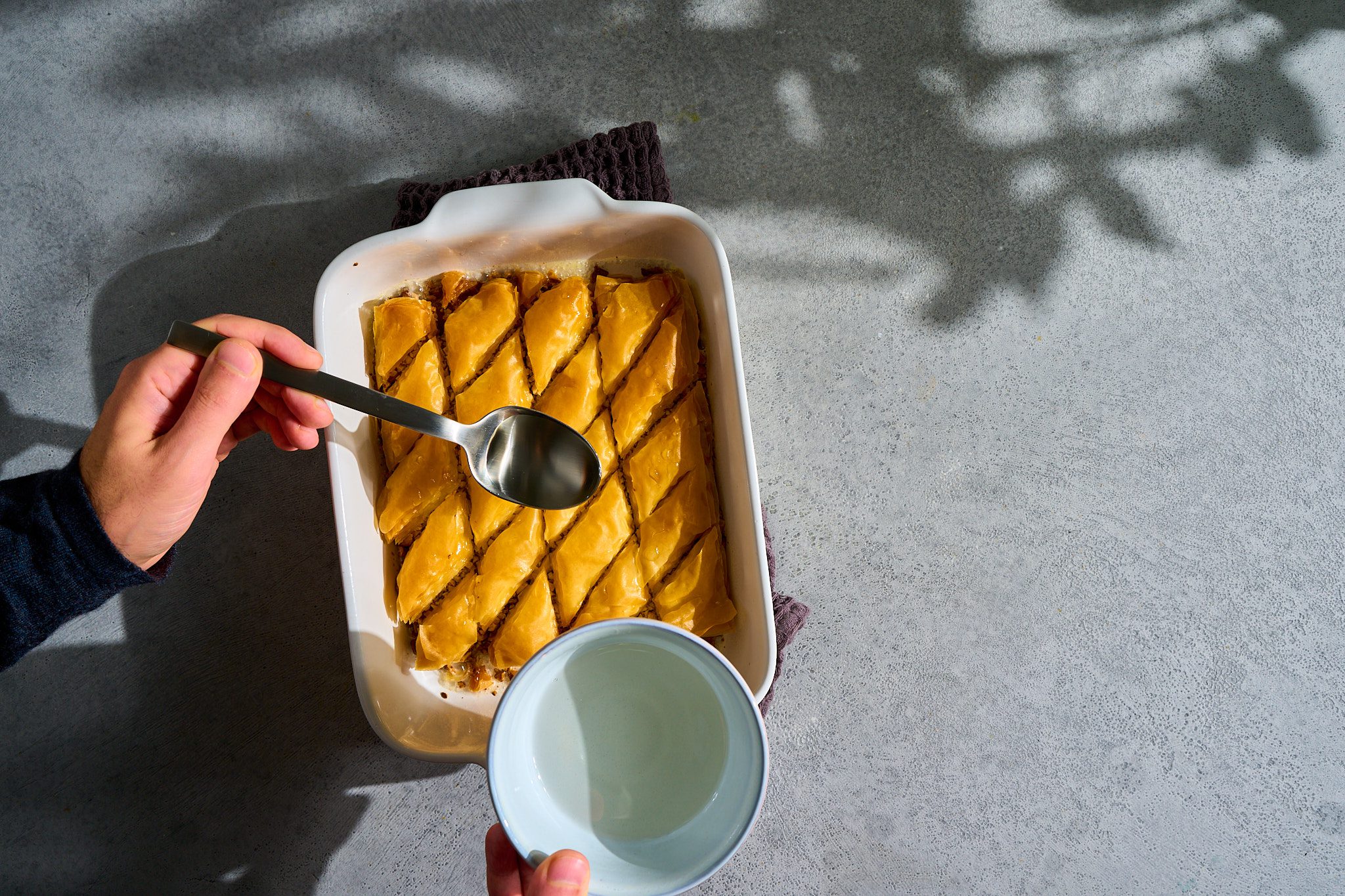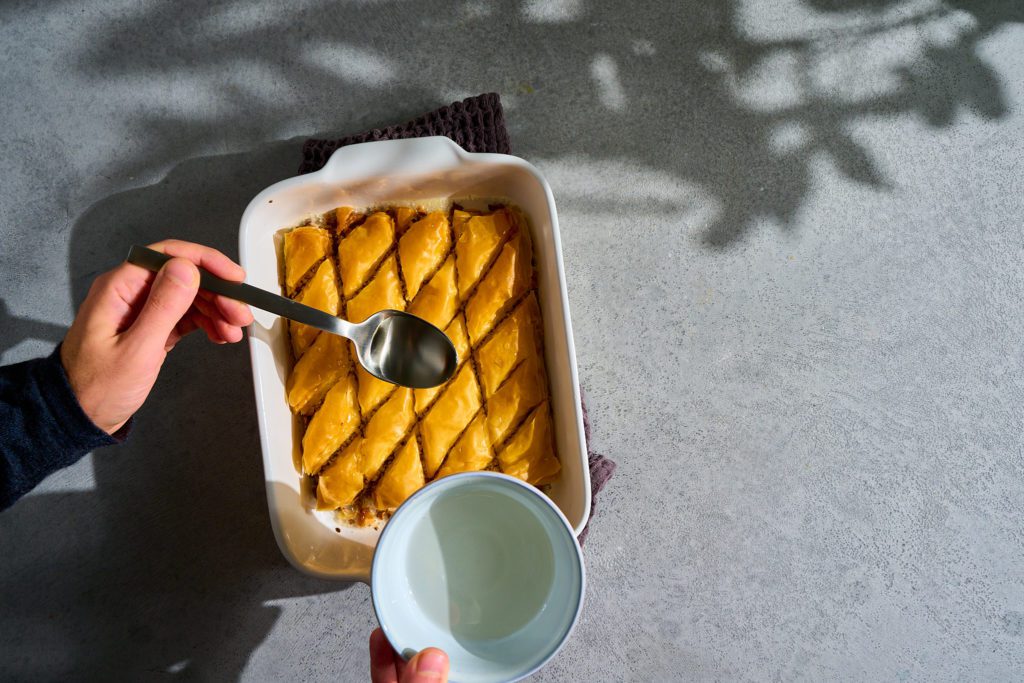 Now your baklava just needs to cool and you can carefully lift it out of the mold piece by piece and serve. It may happen that the top layer of filo dough comes off and crumbles into small, fine crumbs - that's perfectly fine. Nothing will change in the taste and crispiness, I promise!
The syrup and the most beautiful baklava moment
One of the best moments for me is always when I pour the syrup over the hot baklava. The scent is beguiling and the sound that unfolds is great. It sounds like the layers are already announcing how crispy they actually are.
The syrup is very simple and consists only of one part water and one part sugar with a touch of rose water. Just enough rose water that you can still perceive it, but it does not drown out everything. By the way, you can decide for yourself how much syrup you want to use. However, I recommend that you don't overdo it. Use just enough so that each piece of baklava gets some without drowning in it. Once everything is done and cooled, it's time to taste it. I'm pretty sure you'll get at least a little smile on your face. Bon appetit!
Tips:
The baklava keeps well packed in a fresh box or covered with cling film for a good two weeks.
You can also put the baklava in the refrigerator to make it last longer.
But put it outside before eating, so that it gets room temperature. Then it tastes better.
You can also freeze the baklava and defrost it later. Here, however, it loses some flavor.
---
Baklava recipe
Print recipe
Save recipe
Saved!
Cooking utensils
Casserole dish (25 x 20 cm)
Preparation
Preparation syrup
Dissolve sugar in a pot of water and simmer until it becomes a syrup (about 8 - 10 minutes).

Stir in rose water and allow to cool.
Preparation baklava
Toast nuts in a pan without fat until they start to smell. (Please be careful that they do not get too dark!).

Chop toasted nuts with a food processor or knife and set aside.

Unfold filo dough and cut to fit baking dish.

Place 1 layer of filo pastry in the mold and brush with ghee. Repeat this process 7 times so that you have 8 buttered layers.

Spread nuts on top layer.

Now place another layer of filo pastry on top of the nuts and brush with ghee. Repeat this process 9 times so that you have 10 buttered layers.

Cut baklava into lozenges with a sharp knife, place in oven and bake for about 30-35 minutes until crisp.

Remove the baklava from the oven and immediately pour the syrup over it. Depending on the sweetness, you can spread more or less on the baklava. I used about 8 - 10 tablespoons for the aforementioned mold. Each piece needs to get some syrup off.

Top with ground pistachios or nuts to taste and let cool.
Notes
Recipe contains affiliate links. 
Nutritional values
Serving:
30
g
|
Calories:
130.8
kcal
|
Carbohydrates:
11.7
g
|
Protein:
2.2
g
Craving more nutty baklava fun? Then be sure to try the divine Baklava Cheesecake, the quick Baklava Rolls or the creamy filled Baklava Pockets.