Aubergine meets chickpea: Musaka'a
Musaka'a - the name sounds familiar, doesn't it? Does it remind you of the Greek moussaka? In fact, not only the name is quite similar here - the dishes are even related! In this version, delicious fried eggplants come with chickpeas in a super aromatic tomato sauce.
Once upon a time ... "The Cold"
"You shiny little eggplant - gutschi gutschi guuuuh!"
Seriously? Me, an eggplant??? That's what my cousin (she lives in the US) said to me when we first met 20 years ago (she was 26).
I was 15, in the full bloom of puberty, "slightly" overweight and very intimidated - but I had my hand in my mouth at that very moment.... So, I was just eating this delicious musaka'a with a piece of pita bread and staring at her with wide eyes. I'll probably never forget that particular moment.
Musaka'a means "the cold one". That's what I've been calling my cousin ever since... But the name comes more from the fact that this vegan dish is actually enjoyed cold, or at room temperature. Quite in contrast to its Greek relative Moussaka, which is served hot as a casserole with meat.
A delight as a mezze or as a main course!
You can serve the fried eggplant with chickpeas in tomato sauce as a main dish or as an appetizer as part of a meze. Personally, I could always eat my fill of it alone. But the meze I still like to take 😉
The preparation is very easy. You simply slice the eggplants, deep-fry them or fry them in a pan with lots of oil. Then the fried slices go into a hearty tomato sauce with garlic, onions and a good pinch of cinnamon.
A special feature are the chickpeas, which must still be slightly firm to the bite in the musaka'a. At least that's the tradition here. Of course, you can also save time and effort by using chickpeas that have already been cooked. By the way, you can learn everything you need to know about chickpeas in my guide.
The deep-fried aubgerines in tomato sauce are best served with fresh pita bread or placed in slices on crusty baguette. Enjoy your meal!
---
Recipe for Musaka'a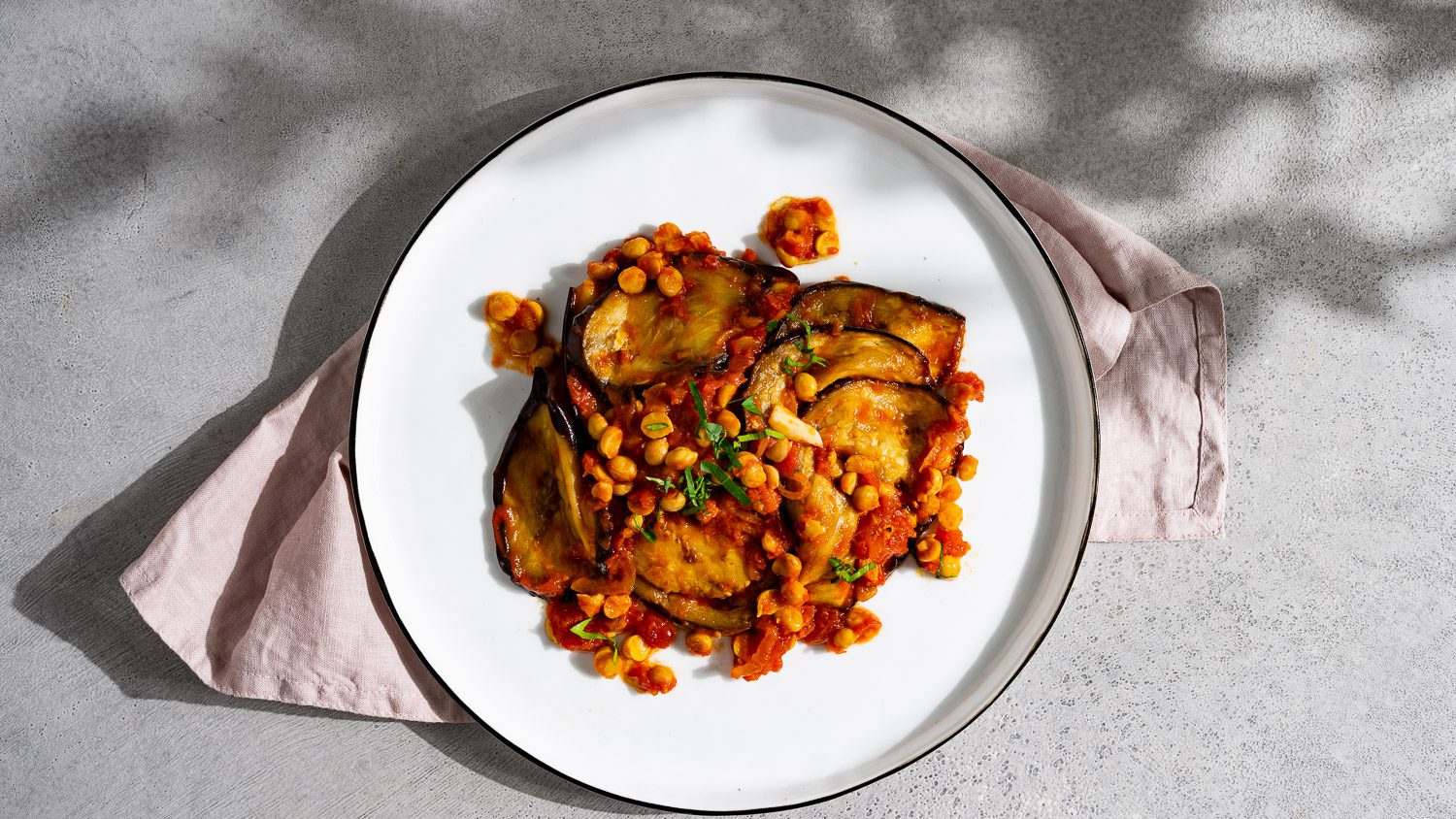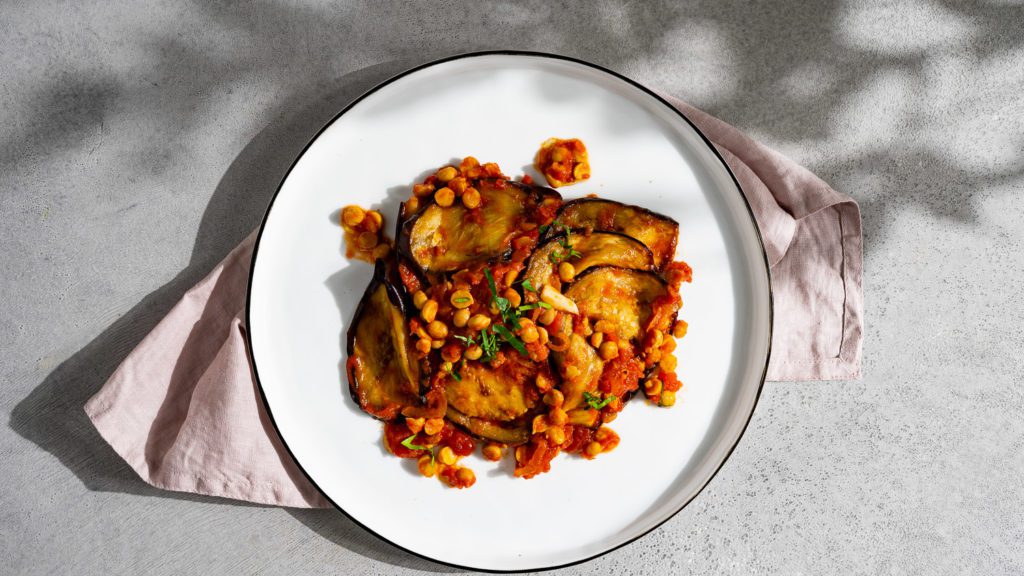 Print recipe
Save recipe
Saved!
Ingredients
100

g

dried chickpeas

2

Eggplants

2

Onions

3

Garlic cloves

400

g

diced tomatoes

small can

2

TBSP

Tomato paste

50

ml

Water

4

TBSP

Olive oil

1

pinch

Cinnamon

1

handful

flat leaf parsley

chopped

Salt, pepper
Preparation
Soak the chickpeas in water overnight.

drain the soaked chickpeas and spread them between two kitchen towels. Now run the bottom of a saucepan over the covered chickpeas with gentle pressure.

The chickpeas should now have lost their skin and most of them should have been halved. Sort out the skin and halve the remaining chickpeas.

Cut off the stem of the aubergine and slice the aubergine lengthwise.

Lay out kitchen paper on plates.

Aubergines either deep-fry on both sides in the deep fryer or fry in the frying pan until golden brown.

Leave the fried aubergines to cool on the kitchen paper.

Cut the onions into half rings and crush the garlic - fry both in a pan with oil for 5 minutes over medium heat.

Now fry the tomato paste briefly.

Then add the diced tomatoes, the chickpeas and the water and let the sauce bubble, covered, over a medium heat for 10 minutes.

Season the tomato sauce with salt, pepper and cinnamon.

Place the fried aubergine slices in the sauce, turn off the heat and leave to infuse for at least 30 minutes.

Garnish the musaka'a with chopped parsley when serving.
Notes
Recipe contains affiliate links. 
Nutritional values
Calories:
429
kcal
|
Carbohydrates:
84
g
|
Protein:
18
g
|
Fat:
6
g
|
Saturated Fat:
1
g
|
Polyunsaturated Fat:
1
g
|
Monounsaturated Fat:
2
g
|
Sodium:
306
mg
|
Potassium:
2233
mg
|
Fiber:
22
g
|
Sugar:
30
g
|
Vitamin A:
754
IU
|
Vitamin C:
40
mg
|
Calcium:
250
mg
|
Iron:
6
mg
Also be sure to try the Eggplant Shakshuka or the Baked Feta with Eggplant and Chickpeas.