Kibbeh croquettes - a Levant classic!
I think there is hardly a delicacy that, along with hummus, falafel and labneh, is more representative of Levantine cuisine than kibbeh. I don't know how many times I have eaten this dish in different variations. Especially the kibbeh croquettes or kibbeh maklieh are indispensable from lavishly filled mezze tables- and since my childhood I always steal the first finished croquette from my mother's kitchen. This is still the case today.
Kibbeh: What is that actually?
Kibbeh is an incredibly delicious specialty of oriental cuisine, especially in the Levant. Basically, kibbeh consists of a dough made from really super finely ground meat and fine bulgur, along with some spices. The kibbeh dough then serves as an outer shell for a filling of well-seasoned sautéed ground meat and pine nuts. From this you can then prepare very different variations.
One of the most famous variations of kibbeh is the kibbeh croquette with its really quite distinctive shape. It is oval with slightly sharpened corners. When I made the parts myself for the first time, it was admittedly a bit of a challenge. But with a little practice that was then quickly no longer a problem.
In addition to the kibbeh croquettes, this delicacy is also available as a kind of cake (you can find the recipe in my cookbook), where the dough serves as the bottom and top and the minced filling is in the middle. This version is baked in the oven - unlike the fried croquettes.
The Kibbeh croquettes taste best when they have just been freshly prepared. They are super crispy on the outside and deliciously juicy on the inside. But you should let them cool down a bit - otherwise you could burn yourself on the hot filling. These croquettes are also called Kibbeh Maklieh.
The small croquettes are then often an integral part of a sumptuous mezze on special occasions.
The special thing about our family recipe
When I asked my mom for her recipe for Kibbeh, it just bubbled out of her and I could barely keep up. I have written down folgede ingredients for Kibbeh:
For the kibbeh dough:
Beef (lean)
fine bulgur
Cumin
Cinnamon
Allspice
Nutmeg
fresh basil
After I hastily wrote down at least the rough ingredients of the dough, my mother still said that the basil is her personal secret ingredient and gives her version of Kibbeh a very great, fresh aroma. I can absolutely confirm that!
For the kibbeh filling you will need:
Ground beef
Onion
Olive oil
Pine nuts (sometimes she also uses walnuts)
Cinnamon
Salt, pepper
Then I got to work and cooked the Kibbeh croquettes. I found that very exciting and to get the form so was a bit friemelig at first, but after one or two croquettes it became what - and they were so incredibly delicious!
Make kibbe dough and filling
Prepare filling
I already knew this kind of filling from the recipe for Sambousek, the stuffed and deep-fried dumplings. From there, this was really quick to make. I just chopped onions and pan fried them with the ground beef and pine nuts until crumbly and seasoned with salt, pepper and cinnamon. It's really quick and easy.
Prepare kibbeh dough
The Kibbeh dough was also pretty easy to make. The meat must be ground really fine to a kind of farce. For this I simply packed the meat in a blender and then pureed it once properly fine. After the meat was then fine enough, I added the basil and again pureed everything into a homogeneous mass.
The fine bulgur is very important for the kibbeh dough! If you do not find fine bulgur in the supermarket, then ask for wheat groats - so the kind of bulgur is also called. And if you still can't find it, you can simply grind the coarser bulgur finer yourself in a blender. After that, the fine bulgur only needs to be covered with a little water and swell briefly.
You can then knead the fine meat mixture with the basil by hand with the spices and the swollen bulgur.
Shape kibbeh croquettes
Now it's time to shape! To form the croquettes, you should already have prepared the kibbeh dough and the filling. Be sure to have a bowl of fresh, cold water ready. You'll need the water to wet your hands and shape the croquettes properly.
Then you take some of the dough and press it on your moistened hand to a fairly thin circle. In the middle you put some of the filling and close the circle to a ball.
Now it's a matter of closing the ball properly and getting the kibbeh into its concise shape. I always moisten one hand for this and stroke the seams with my fingers to close them properly. The water makes the outer dough more pliable and easier to work with.
After the seams are closed, I take care of the shaping. For this I take the filled Kibbeh ball and press one half of the ball a little to get a kind of dent. Then I shape it into a point and do the same with the other side. The first Kibbeh croquette is ready. Now the others. Don't worry, this really does go faster and faster over time.
If you don't feel like making this shape, then of course you can just make it into a sort of round croquette or stuffed meatball.
The small croquettes are then simply fried in hot oil for a few minutes until golden brown.
More Kibbeh variations
Kibbeh is really incredibly versatile and not just limited to this most famous form. Basically, you can give it any shape you feel like.
You can also use kibbeh croquettes in many ways. There is kibbeh in yogurt sauce or kibbeh in tomato sauce with vegetables. Then there is also raw kibbeh, which is served like a kind of tartar (without filling) on a plate with olive oil.
And last but not least, there are vegetarian and vegan kibbeh. I have already eaten kibbeh made from potatoes, pumpkin and lentils and I can tell you that all variants are incredibly delicious. In the course of time, there will definitely be the recipes of the other variants of kibbeh here. For now I wish you a lot of fun cooking and of course good appetite!
---
Recipe for kibbeh croquettes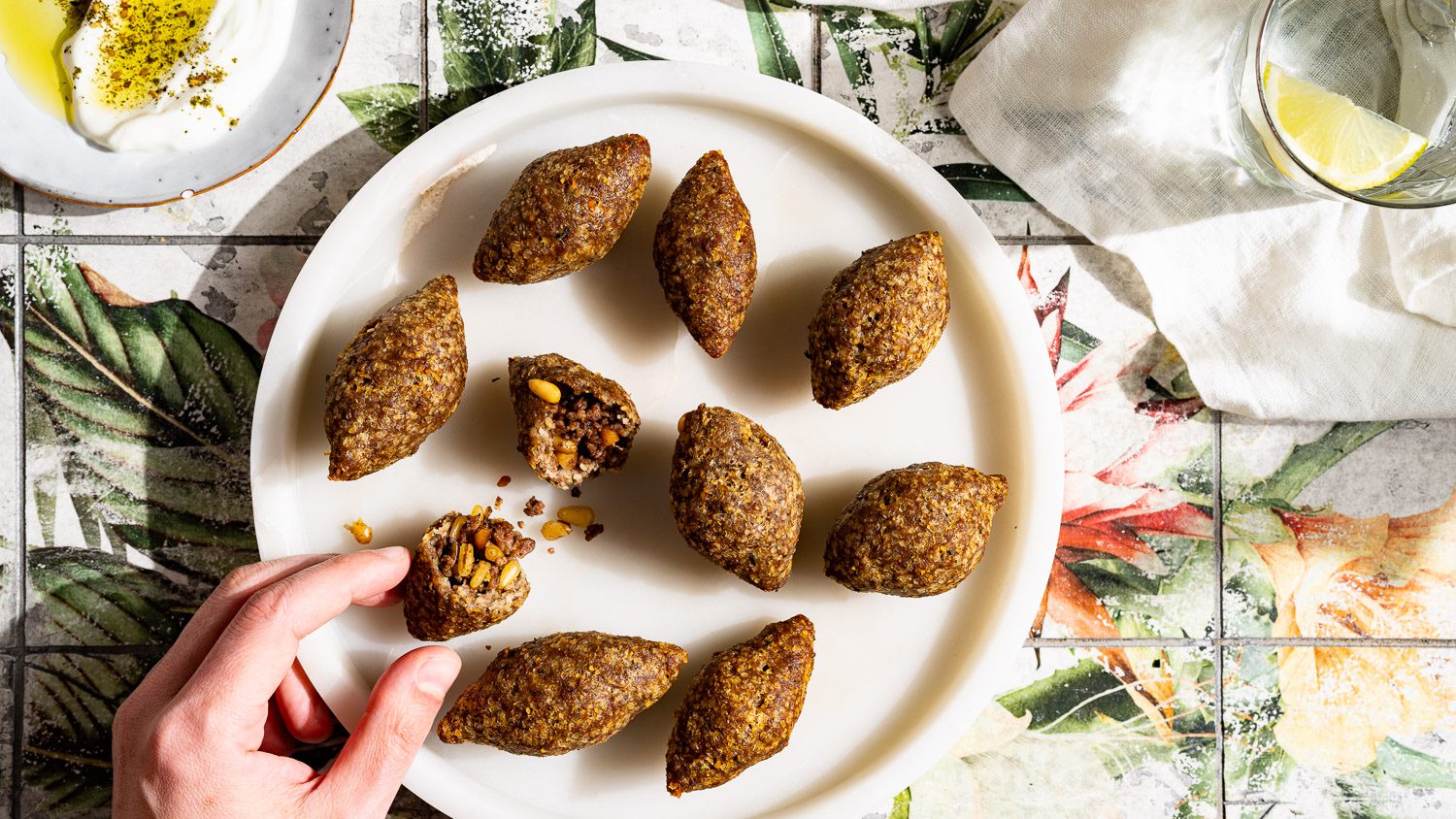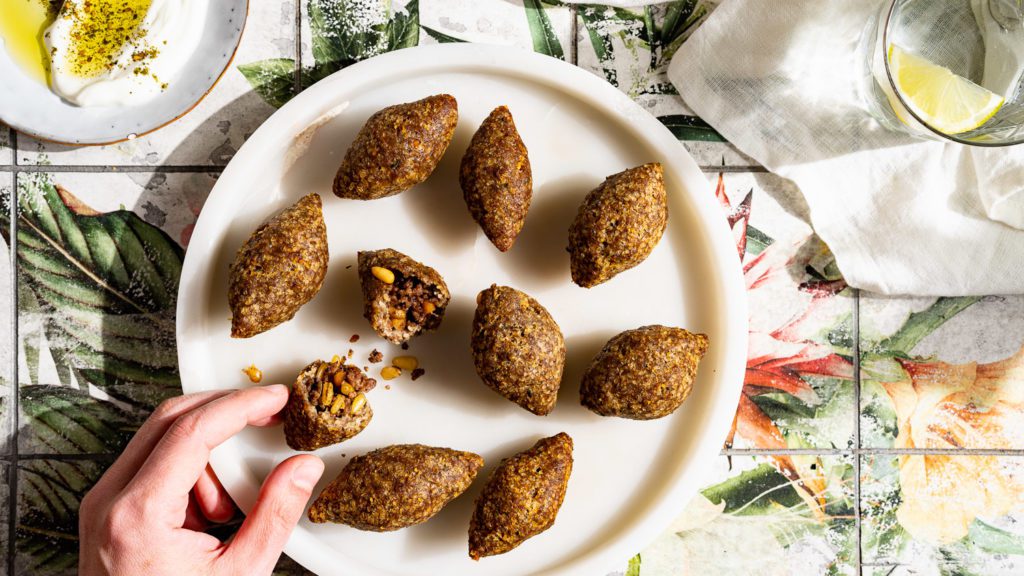 Print recipe
Save recipe
Saved!
Ingredients
Kibbeh dough
150

g

lean beef

90

g

fine bulgur

75

ml

lukewarm water

1/2

teaspoon

Cumin

1/4

teaspoon

Cinnamon

1/4

teaspoon

Allspice

1/8

teaspoon

Nutmeg

7

g

Basil

Salt, pepper
Kibbeh filling
For deep frying
Rapeseed or sunflower oil
Preparation
Kibbeh dough
Finely grind the meat in a blender. The meat should become a fine paste.

Add basil and incorporate into meat mixture with blender.

Soak bulgur with warm water for about 5 minutes and then mix with the spices.

Add meat paste to bulgur and knead with hands to form a dough.
Kibbeh filling
Peel and finely chop the onion.

Heat olive oil in a frying pan on medium heat and fry the onion in it for about 3 minutes until translucent.

Add minced meat and increase heat slightly. Fry minced meat until crumbly, add pine nuts/walnut and season with cinnamon, salt and pepper.
Shape kibbeh
To shape the kibbeh croquettes, fill a small bowl with cold water. Keep moistening your hands with the water while shaping.

Form about 35 g of the dough into a ball in your hand and flatten it as much as possible in the palm of your hand. The thinner the dough, the juicier the croquettes will be afterwards. 

In the middle of the dough put about 2 teaspoons of filling and close the dough around the filling. To do this, first roughly close and then close any cracks. To do this, moisten fingers with a little water and rub the surface. The surface of the dough will become smoother and more pliable for molding. 

You now have a closed kibbeh croquette. Next, shape this croquette so that the ball gets two tips. To do this, moisten your hands with water again and again.

Repeat this until no dough or filling is left. 
Kibbeh deep fry
Heat sunflower or rapeseed oil in a deep fryer or pot to approx. 175 °C and deep-fry the Kibbeh croquettes for approx. 3 - 4 minutes until golden brown and crispy on all sides. 

Remove kibbeh from oil and drain. Serve kibbeh while still warm. (Caution: Directly from the deep fryer, the filling is still extremely hot!)
Notes
Recipe contains affiliate links.
Nutritional values
Calories:
102
kcal
|
Carbohydrates:
8
g
|
Protein:
7
g
|
Fat:
5
g
|
Saturated Fat:
1
g
|
Polyunsaturated Fat:
1
g
|
Monounsaturated Fat:
2
g
|
Trans Fat:
0.1
g
|
Cholesterol:
16
mg
|
Sodium:
17
mg
|
Potassium:
144
mg
|
Fiber:
2
g
|
Sugar:
0.4
g
|
Vitamin A:
40
IU
|
Vitamin C:
1
mg
|
Calcium:
12
mg
|
Iron:
1
mg