Lebanese spinach stew: Yakhnet Sabanegh
I was a very unusual child, because I loved spinach. To this day, I honestly can't understand why so many children supposedly have such an aversion to this divine vegetable. And yet you can do such incredibly delicious things with it. For example, you can put spinach in dumplings with feta, make a salad out of it or serve it as a really delicious spinach stew with roasted pine nuts and fragrant buttered rice.
I used to come home from school and it smelled like... nothing. Catastrophic, not possible, an absolute impertinence. (I would then immediately go to the reserves of our small but always filled chocolate stash). After all, you shouldn't keep a hungry child waiting who has just had 3 hours of school (I was a diva as a hungry child, I still am today). But as if by magic, about 30 minutes later, there was a delicious spinach stew on the table. My mother is quick at cooking, but Yakhnet Sabanegh (which translates simply as "spinach stew") is actually prepared in no time at all.
Spinach stew in two variations
There are two versions of the stew. My grandmother always prepared it with minced beef. My mother, on the other hand, leaves out the meat. Both versions taste great, I promise! So you are spoilt for choice. I used my grandmother's recipe and also use some ground beef, which gives the spinach stew a stronger, heartier character. However, freshly roasted pine nuts are a must - especially in the vegan version. So if you want to make the stew vegan/vegetarian, increase the amount of pine nuts a little.
Spinach: Fresh or from the freezer?
I personally love to use fresh, young spinach in salads. For stews, I prefer to use the frozen version. The spinach is washed directly after harvesting and shock-frozen. So most of the nutrients remain in the vegetables. What's more, the spinach is already chopped and I can use it straight away. By the way, the spinach stew is a real summer stew! It comes with a good dash of lemon juice, which gives the stew a really tasty freshness.
Fun fact: In Lebanon, you don't eat the yakhnet sabanekh including rice with cutlery, but shovel it all in with fresh flatbread 😉
---
Recipe for Yakhnet Sabanegh - Lebanese Spinach Stew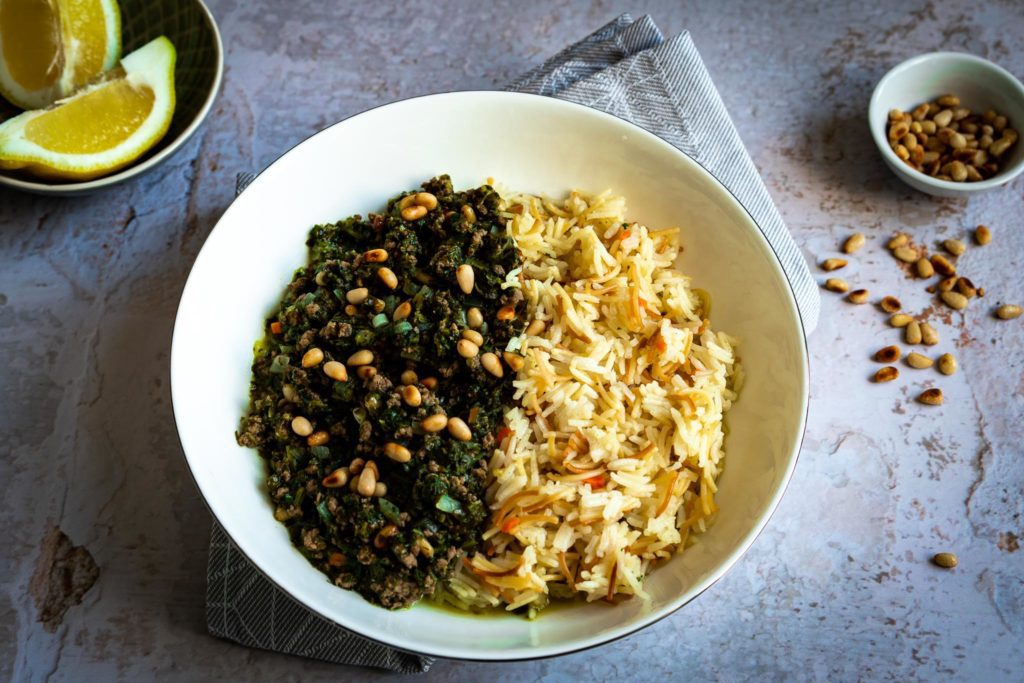 Print recipe
Ingredients
500

g

Spinach

chopped, frozen

250

g

Ground beef

200

ml

Vegetable broth

1

Onion

2

Garlic cloves

3

TBSP

Olive oil

1

Lemon

30

g

Pine nuts

1

TSP

Coriander

ground

Salt, pepper

1

x

Butter rice
Preparation
Peel and finely chop the onion and garlic.

Heat the olive oil in a saucepan and fry the minced beef for about 3 minutes. Add the onion and garlic, turn the heat to medium and fry for about 5 minutes.

Add the ground coriander and spinach and deglaze with stock.

Squeeze the lemon and add the lemon juice to the stew. Simmer the stew for about 15 minutes.

Briefly toast the pine nuts without oil in a pan on medium heat until they have some colour and add to the stew. Season the stew with salt and pepper.

Prepare the butter rice according to the recipe

Serve the spinach stew with buttered rice and lemon wedges if desired.
Notes
*Recipe contains affiliate links. 
If you liked the recipe, I am very happy about a small tip. You are helping me to bring more great recipes to the blog. Thank you so much 🙂
Donate here: continue to Paypal
If you love stews as much as I do, be sure to try fasolia, okra stew and Lebanese potato stew.