Pistachio biscuits - Deliciously buttery and super chocolaty
Every year it happens again: I go into a real baking frenzy and have to bake whole truckloads of biscuits. My favourite biscuits are these wonderfully buttery pistachio biscuits with lots of chocolate and even more pistachios on top! Of course, I can't eat all these biscuits on my own. can I like to impose them on friends and neighbours. But how my madness comes about, you will find out in the following story...
A song to subjugate them
"Lantern, lantern,
Sun, moon and stars."
I lie comfortably on the couch and listen.
"Burn on, my light,
burn on, my light,
but only my dear lantern not!"
I have to stand up, my feet touch the fluffy carpet and lead me into the kitchen. My movements are automated. It's like sleepwalking, only fully conscious.
"Lantern, lantern
Sun, moon and stars."
I reach for the flour and also take the scales from the shelf. I am confused, as I have known this ritual for decades. Sugar, baking powder and vanilla. The last thing I do is get the butter out of the fridge.
"When it's dark,
when it is dark,
then you will see how beautiful it is."
Oh my God! That song! It's like Nightmare on Elm Street with the song for Freddy Kruger. It's calling something...
Enough!!! I mix the ingredients together and put the dough for the pistachio biscuits in the fridge to chill.
"Lantern, lantern,
Sun, moon and stars."
Preheat the oven, line a baking tray with baking paper...
"Do not go out my light,
Do not go out my light
for I will see it, thy face."
Roll out the dough, cut out the pistachio biscuits and put them in the oven! No time to catch your breath - get to work on the next batch!
"Lantern, lantern,
Sun, moon and stars
And the winds blow,
and the winds blow,
let's go on, on, on."
How the pistachio biscuits smell....
"Lantern, lantern,
Sun, moon and stars."
It's all happening very quickly now...
"Stay bright, my light,
stay bright, my light,
for otherwise my dear lantern will not shine!"
Phew! This song cracks me up every year!
It's like a button that starts the biscuit season for me. I can't help it.
And this year I start my biscuit sessions with these delicious pistachio biscuits.
---
Recipe for chocolate pistachio biscuits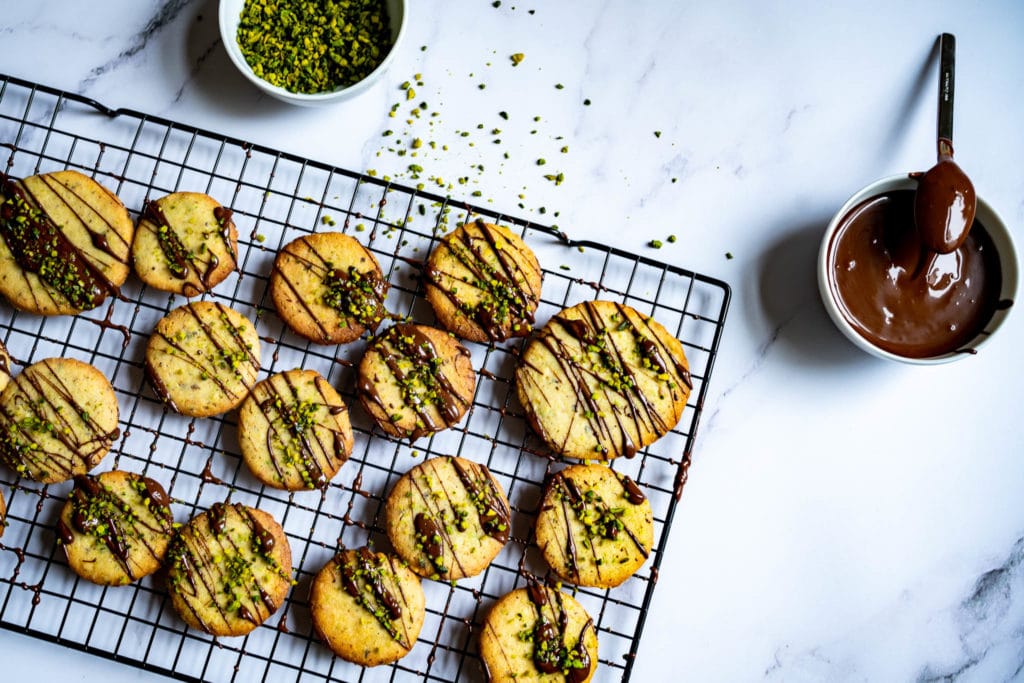 Print recipe
Save recipe
Saved!
Ingredients
300

g

Flour

300

g

Butter

Room temperature

180

g

Sugar

80

g

Chopped pistachios

1

Egg

1/2

TSP

Baking powder

1

packet

Vanilla sugar

1

pinch

Salt

1

TBSP

Orange blossom water

optional
Topping
100

g

Dark chocolate

20

g

Chopped pistachios
Preparation
Cream the butter with the sugar.

Mix the flour with the baking powder and salt and knead into a dough with the sugar and butter mixture and the remaining biscuit ingredients.

Shape the dough into a ball and wrap in cling film. Then place in the fridge for at least 1 hour.

Preheat the oven to 180° convection oven. Line a baking tray with baking paper.

Roll out the chilled dough. The thickness of the biscuits is indicated by the chopped pistachios. Once you hit the pistachios when rolling out, you don't need to roll out any further.

Cut out the dough and bake the biscuits for approx. 10 - 12 minutes. Then leave the biscuits to cool.

Melt the chocolate over a bain-marie and then spread over the cooled biscuits with a fork/spoon. Of course, you can also dip the biscuits in the chocolate or cover them completely with it - depending on what you need, you may need a little more chocolate.

Sprinkle the chopped pistachios directly onto the still warm chocolate. Then leave the biscuits to stand until the chocolate has cooled.
Notes
Recipe contains affiliate links. 
Nutritional values
Calories:
172
kcal
|
Carbohydrates:
16
g
|
Protein:
2
g
|
Fat:
11
g
|
Saturated Fat:
6
g
|
Polyunsaturated Fat:
1
g
|
Monounsaturated Fat:
3
g
|
Trans Fat:
0.3
g
|
Cholesterol:
27
mg
|
Sodium:
85
mg
|
Potassium:
68
mg
|
Fiber:
1
g
|
Sugar:
8
g
|
Vitamin A:
268
IU
|
Vitamin C:
0.1
mg
|
calcium:
10
mg
|
Iron:
1
mg
Be sure to try the Lebanese butter biscuits or the comprehensively delicious sesame biscuits.