Date Cake with Chocolate Pistachio Topping
Dates don't usually last long for me. It's not that I eat a whole pack of them straight away... But when I pass by, I can never resist and always take one on my way to the living room. Then I run back because I still have to get rid of the core. This creates a cycle that only ends when they are all gone. (Yes, I could just take a bowl for the kernels, but then the fun would be gone). Hidden in a delicious and juicy date cake, their chances of survival are not higher, but even I can't get rid of a whole cake like that in one day - even if I would like to.
The dates take a bath
When I developed the recipe for this cake, I used the dried dates directly without pre-treatment. Of course, that also works, but then they are not as deliciously juicy. The dates have to take a nice bath before they are allowed into the dough. This makes them a little less sweet and keeps the cake nice and juicy. If you like, you can also add a tiny dash of rose water to the water bath, but you don't have to.
After the bath, they should first be properly drained and can then sink directly into the prepared dough.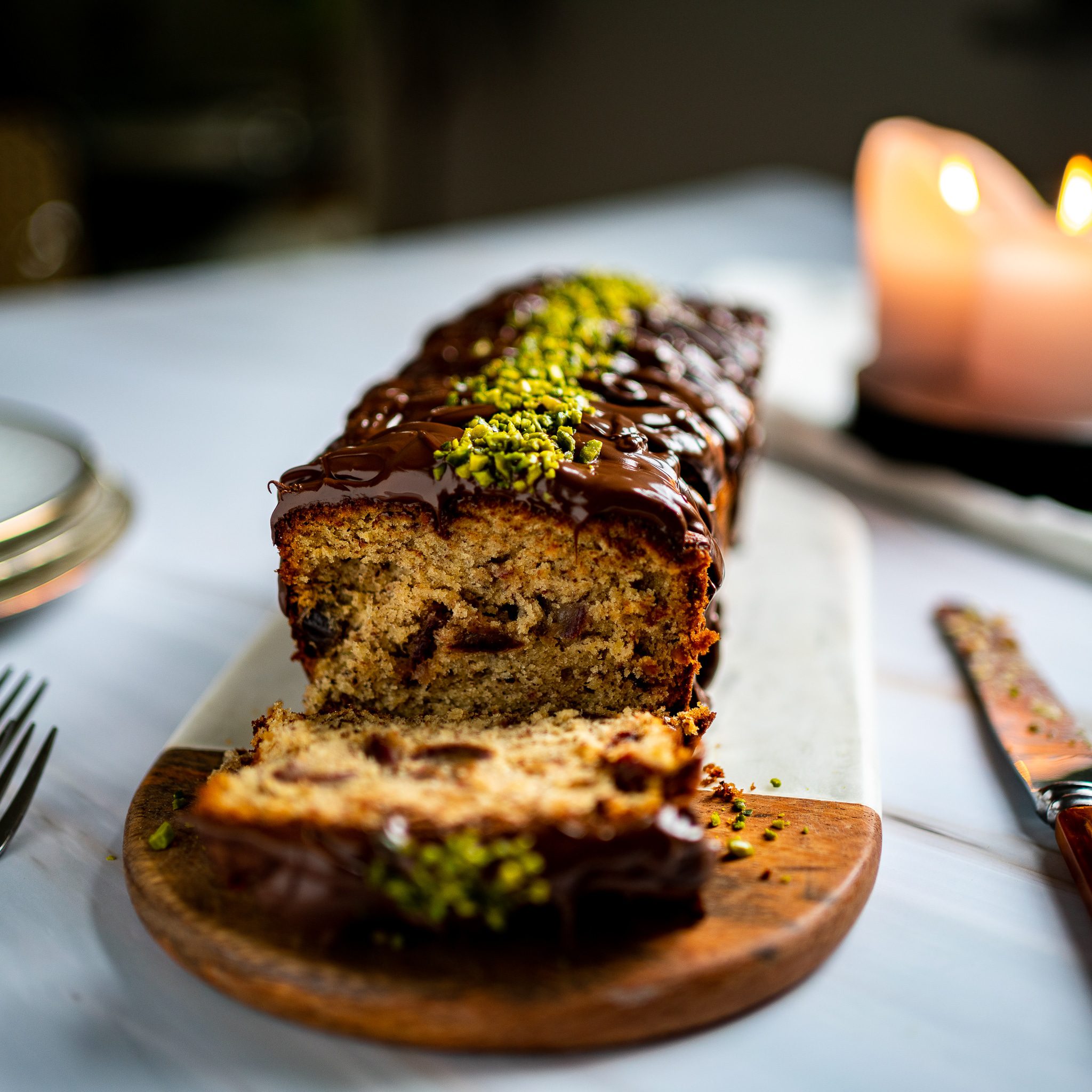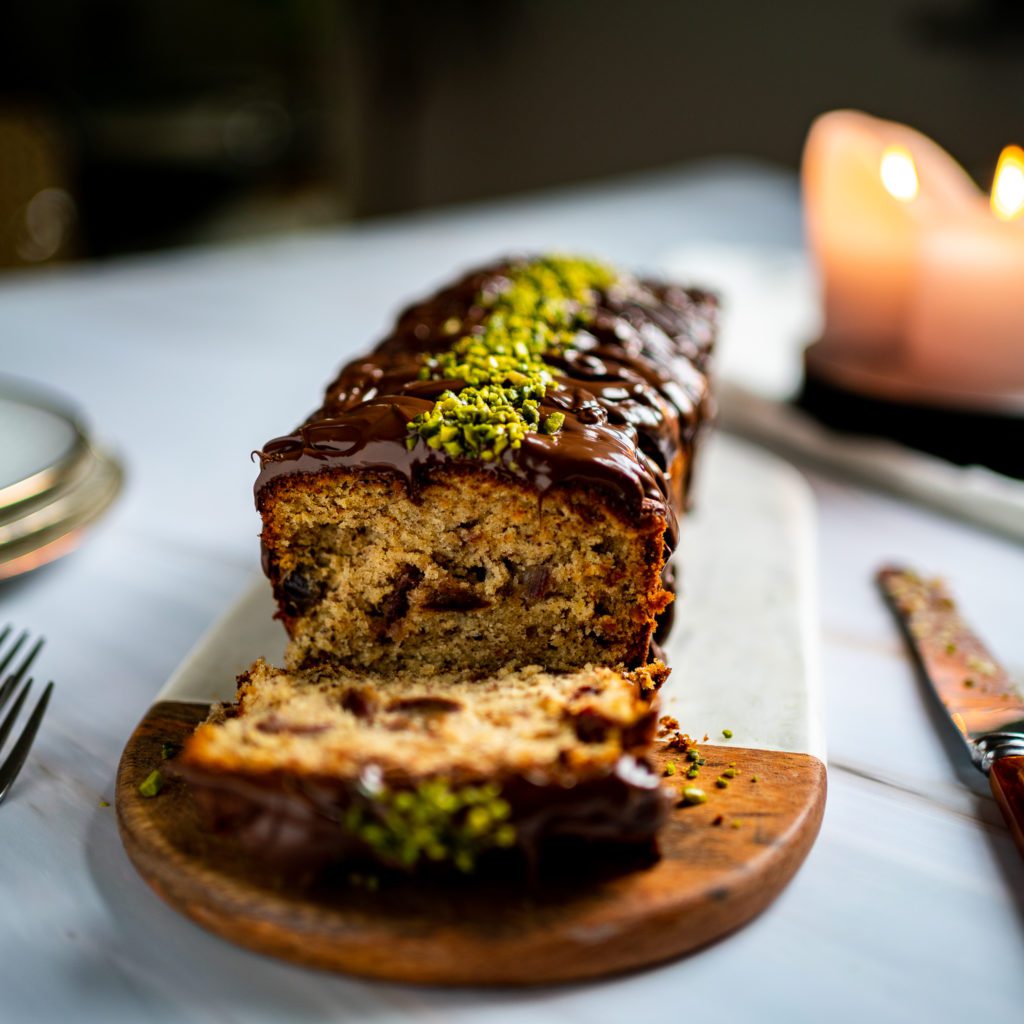 Date-nut cake: Super moist and deliciously chocolaty
I usually only bake cakes when I have visitors or when I can make the neighbours happy. That's not altruistic at all, but pure self-protection - see the example above. But I can well imagine that you feel the same way, don't you?
What I love about the date cake is the mixture of juicy sweet dates, the taste of hazelnuts and a hint of cinnamon and cardamom. Paired with the chocolate and pistachios, each piece is an absolute dream. By the way, the date cake stays fresh for at least 2 - 3 days - just in case you don't want to share it 😉 ...
---
Recipe for date cake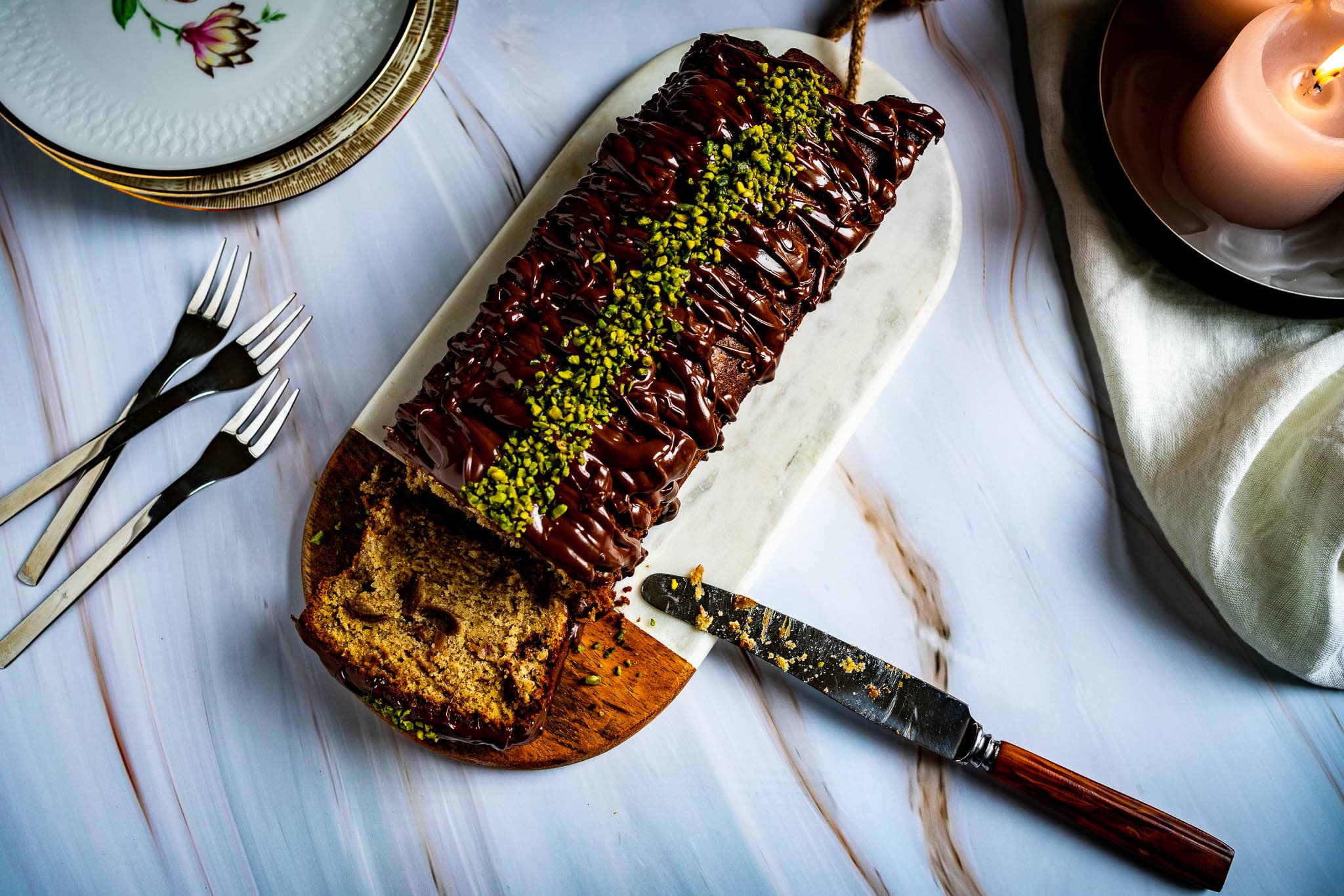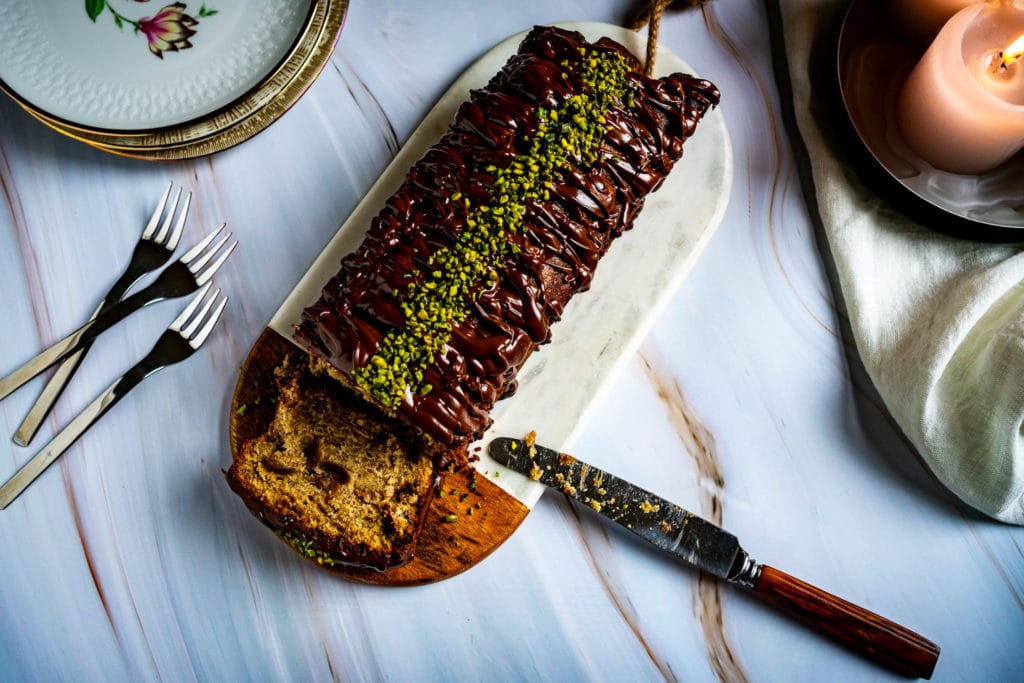 Print recipe
Save recipe
Saved!
Ingredients
Set
150

g

Chocolate coating

Whole milk or plain

15

g

chopped pistachios
Preparation
Cut the dates into thirds and soak in a bowl covered with water for about 1 hour. Then drain well in a sieve.

Preheat the oven to 180 °C convection oven.

Wash the lemon well and finely grate the zest. Squeeze half of the lemon.

Cream together the butter, sugar, vanilla sugar and a pinch of salt.

Crack the eggs and add one at a time and continue to stir.

Mix the baking powder, cardamom and cinnamon with the flour.

Stir in flour mixture and ground hazelnuts by tablespoonfuls.

Stir in 1 tbsp lemon juice.

Add the dates and lemon zest to the batter and mix for approx. 2 - 3 minutes.

Grease the loaf tin well or line with baking paper and pour in the batter and smooth it down.

Bake the cake for approx. 55 minutes in the preheated oven.

Leave the cake to cool after baking and then remove the cake from the tin.

Melt the couverture over a water bath and spread over the cake.

Garnish the cake with chopped pistachios.
Notes
Recipe contains affiliate links. 
Nutritional values
Calories:
378
kcal
|
Carbohydrates:
42
g
|
Protein:
6
g
|
Fat:
23
g
|
Saturated Fat:
10
g
|
Polyunsaturated Fat:
2
g
|
Monounsaturated Fat:
10
g
|
Trans Fat:
0.4
g
|
Cholesterol:
81
mg
|
Sodium:
159
mg
|
Potassium:
278
mg
|
Fiber:
4
g
|
Sugar:
30
g
|
Vitamin A:
401
IU
|
Vitamin C:
6
mg
|
Calcium:
39
mg
|
Iron:
2
mg
Be sure to try the chocolate and orange babka or the marble cake with tahini.