Sfiha - Lebanese minced meat pockets
No birthday, no buffet and generally no celebration or party without sfiha! These delicious little minced meat pockets with "built-in pine nut turbo" are the absolute classic when it comes to finger food in Lebanese cuisine. Small, handy and super deliciously filled. If you've known my blog for a while, you probably already know that I could eat my fill of these little bites on my own. Well ... "could" implies that I haven't done it yet - which is not right 😀
Imagine you're a child and you slowly realise that on a certain day of the year it's all about you and suddenly friends and relatives are standing in the room and they all want to snog you. What do you do? That's right, you run to mum, hide behind her and she puts something delicious in your mouth while she keeps the guests away from you (or greets them ... I'm not so sure anymore). A big table was laid with all kinds of little things and the first people started to help themselves. That was my first conscious encounter with Sfiha, my first great love 😀
The little mince pies are extremely popular with my family. Everyone likes them and they are even quite simple and relatively quick to make. My mother still makes the dough herself. But if you're in a hurry and need to fill the party buffet quickly, you can of course save some time with bought yeast dough. But honestly: bought dough is never as good as homemade dough.
By the way, sfiha are the counterpart to spinach pockets, which are also perfect as finger food at any party buffet.
---
Recipe for Sfiha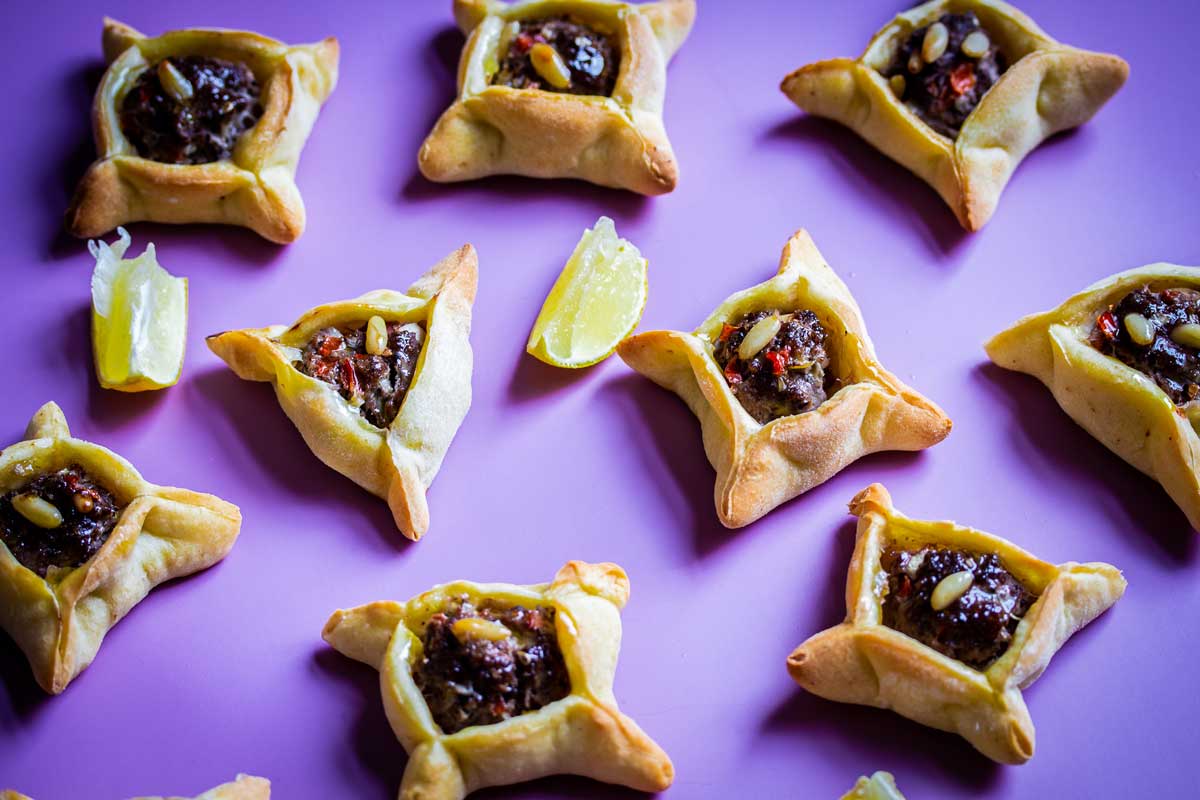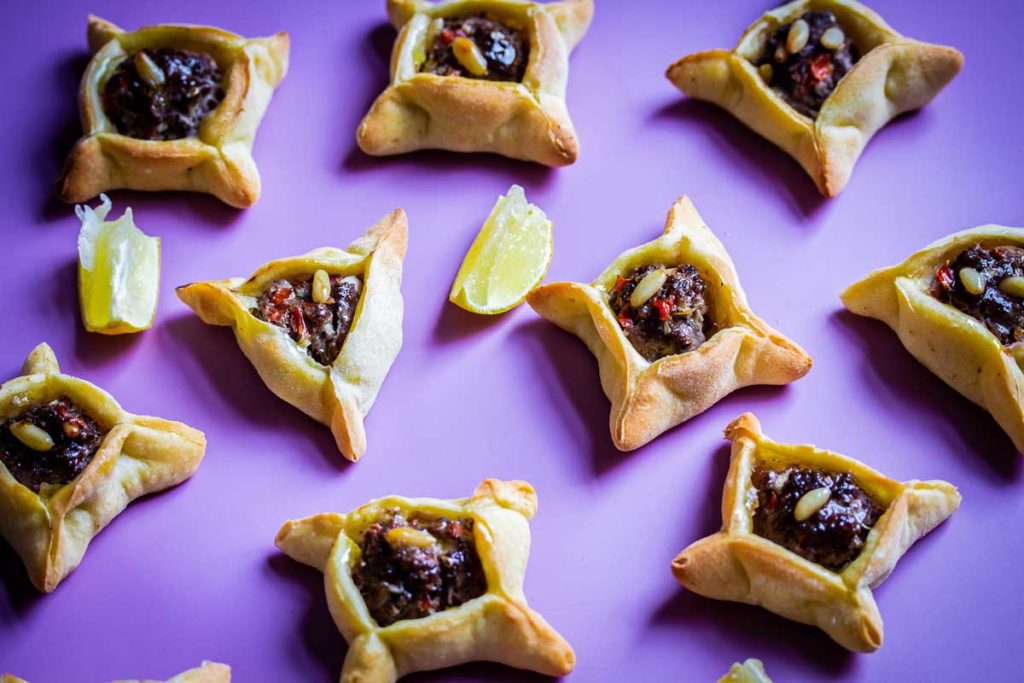 Print recipe
Ingredients
For the dough (you can of course also use ready-made yeast dough)
500

g

Spelt flour

or wheat flour

7

g

Dry yeast

1

TSP

Salt

1

TSP

Sugar

200

ml

Water

lukewarm

50

ml

Milk

lukewarm

100

ml

Olive oil
Filling
Preparation
Dough
Dissolve the sugar in the water and then stir in the dry yeast and leave for about 5 minutes.

Knead all the ingredients together into a smooth dough. The dough should be kneaded for about 20 minutes. (A food processor will do a lot of the work for you).

Then cover the dough and leave to rise in a warm place for about 90 minutes.
Filling
Peel and finely chop the onion.

Finely dice the tomatoes.

Roast the pine nuts briefly in a pan without fat.

Mix all the ingredients together.
Prepare sfiha
Preheat the oven to 180 °C.

Divide the dough into 4 parts and shape into balls. Then let it rise covered for another 10 minutes.

Then roll out a ball of dough thinly and cut it out with a round mould with a diameter of approx. 8 - 10 cm (e.g. a glass).

Place approx. 1.5 tsp of mince filling in the centre of the round shapes, fold up the outer pastry surfaces and join together at the corners.

Place the sfiha on a baking tray lined with baking paper, leaving some space between them, and bake in the oven for about 12 minutes.

Serve sfiha with a little lemon.
Notes
*Recipe contains affilate links. 
If you liked the recipe, I am very happy about a small tip. You are helping me to bring more great recipes to the blog. Thank you so much 🙂
Donate here: continue to Paypal