Fattoush: Colourful salad with fried pita bread
My little niece will soon be 5 years old and has so far proved to be a very difficult eater. However, there are a few things she loves to eat. One is tomatoes - she should actually be bright red in the face by now. Then there's tabouleh. The other day when we were having a barbecue and my sister was making a salad in the kitchen, my niece just exclaimed, TABOOOUUULEEEEH!!!! But to her surprise, there was fattoush.
Her look turned a little stony when my sister told her it was going to be fattoush and not taboulé. "What is fattoush?" she asked, horrified. "Not fatsh, fattoush. It's a mixed salad." my sister replied.
"With tomatoes?"
To their delight, tomatoes also go into Fattoush - but also much more. The tomatoes are joined by crisp romaine lettuce, radishes, peppers, cucumbers, spring onions and purslane.
Purslane looks very similar to lamb's lettuce, but has much fleshier leaves and tastes slightly nutty. Unfortunately, purslane is not available on every corner and at all times. That's why I sometimes use the more bland lamb's lettuce as an alternative.
Sumac & Bread Chips
The dressing also has a special ingredient: sumac.
If you've read a few of my other recipes, you've probably come across this spice before. It tastes slightly tart and sour and gives the salad its distinctive flavour.
On the whole, Fattoush is a colourful salad that is perfect for spring and summer. But what makes Fattoush special are the crunchy bread chips made from deep-fried pita bread. The name Fattoush also comes from the Arabic word "fitt", which means "to tear". This refers to the tearing / breaking of the pita bread. So you just break it into pieces and scatter it over the salad. Or you do it like my niece and pick the tomatoes out of the salad and put them on the crispy pita bread splinters... but then she ate the rest 😉
---
Recipe for Fattoush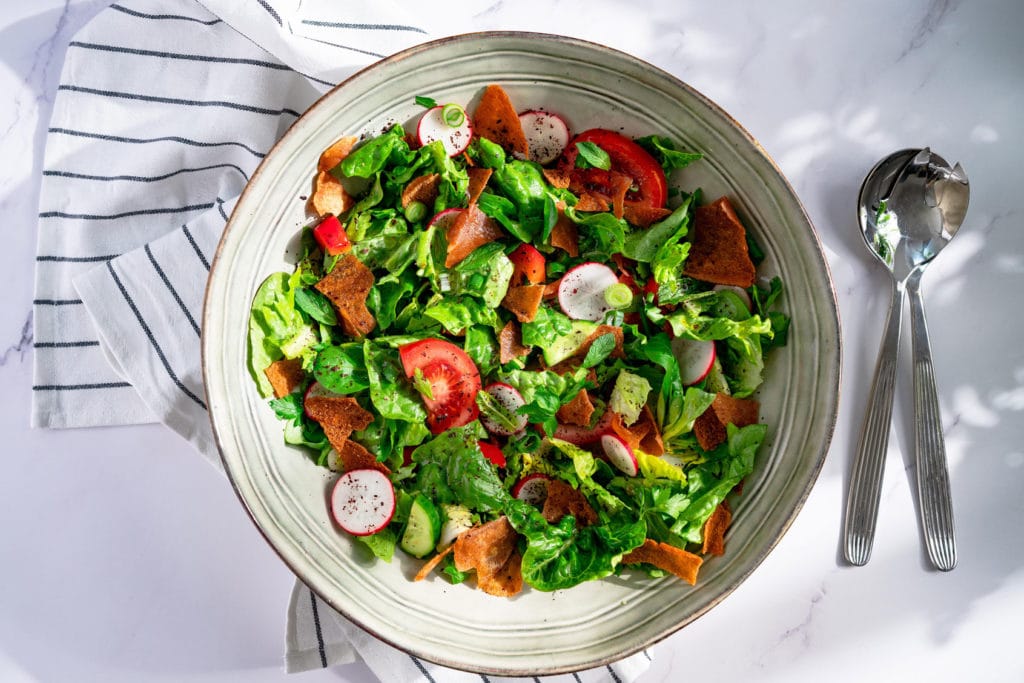 Print recipe
Save recipe
Saved!
Ingredients
1

Romaine lettuce

2

Tomatoes

1/2

Cucumber

5

Radish

2

Spring onions

1

Handful

purslane

or lamb's lettuce

1

Paprika

6

Branches

flat leaf parsley

3

Branches

Mint

1/2

Lemon

squeezed

60

ml

Olive oil

or more

1/2

EL

Sumac

Salt, pepper
Preparation
Wash the vegetables and herbs.

Cut or tear the romaine lettuce into strips.

Cut the tomato into bite-sized pieces.

Remove the seeds from the peppers and cut them into small cubes.

Halve the cucumbers lengthwise and cut them into slices.

Cut the spring onion into rings.

Cut the radishes into slices.

Pluck the mint leaves from the twig. Coarsely chop the mint and parsley.

Put the vegetables and herbs in a bowl and mix them together.

Separate the pita bread halves from each other and deep-fry them at approx. 180 °C until they are brown and crispy. Alternatively, you can toast the pita bread in the oven.

Mix the lemon juice, olive oil, sumac and salt and pepper together and add the dressing to the salad. Mix the salad thoroughly. If necessary, season again with salt and pepper and let the salad stand for 5 - 10 minutes.

Crumble the fried pita bread and serve with the fattoush.
Notes
*Recipe contains affiliate links. 
Nutritional values
Calories:
201
kcal
|
Carbohydrates:
17
g
|
Protein:
3
g
|
Fat:
14
g
|
Saturated Fat:
2
g
|
Polyunsaturated Fat:
2
g
|
Monounsaturated Fat:
10
g
|
Sodium:
116
mg
|
Potassium:
304
mg
|
Fiber:
2
g
|
Sugar:
3
g
|
Vitamin A:
1511
IU
|
Vitamin C:
21
mg
|
Calcium:
45
mg
|
Iron:
1
mg
Find out more about Levantine cuisine in my guide.