Labneh: Lebanese cream cheese
Labneh is probably one of the absolute basics of oriental cuisine. There is hardly a table in the Levant without this delicious cream cheese made from yogurt. The cream cheese always belongs to a good mezze! The basic recipe is not only incredibly versatile, but also incredibly quick and easy to prepare. It is also really cheap! I show you here how it works and how you can prepare your own Labneh.
What exactly is labneh and where does it come from?
Labneh is a very creamy fresh cheese made from yogurt. Therefore, it is sometimes called yogurt cheese. Depending on the region, Labneh is sometimes also called Labaneh. 
And as mentioned above, the cream cheese originates from the oriental cuisine and it is impossible to imagine the Levant cuisine without it. The Levant covers the countries of Lebanon, Syria, Israel, Palestine, Jordan, part of Turkey and Cyprus. 
How to make the cream cheese itself
All you need for the delicious cream cheese is: 
Yoghurt 
a pinch of salt 
a clean straining cloth
To make labneh you just have to mix a small pinch of salt with the yogurt and put the salted yogurt in the straining cloth and let it hang for a few hours.
The added salt dehydrates the yogurt, giving it a firmer consistency. In addition, the taste intensifies. Labneh tastes really fresh and strong yogurt: slightly acidic and deliciously creamy to even creamy.
The longer you let the yogurt hang out in the straining cloth, the more liquid (whey) it will lose and thus become firmer and more intense in flavor. So you can decide for yourself how creamy you want the cream cheese from yogurt. 
Speaking of creamy, the fat content of the yogurt also determines the consistency and taste. I like to use a 10% yogurt for my labneh. The fact that fat is a flavor carrier makes it not only fuller, but also milder.
If you use yogurt with a lower fat content, for example, your cream cheese will of course also be creamy, but also definitely more acidic than with more fat in the yogurt. Don't worry, this is going to sound like more science than it needs to be. Below in my recipe is again everything very clear and clearly written. 
A little trick of my mother:
The funniest way to prepare labneh is definitely my mother's: at some point she misplaced her straining cloth and searched all the drawers in the house. Nothing, no straining cloth. How nice that necessity is always the mother of invention.
So after searching half the apartment, she disappeared briefly into the kitchen again and then returned to the living room with a mocha and a grin. "So, did you find the passport cloth?" I asked. 
She sipped her mocha carefully and said quite smugly, "No, that straining cloth can stay wherever it's hiding!" and smiled at me. I thought we would have to forgo the creamy yogurt cheese this time, but with a motion of her head toward the kitchen and laughing eyes, she indicated I should take a look.
Then, when I went into the kitchen, I saw the filter holder of the coffee machine standing folded out. When I got closer, there was a coffee filter inside - and yogurt. Clever! I had to laugh, it was so simple. 
I also took a cup of the freshly brewed mocha and sat down with my mother again. We were drinking our mocha when we heard my brother from the kitchen: "Baaaa! What are you doing!!?" - My brother prefers to drink filter coffee....
Where to buy?
Of course, you can now also buy Labneh in some well-stocked supermarkets, delicatessens or even in the oriental market. But let's be honest: You can really make the cream cheese yourself so easily and quickly that the effort to buy it is not really worth it.
How and with what to eat labneh?
As said at the beginning - Labneh is very versatile. Traditionally, the cream cheese is drizzled with a little olive oil and garnished with za'atar. It is always accompanied by fresh vegetables as a snack on the side, pickled olives and of course fresh pita bread. Labneh is then simply pulled through the labneh with the oil and za'atar with a piece of pita bread.
Za'atar, by the way, is a spice mixture of thyme, toasted sesame seeds, sumac and a pinch of salt that is very popular in the Levant. 
Labneh is also excellent as a spread or even as an ingredient for savory and sweet dishes. Here I have the times a few variations for recipes with Labneh linked:
About nutritional values and whey
The creamy yogurt cheese is full of proteins, vitamins and minerals. As with other yogurt products, Labneh contains many good probiotics, which are important for healthy digestion and promote intestinal health.
If you make your own labneh and the yogurt loses liquid in the straining cloth, then you should collect this liquid. The liquid is whey. 
Whey is a by-product of the production of all types of cheese and cream cheese. This slightly yellowish liquid is rich in proteins, vitamins and minerals. You can use the collected whey to enhance smoothies, for example. Note, however, that whey contains lactose - in case you have an intolerance. This also applies to labneh in general.
Labneh is really incredibly delicious and versatile: just try it and make your own cream cheese from yogurt. Bon appétit!
If you are looking for a vegan version, you will find it here: to the vegan recipe
---
Labneh recipe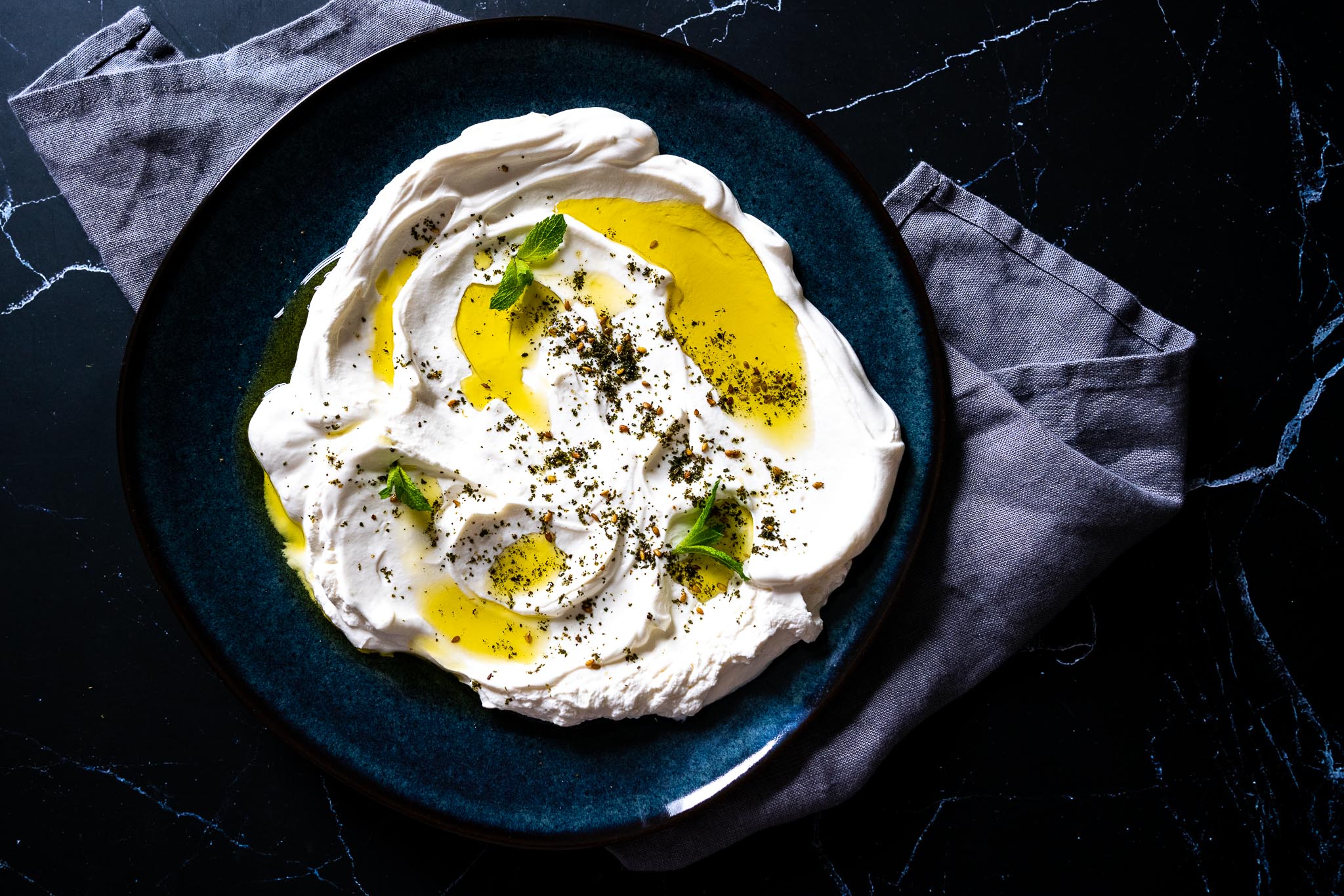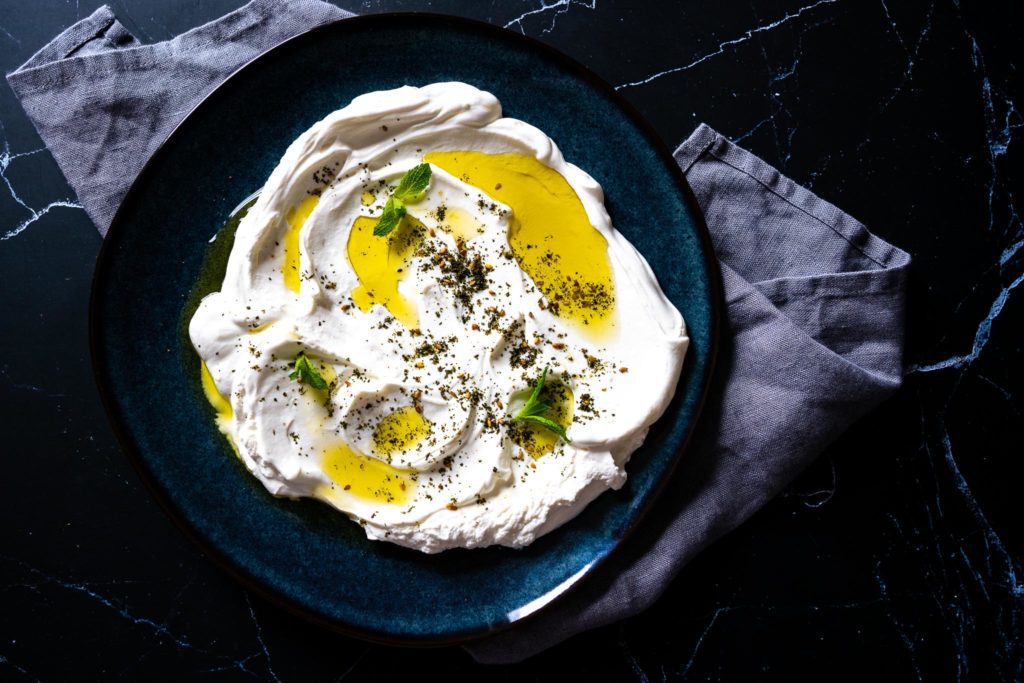 Print recipe
Save recipe
Saved!
Cooking utensils
Straining cloth

or a coffee filter 😉
Ingredients
Preparation
Put the yoghurt into the straining cloth and let it drain overnight in the refrigerator.

Stir the labneh with a pinch of salt until creamy and serve.

Serving tip: Labneh is classically served with a good drizzle of olive oil and za'atar.
Notes
You can find a vegan version of labneh here: to vegan labneh
Recipe contains affiliate links. 
Nutritional values
Calories:
1
kcal
|
Carbohydrates:
0.05
g
|
Protein:
0.1
g
|
Fat:
0.005
g
|
Saturated Fat:
0.001
g
|
Monounsaturated Fat:
0.001
g
|
Cholesterol:
0.1
mg
|
Sodium:
1
mg
|
Potassium:
2
mg
|
Sugar:
0.04
g
|
Vitamin A:
0.1
IU
|
Calcium:
1
mg
|
Iron:
0.001
mg
You feel like more dips and creams? Then be sure to try the classic hummus, baba ghanoush or the paprika dip.