Labneh: Lebanese cream cheese
Labneh is probably one of the absolute basics of Levantine cuisine. There is hardly a table without this delicious cream cheese. The basic recipe is not only incredibly versatile, but also incredibly easy to prepare.
All you need is yoghurt and a pinch of salt. Leave the yoghurt to drain overnight in a straining cloth - the next morning you have labneh. It's that simple 🙂
The funniest way to prepare labneh is definitely that of my mother. At some point she misplaced her straining cloth and searched all the drawers in the house. Nothing, no straining cloth. How nice that necessity is always the mother of invention.
So after searching half the flat, she disappeared again briefly into the kitchen and then returned to the living room with a mocha and a grin. "So, did you find the passport cloth?" I asked. She sipped her mocha cautiously and said quite smugly, "No, that passe cloth can stay wherever it's hiding!" and smiled at me. I thought we would have to do without the labneh this time, but with a movement of her head towards the kitchen and laughing eyes, she indicated that I should have a look.
Then, when I went into the kitchen, I saw the filter holder of the coffee machine standing folded out. When I got closer, there was a coffee filter inside - and yoghurt. Clever! I had to laugh, it was so simple. 😀
I also took a cup of the freshly brewed mocha and sat down with my mother again. We were drinking our mocha when we heard my brother from the kitchen: "Baaaa! What are you doing!!?" - My brother prefers to drink filter coffee....
As I said at the beginning - labneh is very versatile. Traditionally, the cream cheese is drizzled with a little olive oil and garnished with za'atar. It is always accompanied by fresh vegetables, pickled olives and, of course, fresh pita bread.
Za'atar, by the way, is a spice mixture of thyme, roasted sesame seeds, sumac and a pinch of salt. Za'atar is also served straight next to good olive oil. You dip your bread first in the oil and then in the zatar.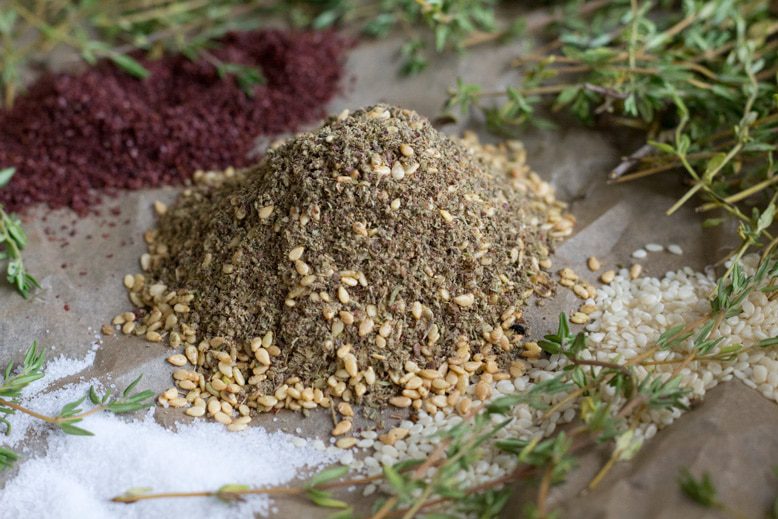 The spice mixture is firmly anchored in Lebanese cuisine and should not be missing from any larder. Whether with za'atar, garlic, fresh or dried herbs - labneh always tastes delicious!
---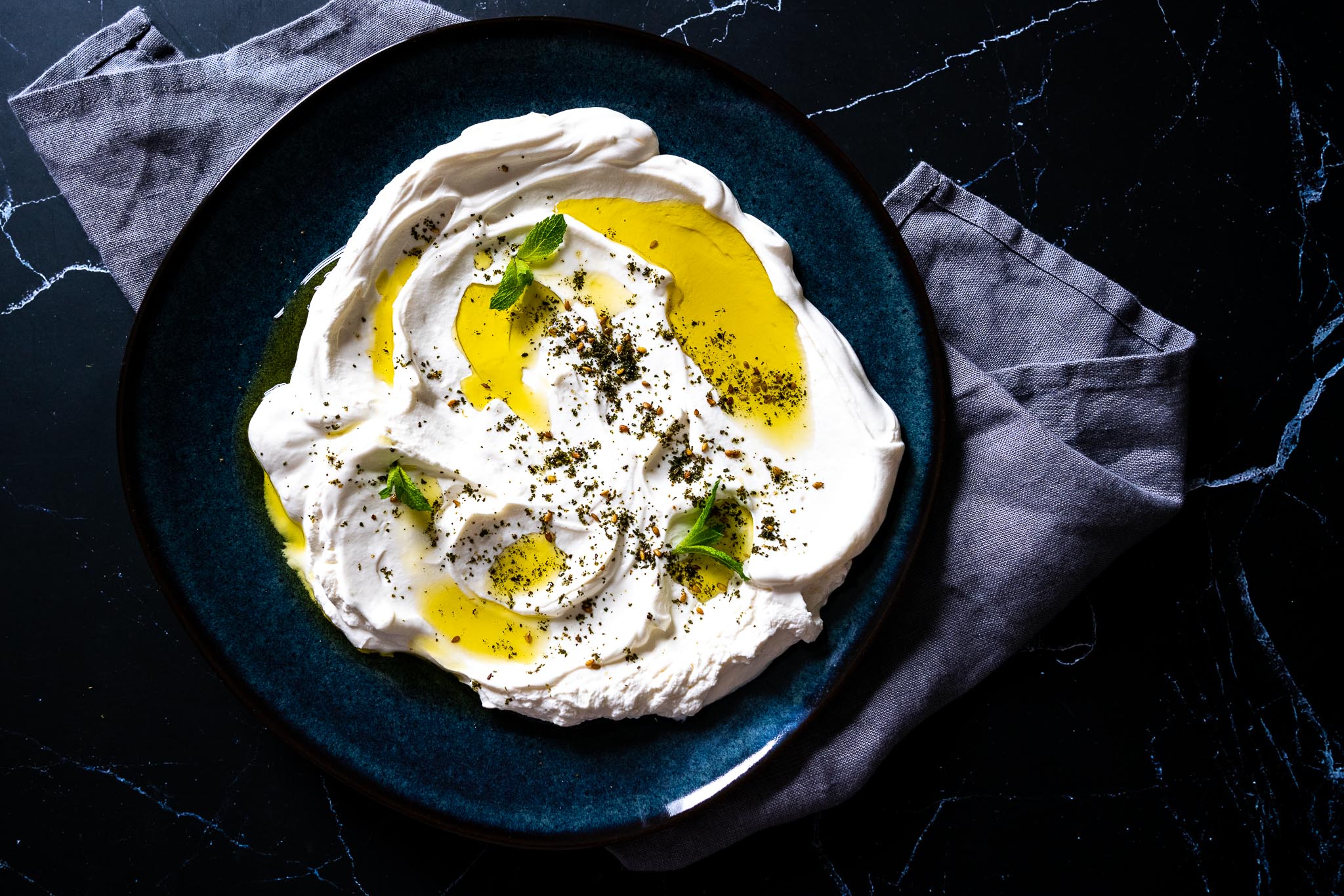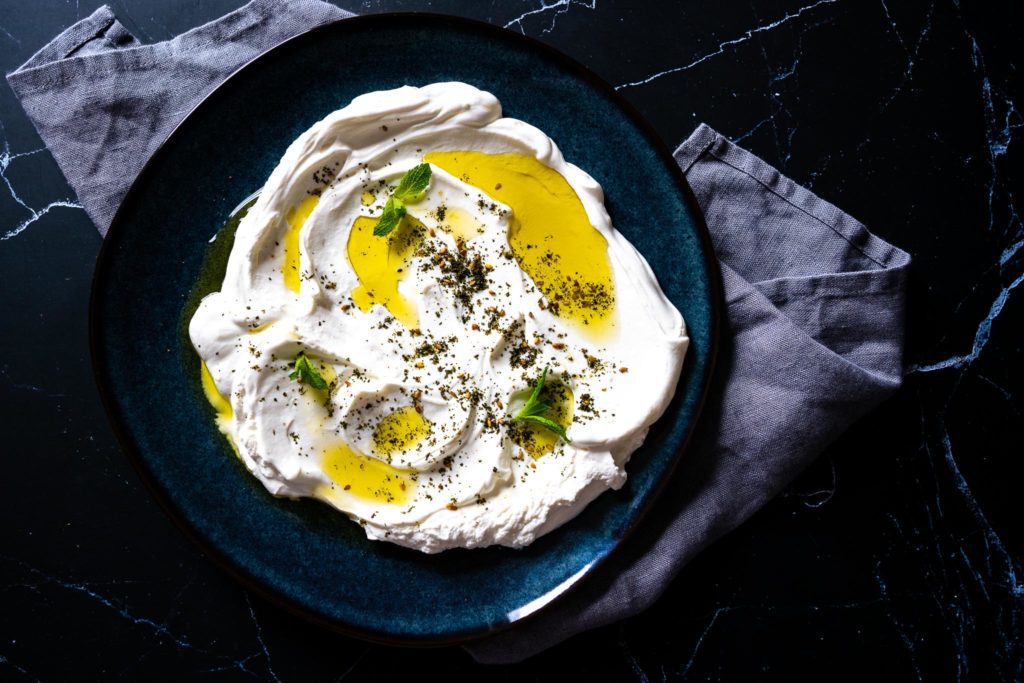 Print recipe
Cooking utensils
Straining cloth

or a coffee filter 😉
Ingredients
Preparation
Put the yoghurt into the straining cloth and let it drain overnight in the refrigerator.

Stir the labneh with a pinch of salt until creamy and serve.

Serving tip: Labneh is classically served with a good drizzle of olive oil and za'atar.
Notes
Tip: You can easily determine the consistency of your labneh yourself. If you prefer it super creamy, don't let the yoghurt hang out so long. The longer you let the yoghurt hang out in the straining cloth, the firmer your cream cheese will be. By the way, you can spread labneh cream on pita bread. Like the omelette wrap, for example.

Labneh is classically served with a good drizzle of olive oil and za'atar.
*Recipe contains affiliate links. 
If you liked the recipe, I am very happy about a small tip. You are helping me to bring more great recipes to the blog. Thank you so much 🙂
Donate here: continue to Paypal
Have you ever tried labneh with kafta?
By the way, labneh is also wonderful for baking. Try the lemon cake with labneh.