Hummus - The best basic recipe
Hummus has taken the world by storm and has arrived everywhere to stay. This delicious chickpea cream is the perfect vegan dip for bread and vegetables and is a staple in Middle Eastern cuisine, especially Levantine cuisine. I personally grew up with hummus and give you here tips and tricks as well as a recipe with which you too can prepare super creamy hummus very quickly and easily. 
What is hummus and what does the name mean?
When my mother says "hummus," it's not necessarily clear in the first few seconds whether she means the dip or the chickpeas themselves. In the Arabic language, the name is synonymous. Chickpeas are called hummus. And since the cream consists mainly of chickpeas, it has also been directly given this name.
So hummus is a cream made from chickpeas. The other ingredients are:
Tahini
Lemon juice
Garlic
Cumin
Salt
All this finely tuned with each other, becomes one of the most delicious dips in the world. For this, not only the chickpeas must be cooked nice and soft. We also need really good and quite a lot of tahini.
Tahini is a kind of sesame butter or sesame puree, which gives the hummus both its creaminess and its fine nutty flavor. Without good tahini, it won't make good hummus. It's that simple. How you can make tahini even quite simple, I have described to you in this recipe. 
You may know cumin by another name. Often you get the intense spice also under the name cumin. You can buy it in stores either as whole seeds or ground. For hummus, you need the ground version. 
With garlic, you can do it to your own taste. If you are a fan of garlic, then add a little more to your hummus. If not, then go rather more discreetly with it. You can of course leave out the garlic altogether, but then your hummus will really lose a very distinctive part of the flavor.
Cook chickpeas yourself or prefer canned cooked?
Whether you cook the chickpeas yourself or use already cooked ones from a jar or can, it almost doesn't matter. 
If you cook them yourself, you will definitely need much more time. The chickpeas must be soaked in fresh water for about 12 hours before cooking. This way they absorb the water and become bigger. After that, they should still be cooked really soft.
To speed up the cooking process, you can add some baking soda or baking powder to the water. This changes the PH value and the outer structure of the chickpeas becomes more porous - this means that they cook faster and become soft.
By the way, this also applies to already pre-cooked canned chickpeas. Personally, I use them often, because I save myself a lot of time and energy. You could actually process the canned chickpeas directly with the rest of the ingredients. However, I recommend you still cook the chickpeas for a few minutes with some baking soda. This will soften them even more and make your hummus creamier.
Also, to get the most creaminess possible, you could remove the skin from the chickpeas. This is actually super much work if you don't have this super trick at hand:
After you have cooked the chickpeas, you can strain them and cover them with cold water in a pot and then stir them gently by hand. The shell will come off by itself and you can simply scoop it off with a ladle.
But honestly, you don't really need to do that anymore. If you cook the chickpeas well and then prepare them according to my recipe, you're sure to get a great, creamy hummus.
Prepare, serve and store
For your hummus, simply put the peas in a measuring cup, add tahini, lemon juice, garlic, salt and cumin and blend everything with a hand blender until it reaches a fine creamy consistency. 
It's very likely that you'll need to add some fresh, cold water to get the consistency right. You can make the chickpea cream firmer or creamier as you like. 
Finally, you taste the cream again with salt and lemon if necessary and your hummus is ready. This usually takes less than 10 minutes. 
I like to serve hummus with a little olive oil and maybe a pinch of sumac. But there you can give free rein to your creativity. On the blog I have in any case a whole series of hummus variations for you to try out. You can find a list below. 
Fresh hummus will keep in a jar or fresh box covered with a little olive oil for about 4 days in the refrigerator. 
Hummus and your diet
Hummus is a vegan cream that is also rich in protein and fiber due to the chickpeas. In addition, hummus is also full of important vitamins and minerals, such as B vitamins, iron and phosphorus. Even though hummus has many properties that benefit your health, the cream is not exactly low in calories just because of the content of tahini.
But the chickpea cream is delicious in any case and should not be missing on any mezze or just for dipping in between. Try the recipe so happy times. Bon appetite!
More variations
Are you in the mood for more hummus variations? Then try your way through my hummus collection:
---
Recipe for hummus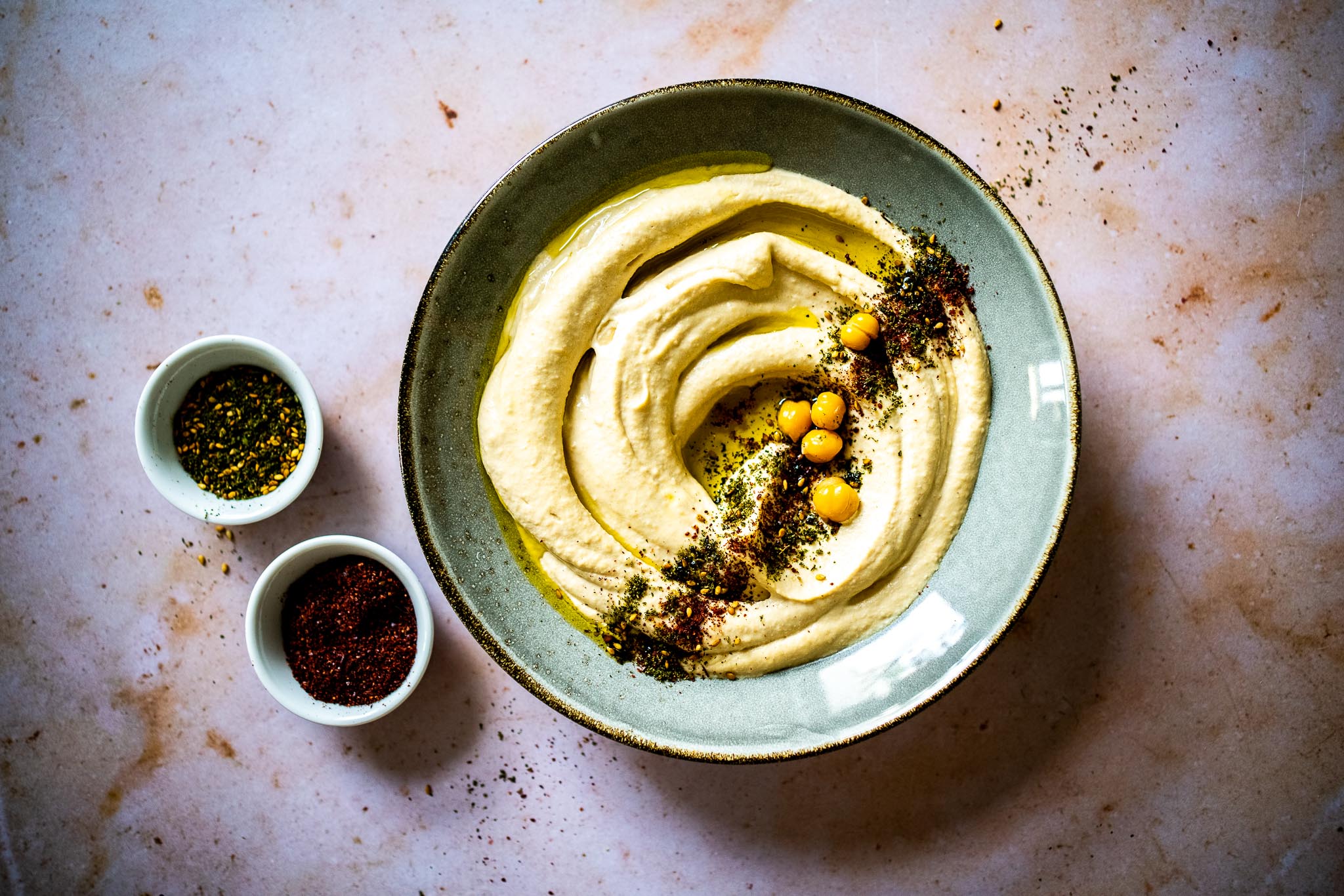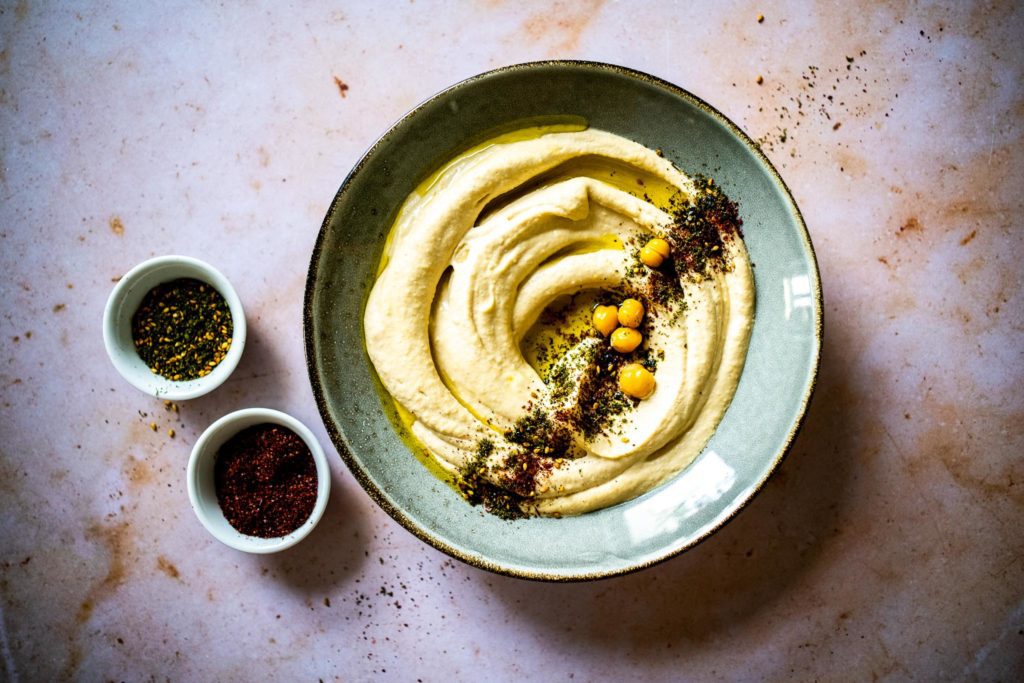 Print recipe
Save recipe
Saved!
Ingredients
Preparation
Place chickpeas in a small saucepan and bring to a boil with the baking soda.

Tip: The longer you cook the chickpeas, the softer they become. You can influence the creaminess of your hummus with the cooking time.

Put the chickpeas, garlic, cumin, salt, lemon juice, tahini and water in a blender and blend well. Of course, you can also use a hand blender.

Add a little more liquid and/or lemon juice as needed and desired.

Serve hummus and drizzle with a little olive oil.

One serving makes about 500 g and is enough for 4 people to dip.
Notes
*Recipe contains affiliate links.
Nutritional values
Calories:
275
kcal
|
Carbohydrates:
37
g
|
Protein:
14
g
|
Fat:
9
g
|
Saturated Fat:
1
g
|
Polyunsaturated Fat:
4
g
|
Monounsaturated Fat:
3
g
|
Sodium:
773
mg
|
Potassium:
423
mg
|
Fiber:
12
g
|
Sugar:
0.2
g
|
Vitamin A:
50
IU
|
Vitamin C:
4
mg
|
Calcium:
112
mg
|
Iron:
4
mg
By the way, the Lebanese pita bread is perfect for dipping!