Vegan cinnamon buns with pecans
Everyone loves cinnamon buns! It is no longer possible without the fluffy yeast pastry. And because it's so easy, you now get the BEST recipe for vegan cinnamon buns. I know, the best recipe can be found on many food blogs and you are surely wondering what is different or better about this one?
Vegan yeast dough
Eggs are not essential for a soft yeast dough. Even if many are of the opinion that a dough becomes fluffy only if a few eggs are in it. This yeast dough will convince you that it is very possible without eggs. However, there are a few basic rules you should follow:
Your yeast dough should not be too dry. If you press lightly into the dough with your finger, it should return smoothly.
Knead. You must knead your yeast dough long enough for the gluten to unfold and form strands. These strands of gluten bind the air bubbles created by the yeast's fermentation process and make the dough fluffy. Of course, if your hands are too weak or you just don't feel like rolling the dough, you can simply have a food processor help you.
The ingredients should be at room temperature so that they can combine better during kneading. However, it should not be too warm for the yeast. For it to do its work, its temperature should be between 25 °C and 40 °C.
If you follow this advice, your vegan cinnamon buns will be simply heavenly.
The cinnamon bun filling
The filling of the Cinnamon Rolls is debatable. Classically, it is made with sugar, butter and cinnamon. Here, the butter is simply replaced with margarine and I sneak in a few pecans. I like to have a few fresh nuts in the snails. But of course you can also use hazelnuts or walnuts.
For more flavor, you can roast the nuts briefly in a pan without fat. And instead of granulated sugar, you can also use brown sugar. Because it has a delicious caramel note that goes perfectly with the pecans.
The frosting
And what about the frosting, you're probably wondering? Well, I just left that out. To be honest, I'm just not that into it. No matter whether it is one also cream cheese or whether simply frosting comes over the vegan cinnamon buns. Instead of the sweetness, I opted for salt! Yes, salt. I tried yeast buns on vacation the other day that tasted just slightly like cinnamon and were topped with a few coarse salt flakes. I was blown away!
I had to use this inspiration to create my own recipe. Please, by all means, give it a try. If you don't dare yet, let a few flakes trickle onto one or two cinnamon buns - just to try. You can then bake the rest as normal and add a sweet frosting on top, for example the pistachio frosting from the recipe Cinnamon Buns with Pistachios.
I really hope your hands are already restless because they want to knead dough and your head is spinning with ideas for filling and frosting. If not, just stick to this awesome recipe for vegan cinnamon buns.
Have fun, good success and above all: enjoy them!
---
Recipe for vegan cinnamon buns with pecans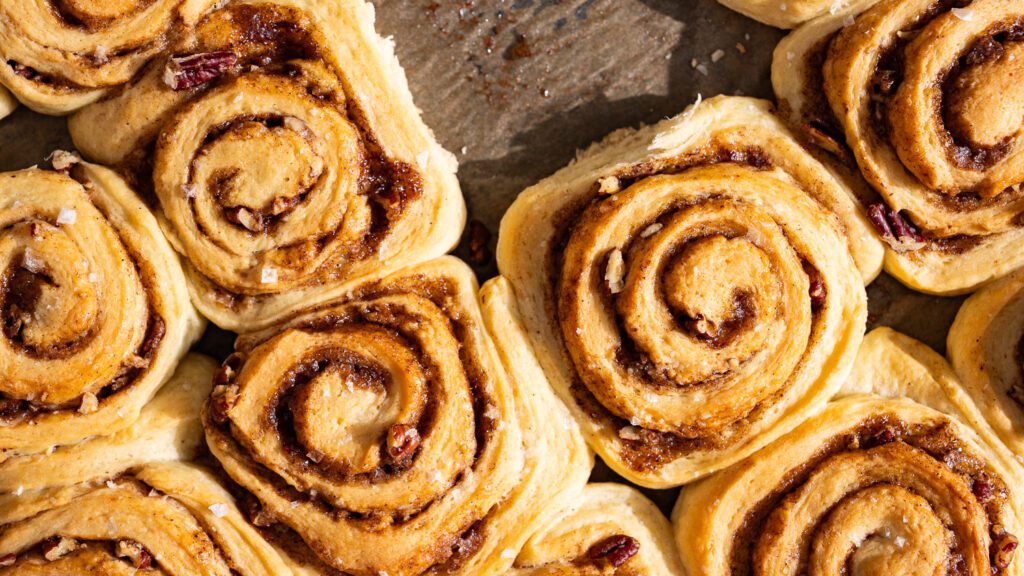 Print recipe
Save recipe
Saved!
Ingredients
For the dough
250

ml

Oat milk

1

packet

Dry yeast

500

g

Wheat flour type 550

70

g

Sugar

100

g

Margarine

1

teaspoon

Salt
For the filling
100

g

Pecans

100

g

brown sugar

60

g

Margarine

2

teaspoon

Cinnamon
Preparation
Preparation dough
Gently warm the oat milk in a saucepan.

Mix yeast with lukewarm oat milk in a bowl and let stand briefly.

Add sugar, margarine, flour and salt and knead with a food processor or hand mixer for about 8-10 minutes. The dough should be easy to separate from the edge of the bowl.

Put the dough on the floured work surface, knead with your hands, form into a ball and leave covered in a warm place for 60 minutes.
Preparation filling
Melt margarine in a small saucepan.

Mix melted margarine with sugar and cinnamon.
Preparation cinnamon buns
Line baking sheet with parchment paper or grease a large baking dish.

Gently flatten dough and roll out on a lightly floured work surface into a rectangle (about the size of a baking sheet).

Spread sugar-cinnamon mixture on the dough, spread chopped nuts on top, leaving a margin of 1-2 cm.

Carefully roll up dough from the long side and cut into 16 pieces.

Place cinnamon buns on a baking sheet and let rise, covered, for another 60 minutes.

Preheat oven to 180 °C top/bottom heat.

Brush cinnamon buns with oat milk, sprinkle with coarse sea salt and bake in oven for about 20-25 minutes until golden brown.
Notes
Recipe contains affiliate links.
Nutritional values
Calories:
278
kcal
|
Carbohydrates:
37
g
|
Protein:
4
g
|
Fat:
13
g
|
Saturated Fat:
2
g
|
Polyunsaturated Fat:
4
g
|
Monounsaturated Fat:
7
g
|
Sodium:
128
mg
|
Potassium:
81
mg
|
Fiber:
2
g
|
Sugar:
12
g
|
Vitamin A:
394
IU
|
Vitamin C:
0.1
mg
|
Calcium:
41
mg
|
Iron:
2
mg
You feel like baking? Then try the apple pie with walnuts, the apricot cake or the delicious cookies with tahini.