Hashweh - Lebanese rice stuffing with spices and dried fruit
If you're in need of a special recipe for holidays like Thanksgiving, Christmas, or Ramadan, the Lebanese spiced rice called Hashweh is for you! The recipe is super easy and the taste will blow you away, I promise!
Rice filling for a special occasion
Hashweh is originally a spiced rice with dried fruits, minced meat and chopped nuts, which was prepared to stuff, for example, roast chicken or even legs of lamb.
The very name of the rice filling Hashweh actually literally means "filling" in Arabic. And it really is an incredibly delicious filling that is often served on its own. I mean, take a look at the spiced rice. I think it has nothing to hide.
Of course, every family has its own recipe - and that's absolutely fine and dandy.
Make hash itself is quite simple
Basically, the preparation of the spiced rice is super simple! First you fry minced meat (veggie also works) in olive oil with some garlic and onions. For the special flavor I roast directly already half of the spices in this step.
On top is then washed basmati rice with the rest of the spices and simply deglazed with water.
It is actually very important to wash the rice, because only then excess starch is washed away. This then keeps the rice looser and does not stick together so much.
Then the rice with the minced meat and spices may cook gently and slowly until the water is completely absorbed.
By the way, a lot of spices go into it. Among them are for example
Cumin
Coriander seeds
Cloves
Allspice
Cardamom
Cinnamon
Every now and then, you should carefully loosen Hashweh a little with a fork so that the rice cooks evenly and the flavors can spread better.
While the rice is cooking, you can turn your attention to the all-important garnish of toasted nuts and dried fruit. I chose almonds and pine nuts. But you can also use walnuts or cashews. Just toast them briefly in a pan until they are slightly fragrant and then chop them coarsely.
For the dried fruit for Hashweh, I used dried figs, raisins and apricots. Here, too, you can of course vary to your heart's content. Nuts and dried fruit you then simply lift carefully under the rice or give everything as a garnish on top.
I love this delightful combination of deliciously spiced rice, with crunchy nuts and sweet dried fruit.
Time to serve the rice filling solo
As I said, hashweh doesn't necessarily have to be used as a filling, but also makes a fantastic side dish to, for example, roast chicken or Lebanese kebabs. But you can also just give the spiced rice the main roles and serve it with fresh yogurt and salad serve.
I wish you a lot of fun trying and of course a good appetite!
---
Recipe for Hashweh - Lebanese spiced rice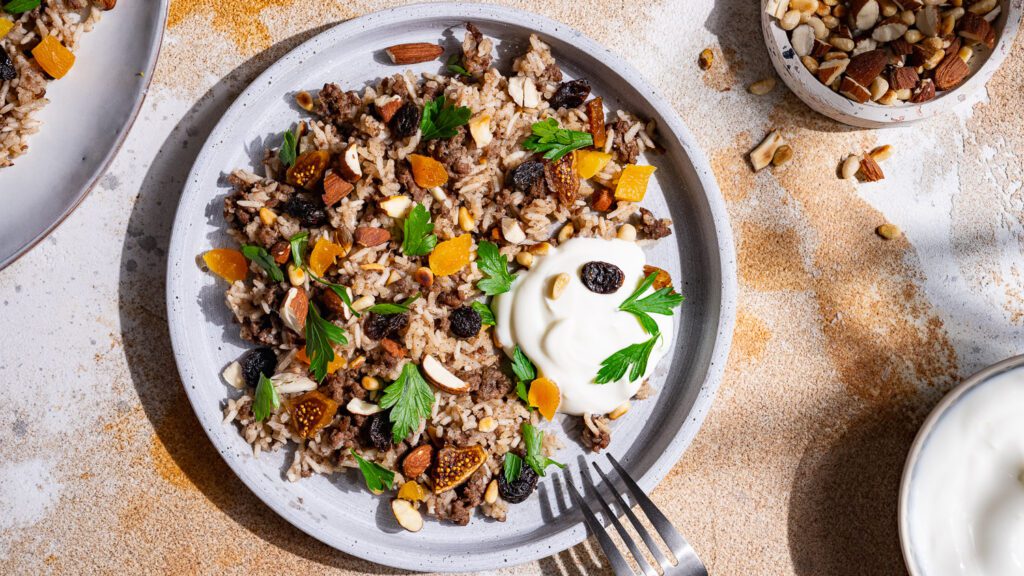 Print recipe
Save recipe
Saved!
Ingredients
240

g

Basmati rice

1

Red onion

1

Garlic clove

2

Tablespoon

Olive oil

250

g

Ground beef

1/2

teaspoon

Cumin

1/2

teaspoon

Coriander seeds, ground

1/2

teaspoon

Cloves, ground

1

teaspoon

Allspice, ground

1

teaspoon

Cardamom

1

teaspoon

Cinnamon

Salt, pepper

450

ml

Water

30

g

Pine nuts

30

g

Almonds

30

g

Figs, dried

30

g

Apricots, dried

30

g

Raisins

15

g

Parsley
Preparation
Rinse rice under running water and drain well in a colander.

Peel and finely chop the onion and garlic.

Heat olive oil in a pot and sauté onion and garlic in it for about 5 minutes on medium heat.

Add ground beef and half of the spices and brown on high for about 8 minutes all around.

Cover the bottom of a pot with fried minced meat, layer rice on top, sprinkle the remaining spices and add water until the rice is covered.

Bring minced rice mixture to a boil and simmer for 1 minute.

Turn heat down to lowest setting and let simmer with lid closed for about 20-25 minutes until liquid has boiled away. Occasionally loosen with a fork so that the rice can cook evenly.

Meanwhile, coarsely chop nuts and roast in a pan without fat for about 3 minutes.

Coarsely chop dried fruit, but leave raisins whole.

Wash and coarsely chop the parsley.

Mix the rice pot well and garnish with roasted nuts, dried fruits and parsley and serve. You can also fold everything in and then mix well.
Notes
Recipe contains affiliate links.
Nutritional values
Calories:
552
kcal
|
Carbohydrates:
70
g
|
Protein:
19
g
|
Fat:
23
g
|
Saturated Fat:
6
g
|
Polyunsaturated Fat:
4
g
|
Monounsaturated Fat:
10
g
|
Trans Fat:
1
g
|
Cholesterol:
44
mg
|
Sodium:
59
mg
|
Potassium:
613
mg
|
Fiber:
5
g
|
Sugar:
9
g
|
Vitamin A:
594
IU
|
Vitamin C:
8
mg
|
Calcium:
92
mg
|
Iron:
3
mg
Fancy more delicious rice dishes? Then try also definitely times