Catalogna with caramelised onions
What looks like a mixture of giant dandelion, chard and spinach? That's right, the volcano asparagus! No, wait a minute... um, I meant the chicory, of course! No, that doesn't fit either. Okay, the vegetable I prepared in this recipe is called Catalogna! Volcanic asparagus is just a nickname, because Catalogna actually has nothing to do with asparagus, but it does have something to do with chicory.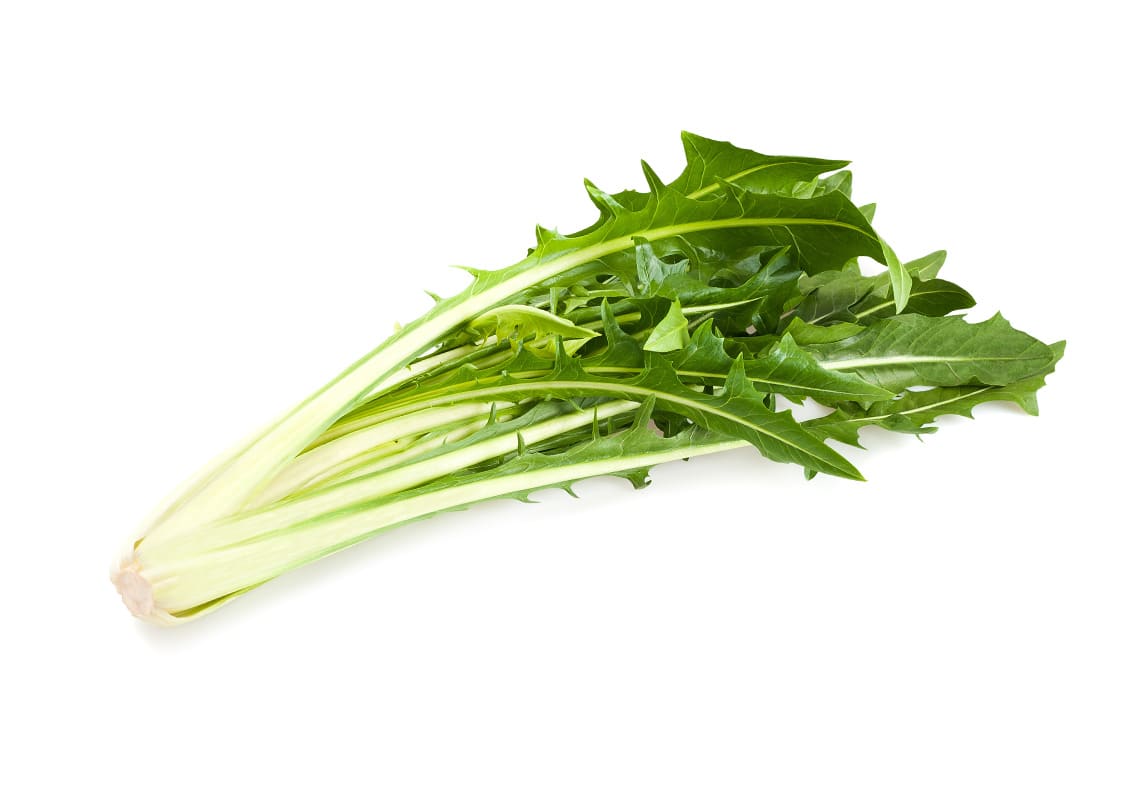 CATALOGNA. PHOTO BY: GEMUESE.CH
Catalogna has a fine-bitter taste and reminds of spinach/chard in terms of consistency. 
You can get this delicious vegetable at the weekly market or at the greengrocer around the corner. You will rarely find Catalogna in the supermarket. 
What can you do with it? Catalogna tastes delicious both raw as a salad and sautéed. The bitter substances are also good for your digestion. In Lebanon, catalogna is fried in a pan while onion rings caramelise in a second pan. 
So you don't need many ingredients for this recipe: Catalogna, a dash of pomegranate syrup, some salt and pepper, onions and olive oil. That's it - and you'll have it on the table in half an hour at the latest. The dish called Hindbeh is not eaten with cutlery - as is so often the case here, it is eaten with pita bread. Just tear off a piece of bread and use it like a spoon - which you then eat along with it 😉
The slightly bitter note of the Catalogna, together with the sweetness of the onions, combined with the pita bread, will surely attract not only vegans to your table. 
---
Recipe for "Hindbeh" - Catalogna with caramelised onions
Print recipe
Preparation
Cut off about 2 cm of the white end of the Catalogna and discard it.

Cut the remaining Catalogna into small pieces and wash them.

Peel the onions, halve them and cut them into half rings.

Heat the olive oil in a frying pan on high heat and fry the onions until hot.

After about 3 minutes, turn the heat down to medium and let the onions cook for about 10 minutes. Then put the caramelised onions to one side. 

Heat some olive oil in a small saucepan on high heat and fry the catalogna for about 3 minutes and then turn the heat back up to medium. After about 5 minutes, season with salt, pepper and pomegranate syrup. 

Place the catalogna on a plate, spread the onions over it and pour a little olive oil over it.
Serve the dish with Lebanese pita bread and quartered lemons. 
Notes
*Recipe contains affiliate links.
If you liked the recipe, I am very happy about a small tip. You are helping me to bring more great recipes to the blog. Thank you so much 🙂
Donate here: continue to Paypal
How to eat Hindbeh?
Add a few squeezes of lemon juice to taste. Serve with pita bread.
Tear off a piece of pita bread and use the pita bread to eat as much as possible of the cataloguena and some of the onions - do not use cutlery.
Enjoy your meal!