Cherry Kebab - Kebab Karaz
A good friend of mine loves minced dishes and is a huge fan of kafta. What he can't stand, however, are savoury dishes with fruit. "Rafik, you can't do that! I know you're a culinary expert, but PLEASEEEE no fruit with mince! My stomach is already turning!" he wrote to me in despair. Normally I respect his wish and there is no fruit when he visits. However, I'm pretty sure he would still like cherry kebab. The fruit in this case doesn't sweeten the dish, but gives it a really fantastic acidity. It's definitely worth trying to slip it into him sometime... Muhahaha!
The smell of home cooking
Kebab and cherries sounds like a pretty wild mixture, I know. But I can reassure you that it's really not as wild as it sounds. Cherry kebab or "kebab bil karaz" is an incredibly delicious speciality from Syria. From Aleppo, to be precise. And the cherries used are not the sweet things, but sour cherries.
Basically, kebab karaz is one of the many great dishes you can make with kafta. I just fry the kebabs a little to give the whole dish a nice roasted flavour. Then the kebabs go into a pan with stewed sour cherries and continue cooking there. The whole thing is subtly spiced with a little cinnamon, cardamom and allspice. Once everything is in a pan, it's really just a matter of waiting and letting it stew. And while the sauce of the sour cherries reduces, the aroma of really delicious home cooking spreads.
The flavours of the cherry kebab
Kebab bil karaz is garnished with chopped parsley and topped with plenty of roasted pine nuts. So it's joined by something nutty and something fresh. Traditionally, cherry kebab is served with pita bread and taken directly with it. So you don't need any cutlery. Unless you use it as a decorative element like I do 😀 If you like, you can also serve steaming butter rice as a side dish. The flavours that finally come together make kebab bil karaz an incredibly delicious and super-easy dish to make. A true classic of the Levant.
Tip for the meat
I personally like to replace minced meat with the vegan version. This also works very well with this dish. Just make sure to buy vegan minced meat for shaping. That is, what looks similar to real minced meat. Traditionally, however, cherry kebab is made from lamb. Of course, the choice of meat has a great influence on the dish. Lamb tastes very different from beef or vegan mince. The choice is yours 😉
---
Recipe for cherry kebab - "Kebab Karaz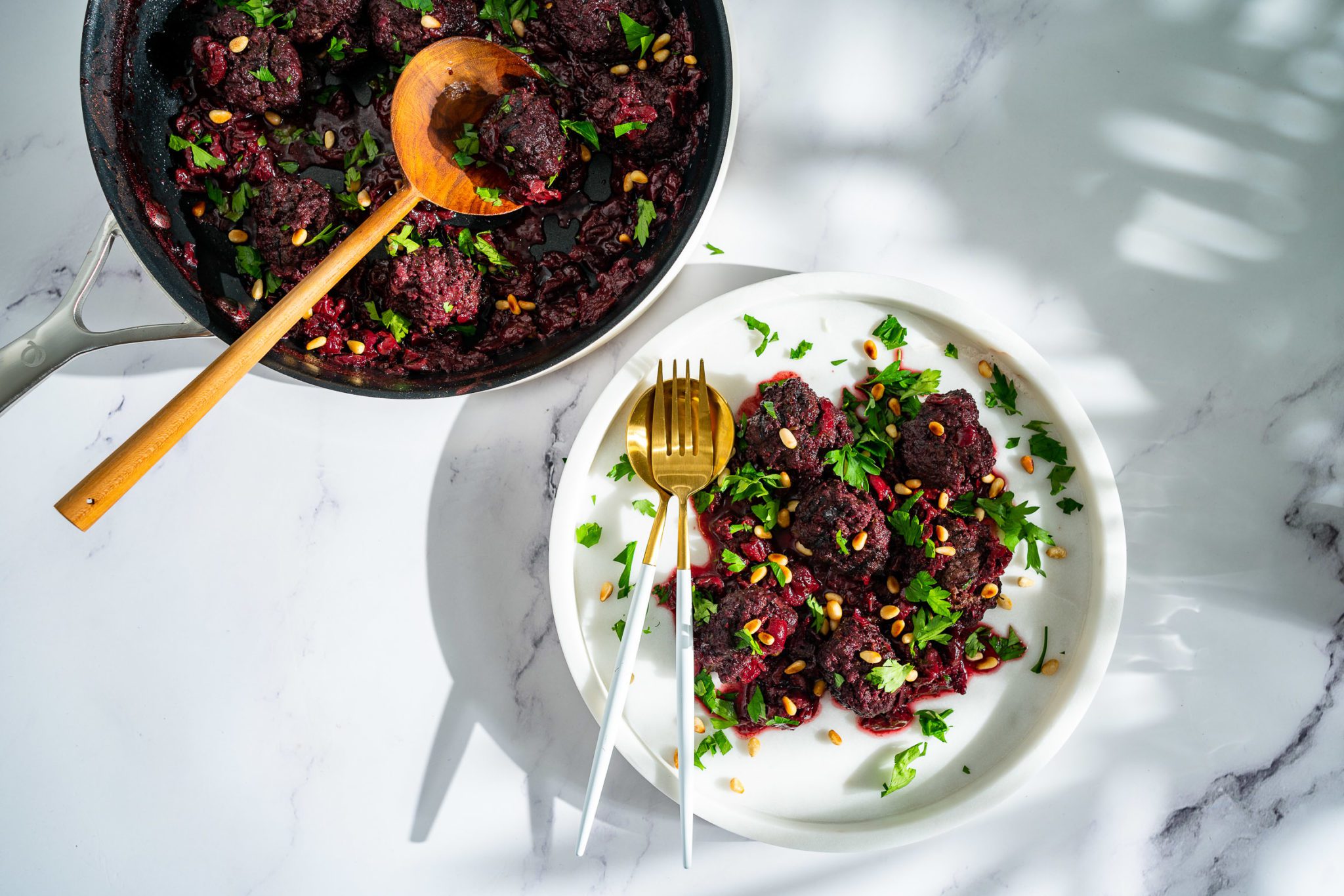 Print recipe
Ingredients
1

x

Kafta according to recipe

Recipe with lamb, beef or veg. minced meat (for molding)

700

g

Sour cherries from the jar (unsweetened!)

incl. liquid

1/2

TSP

Cinnamon

1/2

TL

Cardamom

1/2

TSP

Allspice

20

g

Pine nuts

30

g

Parsley

Salt, pepper
Preparation
Prepare the kafta according to the recipe and the desired meat or meat substitute, fry briefly (not cooked through) and set aside.

Put the sour cherries inc. Put the liquid and the spices in a pan and simmer for about 15 minutes.

Add the kafta to the cherries and simmer for another 15 - 20 minutes until the liquid is well reduced and the meat is cooked. Season to taste with salt and pepper.

Toast the pine nuts in a non-stick frying pan until golden brown.

Serve the cherry kabobs and top with pine nuts and parsley.

Traditionally, pita bread is served with kebab karaz. However, you can also serve butter rice as a side dish.
Notes
Recipe contains affiliate links. 
If you liked the recipe, I am very happy about a small tip. You are helping me to bring more great recipes to the blog. Thank you so much 🙂
Donate here: continue to Paypal