Tahini leek soup with minced meat
As soon as it gets so slowly autumnal and chilly outside, I long for warming home cooking. Recently I had the idea to change a classic times something. The result is this delicious tahini leek soup with minced meat. The recipe is simple and quick to prepare.
Leek soup times quite differently!
So quite classically I know leek soup always as cheese-leek soup. And it was always served when someone celebrated a birthday in a larger group or needed something simple for a whole horde of helpers for a parade.
That's over now! Now comes a version of the classic, which you can also celebrate for themselves in peace. The cheap processed cheese we leave out then times and instead comes nutty and healthy tahini in the leek soup!
Tahini leek soup with minced meat is thus a hearty and nutty reinterpretation of a classic.
How to prepare leeks correctly
Preparing leeks is as simple as it is versatile. You can grill, roast, braise, roast, bake - you name it! The only important thing is that you clean the leeks well from sand and dirt. Otherwise there is sand in the gear ...
Depending on the leek, I always make sure that I peel off the first layer and cut off the dry, possibly already discolored upper part on the green. Indeed, I want to have only the good and rich part of the leek.
For the tahini leek soup with minced meat, you can simply cut the leeks into rings and then wash them in a sieve under running water until everything is nice and clean. Then simply drain the leeks and take care of the other ingredients of the leek soup.
Tahini leek soup with minced meat is super easy to make
For the tahini leek soup with minced meat you don't need so many ingredients and the dish is also cooked pretty quickly.
Basically, you fry some garlic in olive oil and then add the minced meat directly. Of course, you can also resort to a vegan alternative to minced meat. There is now a large and good selection.
After that, the cut leek is added directly and is then also directly deglazed with vegetable broth and tahini. If you do not know Tahini yet: Tahini is a kind of sesame butter or sesame puree, which is also prepared 100% roasted sesame.
Tahini you can even easily make yourself. Check out the recipe here.
Then simply simmer the tahini leek soup with minced meat for about 20 minutes and you have an incredibly delicious feel-good meal - simply delicious!
I then roast a few sesame seeds in a pan and add them to the finished soup. You can also bring in some spiciness and sprinkle the leek soup with chili flakes.
If you have some of the soup left over, or if you like to cook ahead for later,
you can store the tahini leek soup well wrapped for about 3 days in the refrigerator or freeze it for up to
6 months.
I wish you lots of fun trying it out and of course a good appetite!
---
Recipe for tahini leek soup with minced meat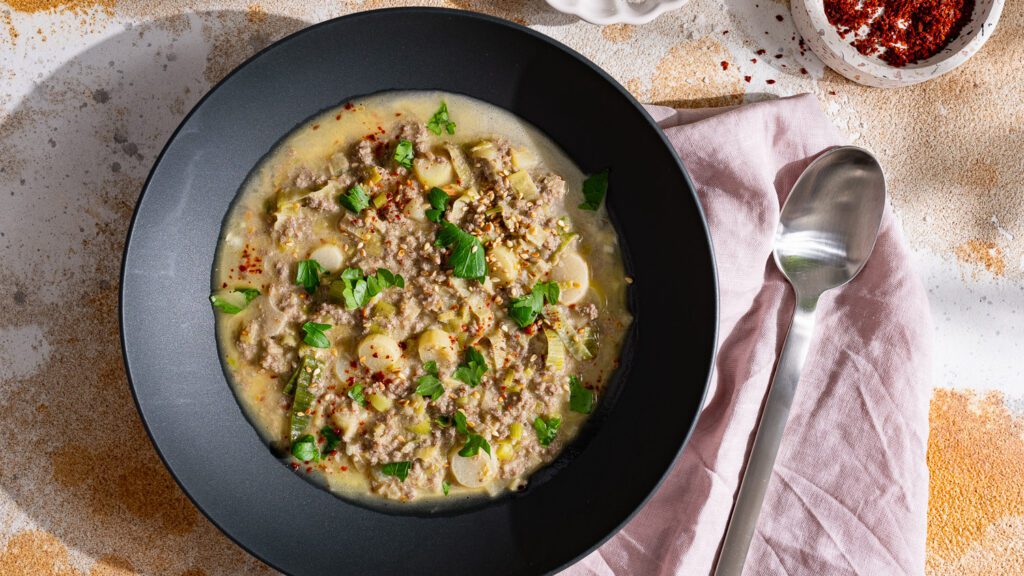 Print recipe
Save recipe
Saved!
Preparation
Peel and chop the garlic.

Slice the leeks and clean them under running water to remove dirt and soil. Then drain well.

Heat olive oil over medium-high heat and sauté the mince with the garlic. The mince should be coarsely crumbled.

Season minced meat with salt, pepper and cinnamon.

Add leeks and sauté for about 3 minutes.

Add tahini, vegetable broth and bay leaf and simmer for about 20 minutes.

Briefly toast sesame seeds in a coated pan on high heat until lightly fragrant. Remove the sesame seeds directly from the pan and add to the soup.

Season soup with chili flakes and salt and pepper to taste.

Garnish tahini leek soup with some plucked parsley and serve.
Notes
Recipe contains affiliate links.
Nutritional values
Calories:
680
kcal
|
Carbohydrates:
25
g
|
Protein:
31
g
|
Fat:
52
g
|
Saturated Fat:
13
g
|
Polyunsaturated Fat:
13
g
|
Monounsaturated Fat:
21
g
|
Trans Fat:
2
g
|
Cholesterol:
89
mg
|
Sodium:
1308
mg
|
Potassium:
706
mg
|
Fiber:
4
g
|
Sugar:
5
g
|
Vitamin A:
1901
IU
|
Vitamin C:
12
mg
|
Calcium:
144
mg
|
Iron:
6
mg
Also be sure to try these delicious soups: