Cucumber salad with yoghurt and mint - wonderfully fresh & creamy
I would like to emphasise one thing: This is no ordinary cucumber salad. I repeat: NOT an ordinary salad. Well, somehow it is. But it is super easy and quick to prepare. Hm.... okay, others can actually do it too. I've got it! You've never had a bigger garlic plume after a cucumber salad. YES! That's it...
Wonderfully creamy, deliciously refreshing!
The garlic flavour is no lie. There is only half a clove in the cucumber salad, but it is finely mashed and fresh in the creamy yoghurt sauce. And it's got a lot of kick! I could tell you now that I used to chase my sister with my disgusting breath... But I don't have to, do I? Nowadays everyone just wants the recipe and no personal story. Ok, ok - yes, I'm offended about that already. But only a little. 😉
Well, back to the recipe. I have to focus! Well, the Nana mint doesn't really stand up to the flag. But the dried mint adds a lot of flavour to the salad and gives it a really wonderful kick of freshness. Especially in summer, the cucumber salad is a real treat - pure as a cooling snack or as a side dish for the barbecue.
In just a few steps, the salad is conjured up in less than 10 minutes. Go for it!
---
Recipe for cucumber salad with yoghurt and mint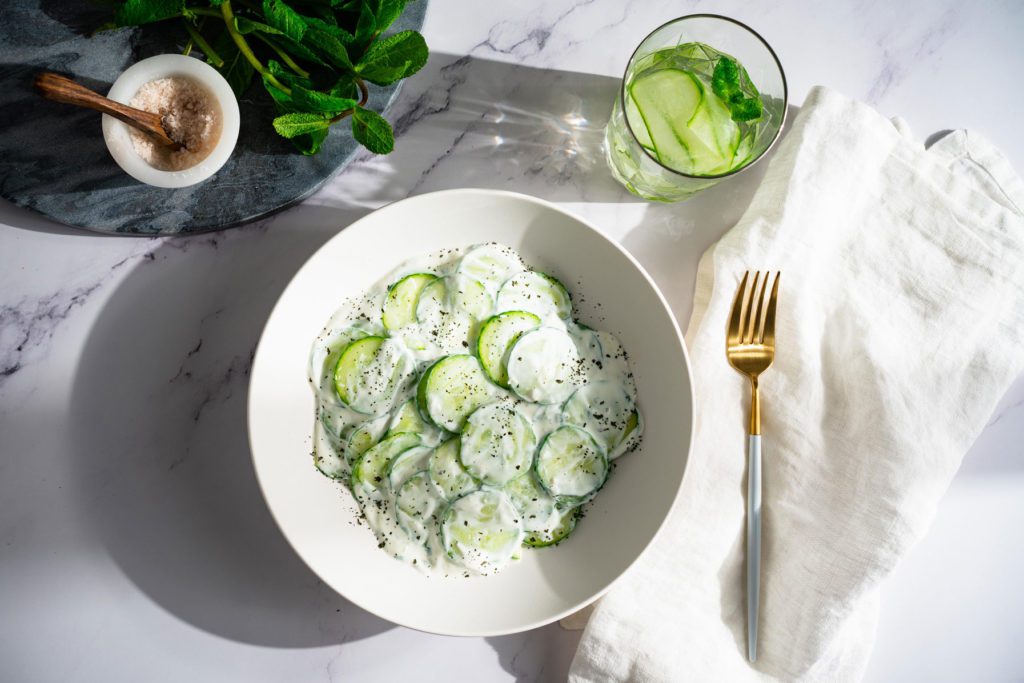 Print recipe
Ingredients
1

Cucumber

200

g

Yogurt (10%)

1/2

Garlic clove

1/2

TSP

Salt

1/2

TSP

dried mint

alternatively fresh chopped mint
Preparation
Peel the garlic and crush it finely with salt in a mortar.

Mix the yoghurt with the garlic and mint until creamy.

Slice the cucumber finely and mix with the yoghurt.
Notes
Recipe contains affiliate links. 
If you liked the recipe, I am very happy about a small tip. You are helping me to bring more great recipes to the blog. Thank you so much 🙂
Donate here: continue to Paypal
Actually, I wanted to mention it above: You can also have a version of the salad with pasta. Have a look here: Pasta with yoghurt-mint sauce.