Moghrabieh: Lebanese pearl couscous stew
For a long time I've been avoiding making this fantastic pearl couscous stew myself. My mother is the master of Moghrabieh (that's the name of this stew) and it always looked a bit complicated. But I don't want to deprive you of this fantastic recipe, so I gave it a try. Honestly, it's so easy and quick to make that I slapped myself in the face afterwards for never having tried Moghrabieh myself before. But now....!
Pearl couscous = Moghrabieh
As with other Arabic or Levantine dishes, the dish is often simply named after the main ingredient. Hummus, for example, means chickpea in Arabic. And moghrabieh refers to this large, spherical couscous. So if you order moghrabieh in the Levant, you get this delicious stew... Or uh... Well, not everywhere. In other countries of the Levant, this couscous is called maftoul, Israeli couscous or Turkish couscous.
Couscous: Probably the smallest pasta in the world
Whenever I see a tabouleh recipe with couscous, the hairs on the back of my neck stand right up and I have to intervene. "How? Why? Isn't that the same thing?" Nope, bulgur and couscous are fundamentally different. Bulgur is (often pre-cooked) shredded wheat. Couscous, however, is made from semolina and water into little balls. And you probably know the usual minifine couscous - yes, even that is rolled until everything is finally couscous. Then everything is dried. It's hardly any different with pasta. (Except that here it goes into completely different shape dimensions) That's why I always call couscous probably the smallest pasta in the world.
Comfort Food from the Levant
For me, moghrabieh is a typical Sunday meal. When I visit, my mother usually cooks the chicken broth in the morning or even the evening before and then whips up the pearl couscous stew for lunch. It's the homemade broth that has always put me off cooking this classic. But to be honest, it really makes itself. And it's easy to prepare. You can use a store-bought one, but then you don't get the real Moghrabieh taste. The main spices here are cinnamon and cumin. But that's not all: cardamom, coriander seeds, cumin, nutmeg, cloves and allspice are also added.
And to make it really "pearly", add tender chickpeas and pearl onions to the pearl couscous. If you can't find pearl onions (like me), you can also use shallots. Onions and chickpeas are cooked directly with the couscous. The onions develop a really great sweetness. Finally, add the chicken from the broth, either in whole pieces or finely shredded.
Moghrabieh also goes vegetable!
Moghrabieh is classically cooked with chicken, but you can of course also prepare a vegetarian or vegan version. Simply cook a vegetable broth with the spices mentioned below and replace the chicken either with more onions and chickpeas or use a meat substitute of your choice.
---
Recipe for Moghrabieh: Lebanese Pearl Couscous Stew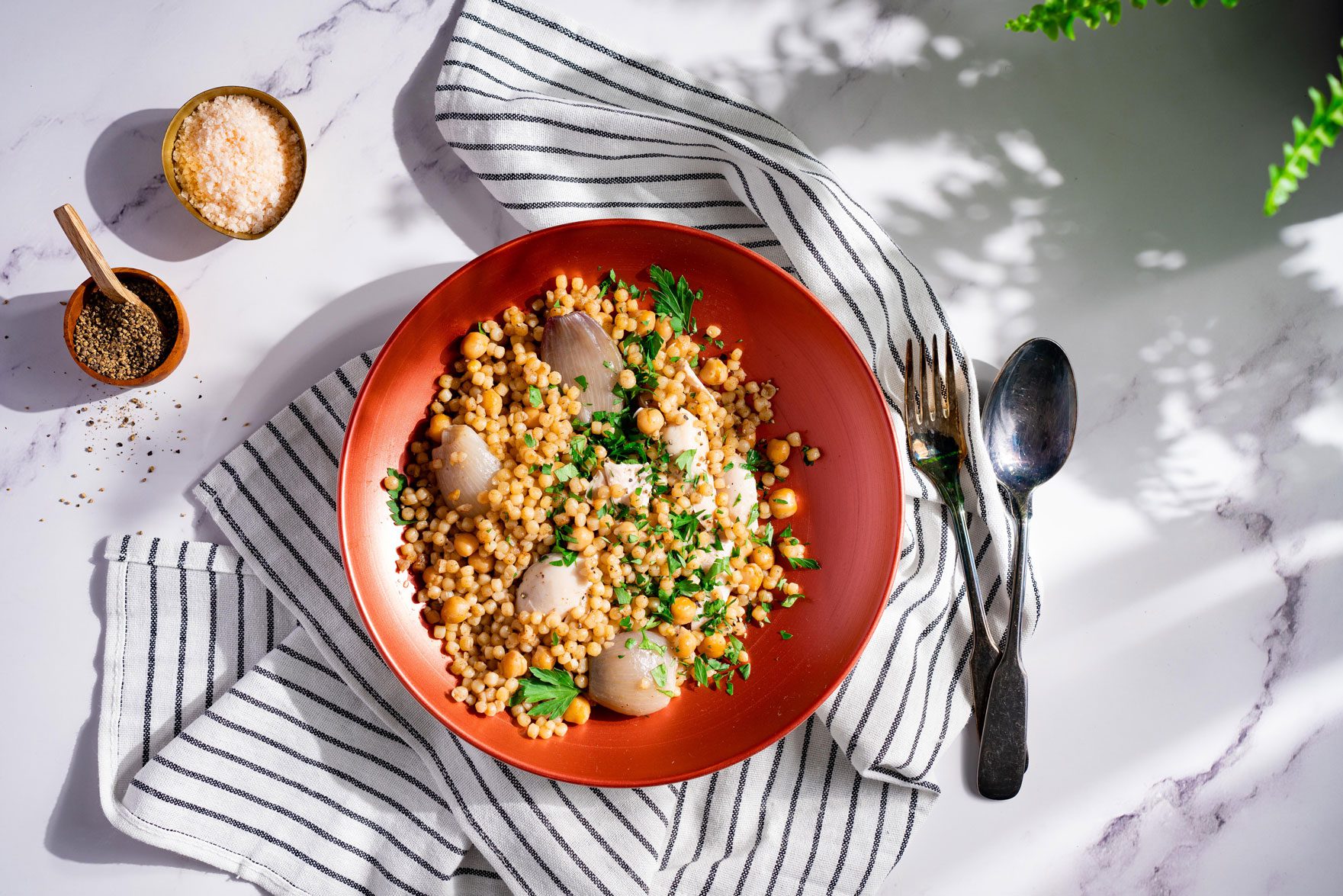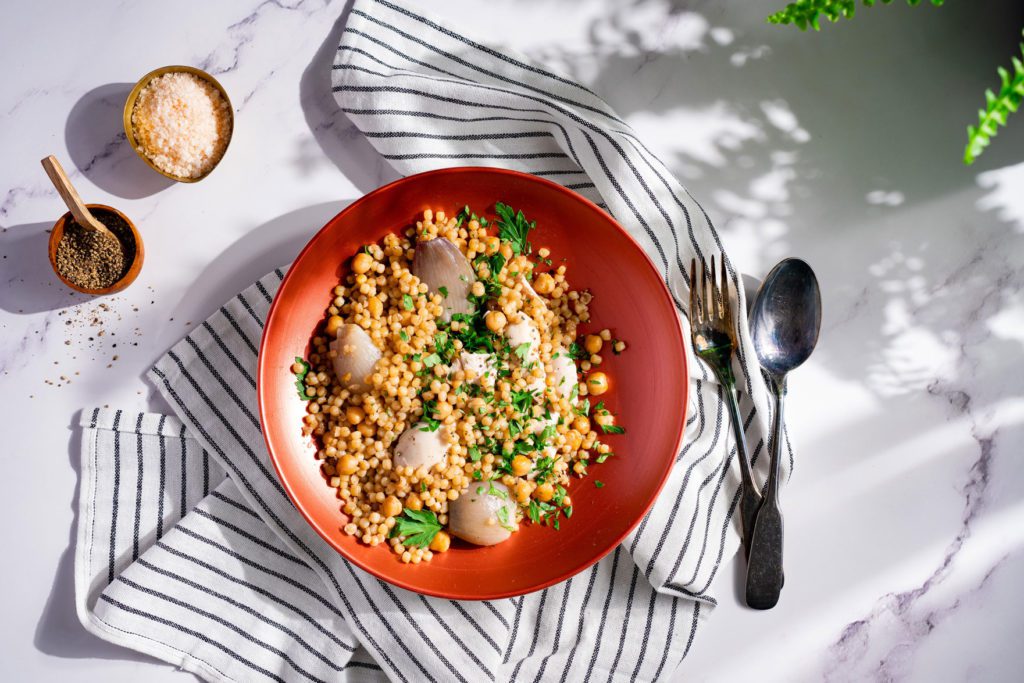 Print recipe
Ingredients
For the broth
4

Chicken pieces (thigh or breast)

2

Onions

1

Garlic clove

2

Cardamom pods

2

Allspice seeds

2

Bay leaves

1

Cinnamon stick

1

L

Water

Salt, pepper
For the Moghrabieh
500

g

Pearl couscous

350

g

Pearl onions (alternatively shallots)

250

g

cooked chickpeas

4

TBSP

Olive oil

1

TSP

Caraway

1

TSP

Cinnamon

1/4

TSP

Cloves

1/2

TL

Coriander

1/2

TSP

Cumin

1

Pinch

Nutmeg

Salt, pepper

1

Handful

Parsley for garnish
Preparation
Prepare broth
Peel and halve the onions.

Wash the chicken parts and pat dry. 

Peel and crush the garlic. Press on the cardamom.

Heat the olive oil in a saucepan and fry the onions for about 3 minutes. 

Add the chicken pieces and sear on all sides. 

Deglaze with water, add all the ingredients for the broth and simmer on medium heat for about 35 minutes. 

Then remove the chicken and either leave it whole or, if necessary, remove the skin and pull it into small pieces. 

Pour the broth through a fine sieve. Spices in the sieve can be discarded. 
Prepare Moghrabieh
Peel the pearl onions/shallots. 

Heat the olive oil in a saucepan over medium heat, add the pearl couscous and sauté for about 1 minute. 

Add the spices and pearl onions to the pearl couscous and sauté for another minute. 

Deglaze with 500 ml of stock (everything must be covered) and bring to the boil briefly. 

Turn the heat down to low and simmer with the lid closed for about 20 minutes. Loosen up in between. If the pearl cous is too dry, add a little more broth if desired. Finally, stir in olive oil. Season to taste with salt. 

Serve the moghrabieh, (shredded) chicken on top and garnish with chopped parsley if desired. 
Alternative: You can also make moghrabieh vegetarian with vegetable broth and more chickpeas or chicken substitute.
Notes
*Recipe contains affiliate links.
If you liked the recipe, I am very happy about a small tip. You are helping me to bring more great recipes to the blog. Thank you so much 🙂
Donate here: continue to Paypal
Nutritional values
Calories:
883
kcal
|
Carbohydrates:
121
g
|
Protein:
42
g
|
Fat:
25
g
|
Saturated Fat:
6
g
|
Polyunsaturated Fat:
5
g
|
Monounsaturated Fat:
10
g
|
Trans Fat:
0.1
g
|
Cholesterol:
120
mg
|
Sodium:
311
mg
|
Potassium:
796
mg
|
Fiber:
13
g
|
Sugar:
6
g
|
Vitamin A:
170
IU
|
Vitamin C:
12
mg
|
Calcium:
124
mg
|
Iron:
4
mg