Spaghetti in yoghurt-mint sauce
When, after a long, (mild) winter, spring kisses you with its 25 °C from one day to the next, the heavy stew can take a break for a while. Something fresh is needed! Fresh, tasty and definitely quick and filling. These are high demands, but this spaghetti in yoghurt-mint sauce more than lives up to them.
When I served this dish to friends for the first time, they were a little irritated. "The noodles are cold!"
Yep, this spaghetti is tossed cold in a delicious yoghurt sauce with dried mint, grated cucumber and freshly crushed garlic and served with freshly roasted pine nuts. As big as the irritation was at first, an approving smile spread at the latest after the first fork. Spaghetti approved!
Especially on really hot days, when I can't cool down the flat even by drawing the curtains and using a big fan, I really don't want to eat anything warm. Then, at the latest, it's time for these deliciously cold noodles. The yoghurt, cucumber and mint are all ingredients that have a really pleasant cooling effect. Serving cold does not detract from the taste at all.
However, you shouldn't eat this recipe before a date. On that day, you'll have to live with a real garlic smell. So if you don't have a date to make out with, try this wonderfully fresh spaghetti in yoghurt and mint sauce 😉
---
Recipe for spaghetti in yoghurt-mint sauce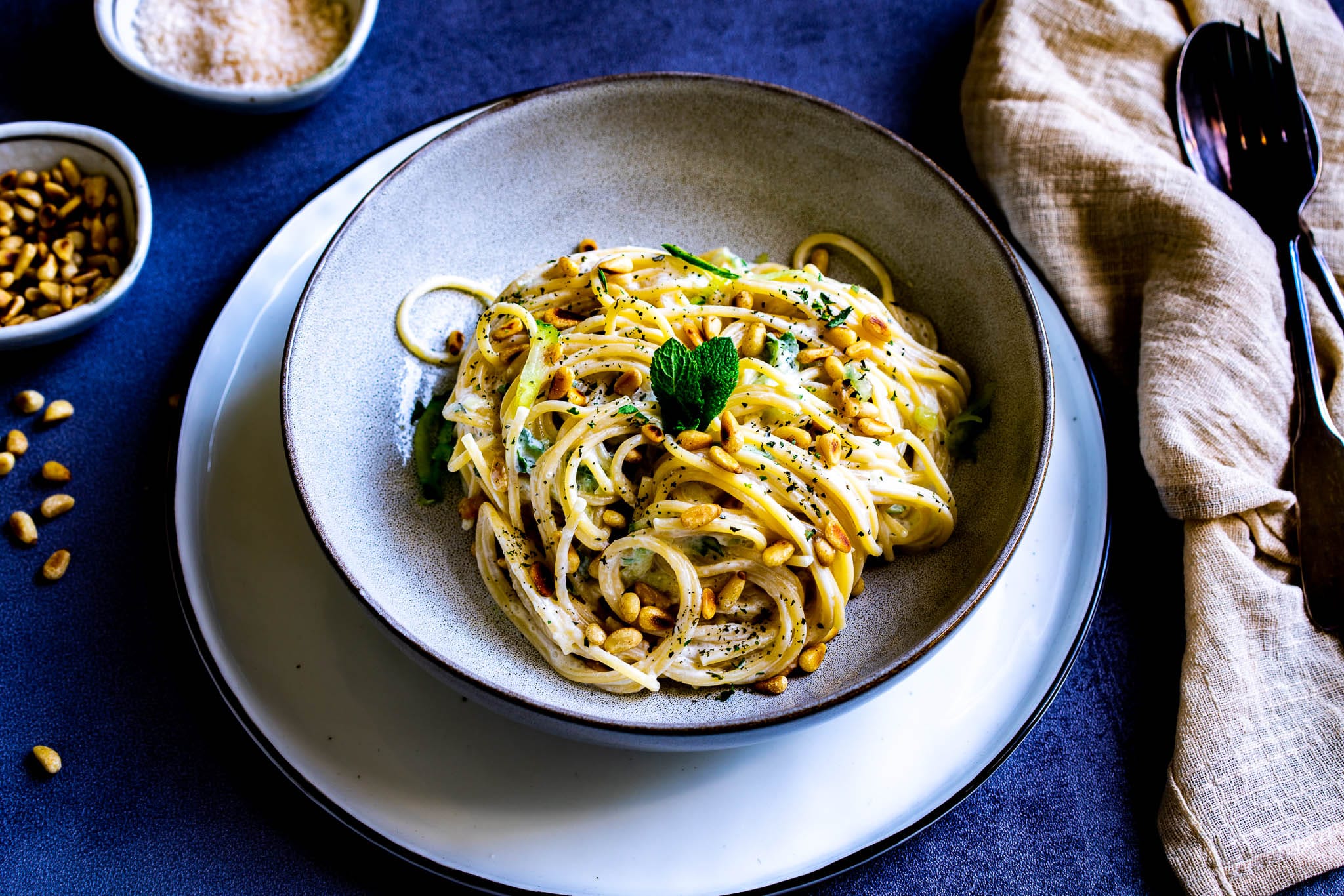 Print recipe
Ingredients
500

g

Spaghetti

500

g

Yogurt (10%)

1

Garlic clove

1

Cucumber

3

TSP

dried mint

25

g

Pine nuts

or more

Salt
Preparation
Cook the spaghetti according to the instructions on the packet, strain and rinse with cold water.

While the spaghetti is cooking: Peel the garlic and crush it in a mortar.

Coarsely grate the cucumber.

Mix the yoghurt with the grated cucumber, crushed garlic and dried mint. Then season to taste with salt.

Roast the pine nuts in a frying pan for about 2 minutes and place directly on a plate.

Mix the spaghetti with the yoghurt-mint sauce and serve with pine nuts.
If you liked the recipe, I am very happy about a small tip. You are helping me to bring more great recipes to the blog. Thank you so much 🙂
Donate here: continue to Paypal
Also try the spaghetti tart 🙂