"Fasolia" - Lebanese bean stew
White beans in a hearty tomato sauce with coriander, plenty of garlic and a good portion of steaming butter rice. Oh man - just thinking about this bean stew brings tears to my eyes.
In the past, the scene at our kitchen table often looked like this: my mother would serve something delicious and then my siblings would start nagging.
"I don't like it!" - "You still have to eat it"
"Please don't pick the meat out of the food!" - "But there's goo on it"
"You're going to sit there until you eat that!" - "No" - "Yes!"
"Wläh!"
My next younger brother, in particular, had, shall we say, very "exquisite" tastes and was surgically adept at examining every meal for unwelcome ingredients that he had either never tried before or that he had to try but didn't want to. With this bean stew, however, there was always peace at the table.
For me, "Fasolia" is one of my favourite dishes for autumn and winter time or when I just want a real soul warmer in summer. The recipe smells and tastes absolutely like childhood and tranquillity to me.
Quick info for you: My mother's recipe always contained a lot of fatty meat. Personally, I always leave that out and cook the vegetarian or vegan version. Firstly, it's quicker to cook and secondly, it's a lot lighter. It doesn't detract from the taste at all.
---
Recipe for "Fasolia" - Lebanese bean stew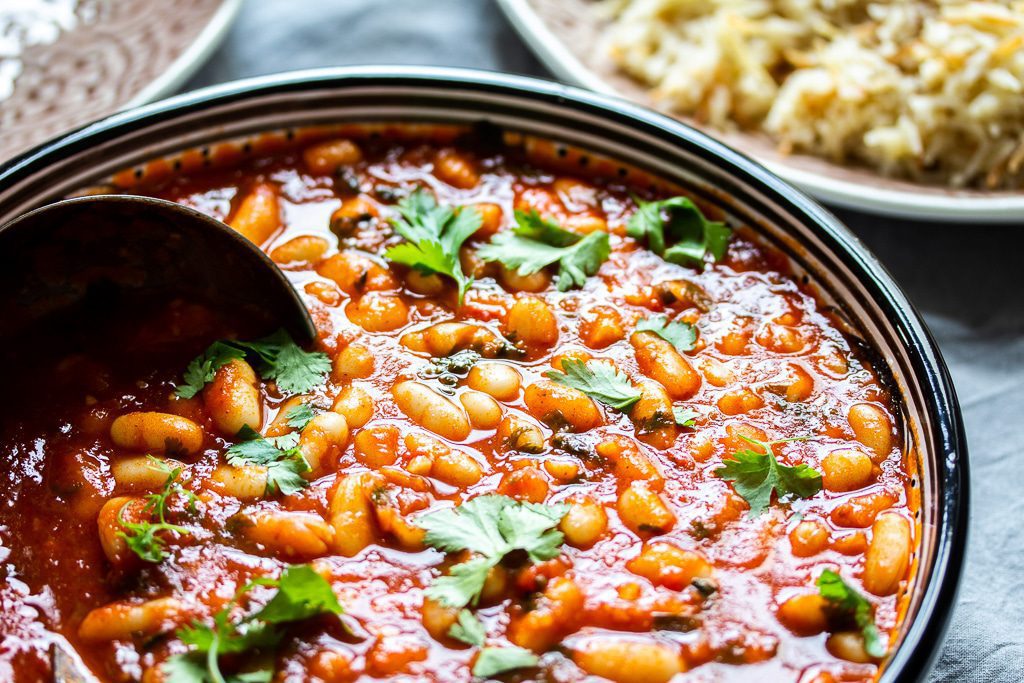 Print recipe
Preparation
Soak the white beans overnight in plenty of water.

Then cook the beans for 1 hour until they are soft.

If you use pre-cooked beans from the supermarket, steps 1 + 2 are not necessary.

Peel and finely slice the garlic.

Coarsely chop the coriander.

Heat the olive oil in a saucepan over medium heat and sauté the garlic for about 3 minutes.

Add the tomato paste and harissa and fry for 2 minutes.

Add the strained tomatoes / tomato pulp and deglaze with water.

Season with cinnamon, salt and pepper.

Add the cooked beans and chopped coriander and simmer for about 30 minutes on a low heat with the lid closed.

Meanwhile, prepare the butter rice according to the recipe. You can find the recipe here -> Butter rice
Notes
*Recipe contains affiliate links.
If you liked the recipe, I am very happy about a small tip. You are helping me to bring more great recipes to the blog. Thank you so much 🙂
Donate here: continue to Paypal
Nutritional values
Calories:
259
kcal
|
Carbohydrates:
46
g
|
Protein:
17
g
|
Fat:
2
g
|
Saturated Fat:
0.4
g
|
Polyunsaturated Fat:
1
g
|
Monounsaturated Fat:
1
g
|
Sodium:
159
mg
|
Potassium:
1459
mg
|
Fiber:
12
g
|
Sugar:
6
g
|
Vitamin A:
565
IU
|
Vitamin C:
11
mg
|
Calcium:
197
mg
|
Iron:
8
mg