Lebanese cauliflower stew | Yakhnit Arnabit
This cauliflowerstew accompanies me since my childhood. And since then, I've been looking forward to it every time it's finally available again. If you think of "stew" and "cauliflower" now as something super heavy and grossly hearty, I can reassure (or disappoint) you. Yakhnit Arnabit actually tastes delightfully fresh thanks to a great acidic note from lemon juice, and still gives you the comforting warm feeling of a stew. Simply great!
Yakhnit Arnabit: Roasted, not cooked
After all, there are numerous ways to prepare cauliflower, including this cauliflower stew. You can boil the cauliflower, deep fry it, or roast it in the oven. Each method gives your yakhnit arnabit a slightly different flavor. If you choose to deep fry, you'll get more flavor from the fat - but the stew will also be a bit unhealthier. When you cook the cabbage, your apartment smells like poop and you've cooked out most of the flavor - but your stew is super light, yaaay! And if you want the exact center, let the cauliflower roast nicely in a hot oven - that's how I do it.
The preparation is not necessarily made super fast, but the handles are very easy. First, the meat must be well seared and stewed with an army of great spices. The spices include superstars like cardamom, allspice, cinnamon or bay leaf. And while the meat is braising, just put the cauliflower in the oven - it'll roast comfortably and you can finish off with the buttered rice. In this way, you can comfortably prepare an incredibly delicious cauliflower stew for the whole family.
The Levant and its stews
As a Central European, you might think that in the Levant, because of the climate, people don't really like stews and spend the whole day eating only hummus, falafel and the rest of the mezze gang. But in fact, there is a really big stew culture. "Tabha" or "tabkha" roughly translates to "cooked dish." This refers to the wonderful stews that are usually served with a good portion of buttered rice and begin with the word "Yakhnit". In addition to the flower charcoal stew, these include, for example, the potato stew, the wonderfully fruity spinach stew or the pea stew. These dishes are absolute soul warmers for me and always take me back to my mother's and my family's table. Bon appetit!
Extra tip for vegans & vegetarians
The stew can also be prepared completely without meat. Just omit the meat and use vegetable broth, which you boil down together with the spices for about 30 minutes. You can also add vegetable meat as a protein substitute. This is no longer original, but the heart and soul of Yakhnit Arnabit is cauliflower. When you prepare the butter rice, you can use butter-flavored canola oil instead of butter or use margarine directly.
---
Recipe for Lebanese cauliflower stew | Yakhnit Arnabit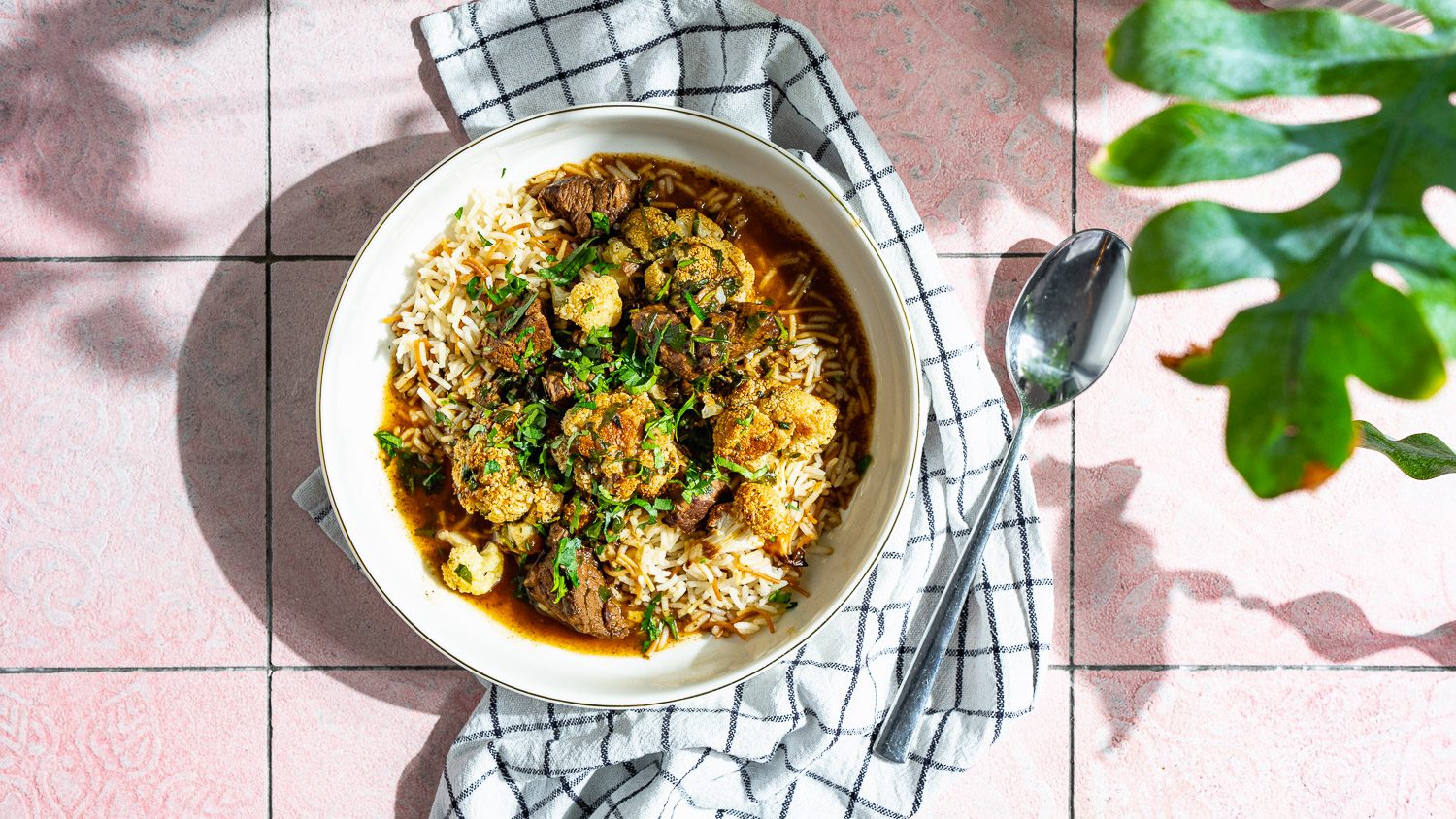 Print recipe
Save recipe
Saved!
Ingredients
For the cauliflower stew
500

g

Beef goulash

2

TBSP

Olive oil

1

Onion

500

ml

Water

2

Bay leaves

2

Cardamom pods

2

Allspice seeds

1

Cinnamon stick

1

Cauliflower

2

Garlic cloves

20

g

Coriander (put some aside for garnish)

2

TBSP

Flour

200

ml

Water

20

ml

Lemon juice

Salt, pepper
Preparation
Peel onion and dice or cut into rings.

Heat half of the oil in a saucepan and sear the meat in it. 

Add onions and spices to the meat and fry briefly.

Deglaze meat with water and simmer for about 1.5 hours with lid on low heat.

Prepare the butter rice according to the recipe.

Wash cauliflower, divide into florets, mix with olive oil and salt and roast in oven at 200 °C convection oven for 15 minutes.

Peel garlic, wash cilantro and finely chop both.

Heat remaining oil in a saucepan and sauté garlic and cilantro.

Sprinkle with flour, pour in water, mix well and bring to the boil briefly.

Remove the spices from the meat broth. You can also use a spice sieve, then you do not have to fish out the individual spices.

Add meat and broth and cauliflower to roux. Stir in lemon juice and season with salt and pepper.

Serve cauliflower stew with butter rice and remaining cilantro.
Notes
Recipe contains affiliate links.
Nutritional values
Serving:
625
g
|
Calories:
594.8
kcal
|
Carbohydrates:
60.7
g
|
Protein:
34.4
g
|
Fat:
22
g