Freekeh salad with za'atar
Whenever I prepare something with Freekeh, I have the song by Run D.M.C. in my ears. The song is called "It's Tricky", but in my weird brain it always changes to "It's Freaky".
Freekeh, of course, has nothing at all to do with freaky. It is green, i.e. unripe, harvested wheat that is dried and roasted. The roasting preserves the wheat and gives it an ingenious smoky taste.
In Lebanon, freekeh (or farik or frikeh) has been prepared for more than 5 million years (yes, I like to exaggerate), but recently it has also found more and more fans in Western countries. With its nutrients, green wheat is a true superfood - and it's cheap, too. In Lebanese, Syrian or Turkish supermarkets, you can usually get a kilo for as little as 2 euros.
Speaking of nutrients: Roasted wheat has twice the fibre of quinoa and four times the fibre of brown rice. And what makes it even more special is the high protein content. It contains 16 grams per 100 grams - almost as much as meat or fish. If you want to know more, I recommend my Freekeh Guide.
The salad is not only a real filler, but also incredibly healthy and above all mega delicious! The smoky flavour gives the salad a nice hearty note. And because of its consistency, which is very reminiscent of brown rice, you also get a lot in your teeth.
Convinced? Okay, you go get yourself a pack of Freekeh and whip up that salad, and I'll treat myself to another round of Run D.M.C.
---
Recipe for Freekeh Salad with Za'atar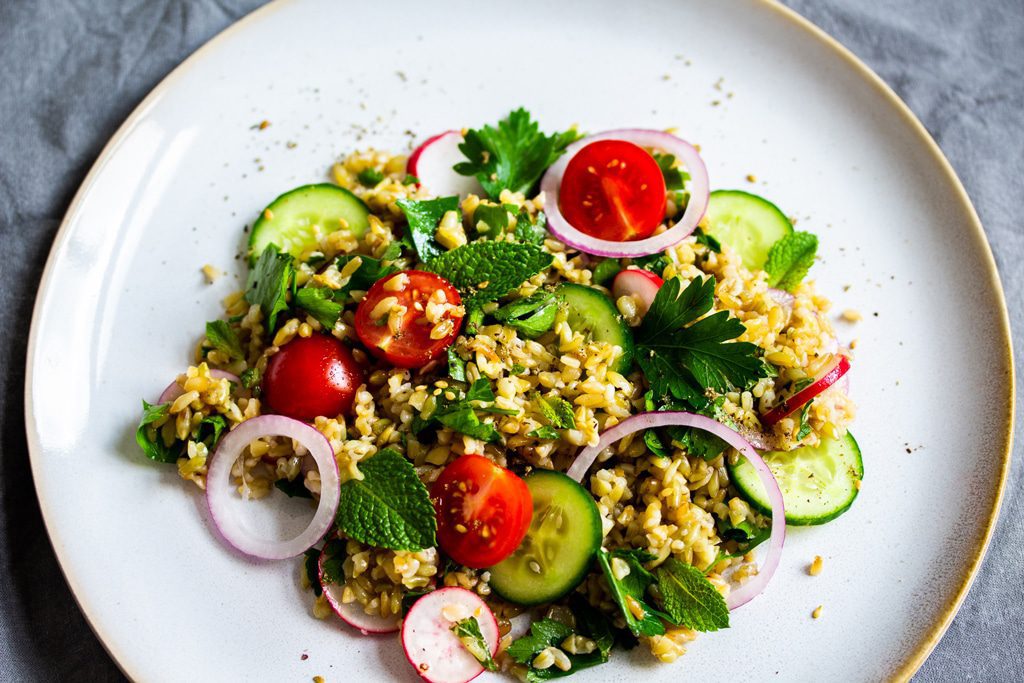 Print recipe
Save recipe
Saved!
Ingredients
Preparation
Wash the freekeh properly in water in a bowl and then pour the water away. (Please wash really thoroughly, as sometimes small stones stray to the wheat).

Briefly boil washed freekeh with 1 tsp. salt in the water and then put it straight back on the lowest setting.

Put the lid on the pot and let the Freekeh cook for about 15 minutes. The water is completely gone at the end.

Then leave the Freekeh to cool.

Cut the vegetables, squeeze half of the lemon and roughly chop the herbs.

Mix the freekeh with the vegetables, herbs, olive oil and lemon juice and season with salt, pepper and za'atar.
Nutritional values
Calories:
596
kcal
|
Carbohydrates:
73
g
|
Protein:
21
g
|
Fat:
30
g
|
Saturated Fat:
4
g
|
Polyunsaturated Fat:
3
g
|
Monounsaturated Fat:
20
g
|
Sodium:
233
mg
|
Potassium:
517
mg
|
Fiber:
13
g
|
Sugar:
8
g
|
Vitamin A:
2992
IU
|
Vitamin C:
78
mg
|
Calcium:
137
mg
|
Iron:
5
mg