Iced mate tea with lemon and mint is my counterpart to the, in my opinion, over-sweetened mate drinks on the supermarket shelves. Since I'm a big fan of making my own iced tea, I had to try out an iced tea with mate. I actually wanted to make something with mate much earlier, precisely because I grew up with this tea and the associated ceremony.
Mate tea: traditional and yet extremely hip!
In fact, besides mocha, a lot of mate tea is drunk in Lebanon. This has not just been the case since yesterday, but actually has a long tradition. Even my grandmother celebrated tea with her friends, and so does my entire family today. Traditionally, mate is drunk from a small container made from dried small pumpkins, for example. First, a few teaspoons of loose mate tea are put in, then some sugar and finally hot water is poured. Of course, the corresponding stalk must not be missing. In the case of mate, it looks like a small pipe, but it has a kind of sieve at the top, through which the tea is filtered while you pull on the stalk.
The small pumpkin container is empty in a few pulls on the stalk and can be passed on to the next person. Here, a designated person then always takes care of filling the container again with some sugar and hot water. The straw is rubbed with fresh lemon peel at the top of the mouthpiece to "clean" it for the next person. Of course, the lemon peel also gives off its fresh taste. Such a mate tea ceremony can last for hours and is usually accompanied by lots of conversation and snacks. This is also how a balmy summer evening can end.
Since mate tea has a stimulating effect and contains a lot of caffeine, the idea of making a refreshing cold lemonade out of it is not far-fetched. Why not make your own mate iced tea?
Make your own Mate Iced Tea
Basically, it is really super easy to make your own mate iced tea. As with the ceremony, all you have to do is pour hot water over the tea, let it steep for a while and then sweeten it to taste and flavour it with a little lemon and, if you like, mint. And you can do this directly by the litre in no time at all. You don't have to hold a long ceremony, but you can still enjoy a nice warm summer evening.
---
Recipe for Mate Iced Tea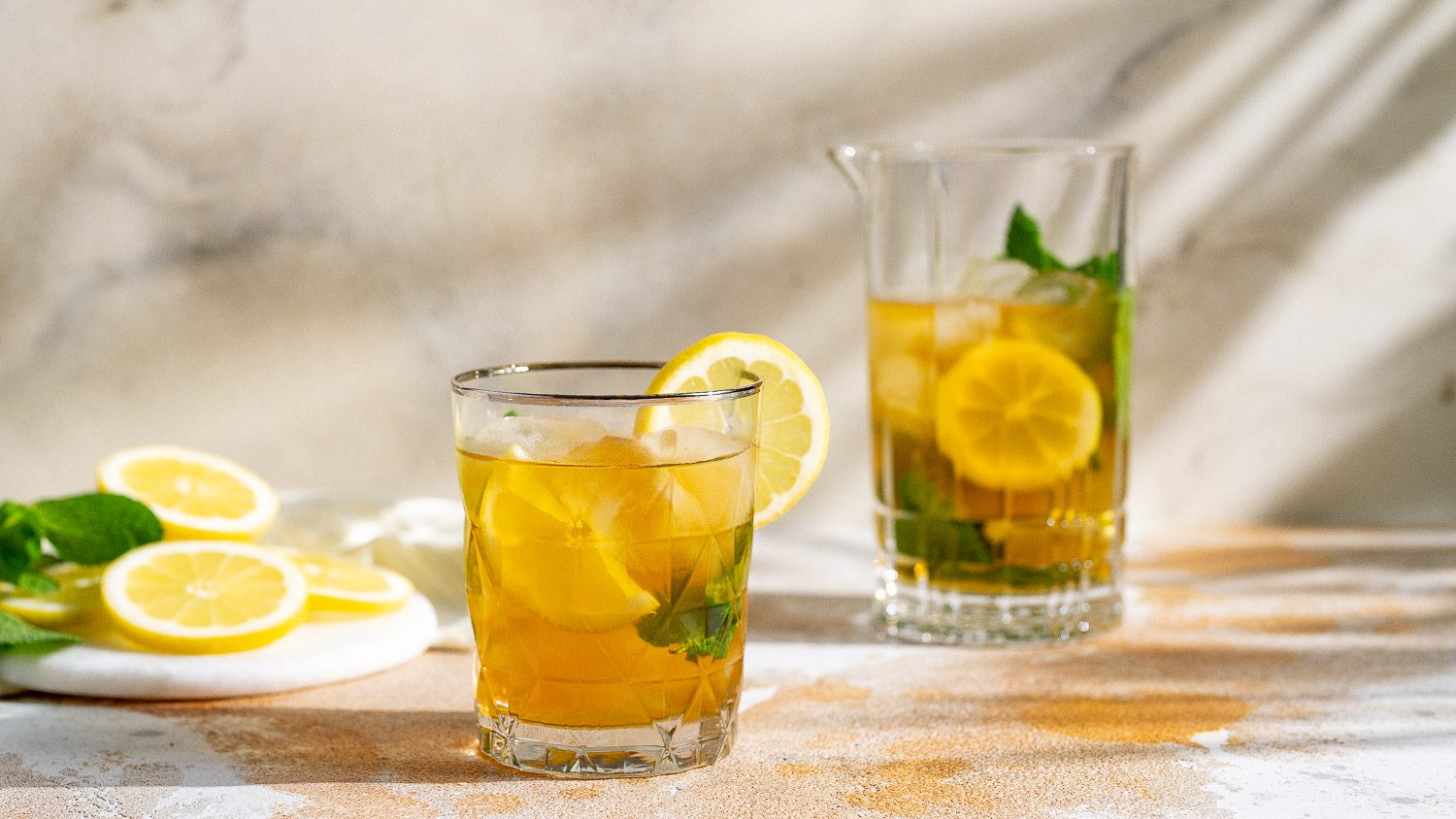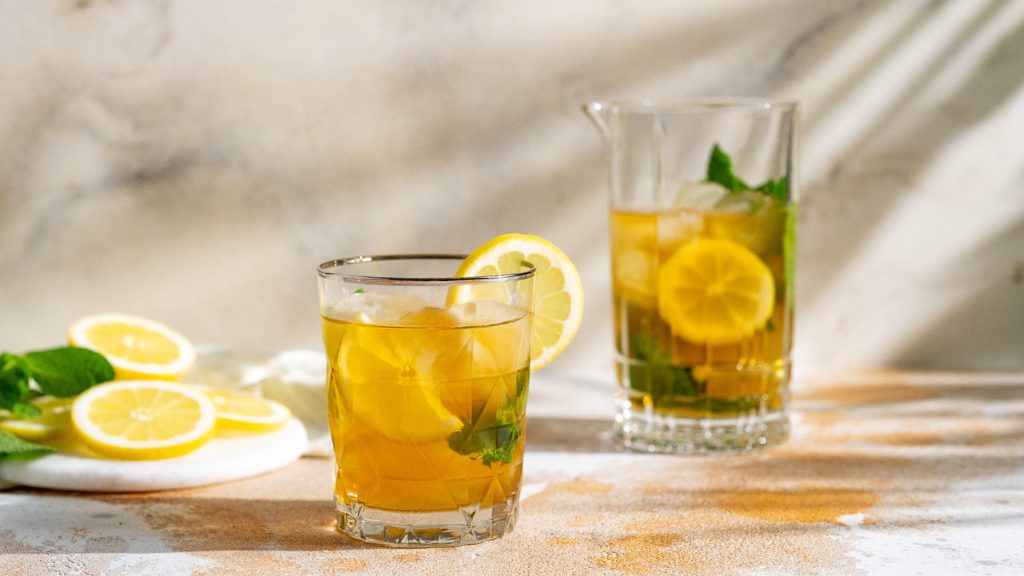 Print recipe
Save recipe
Saved!
Ingredients
1

L

Water

5

TL

Mate tea, loose

15

g

fresh mint

3

TBSP

Lemon juice

3

TBSP

Sugar
Preparation
Bring the water to the boil and cool briefly to approx. 70°C. 

Wash the mint and pluck the leaves from the stems.

Pour hot water over the mate tea and mint and leave to infuse for 5 minutes. 

Pour the tea through a sieve. Add the lemon juice and sugar and stir until the sugar has dissolved.

Chill the mate iced tea. Then serve with ice cubes.
Notes
Recipe contains affiliate links.
Nutritional values
Calories:
23
kcal
|
Carbohydrates:
5
g
|
Protein:
1
g
|
Fat:
0.2
g
|
Saturated Fat:
0.04
g
|
Polyunsaturated Fat:
0.1
g
|
Sodium:
55
mg
|
Potassium:
90
mg
|
Fiber:
1
g
|
Sugar:
3
g
|
Vitamin A:
637
IU
|
Vitamin C:
6
mg
|
Calcium:
67
mg
|
Iron:
1
mg
Want to fill your fridge with more iced teas? Then make fruity pomegranate iced tea or cooling mint iced tea.