Hummus with okra in tomato sauce
Sometimes it's enough to combine two classics and create a new taste experience. Well, I didn't make it quite that simple. I topped hummus with okra in tomato sauce and garnished the whole thing with a good portion of feta, fresh coriander, sesame seeds and black cumin. Add a few chilli flakes here and there and you've got a fantastic hummus plate to tuck into!
Away with the cutlery and in with the food!
So let's say, hypothetically, that if you ever have leftover hummus... OK, you're right, it won't happen. But if there's hummus left over in any part of the multiverse, plus okra in tomato sauce, this plate would definitely be the best way to use leftovers.
OK, let's move on from hypotheses and multiverses. Since both recipes are super easy and quick to prepare, you don't have to wait until there's something left over and can serve yourself and your loved ones a fine meal. By the way, the best way to eat this fruity-creamy delicacy is with pita bread - only with pita bread. So feel free to leave the cutlery in the cutlery box and give it a rest. Eating with your hands is much more sensual anyway. Just tear off some of the bread and tuck into the aromatic melange of fruity tomato sauce, creamy hummus, savoury okras and tart feta.
Personally, I like it a bit spicier and sprinkle a good portion of chilli flakes over my hummus with okra in tomato sauce - but it doesn't have to be 😉 I love it.
---
Recipe for hummus with okra in tomato sauce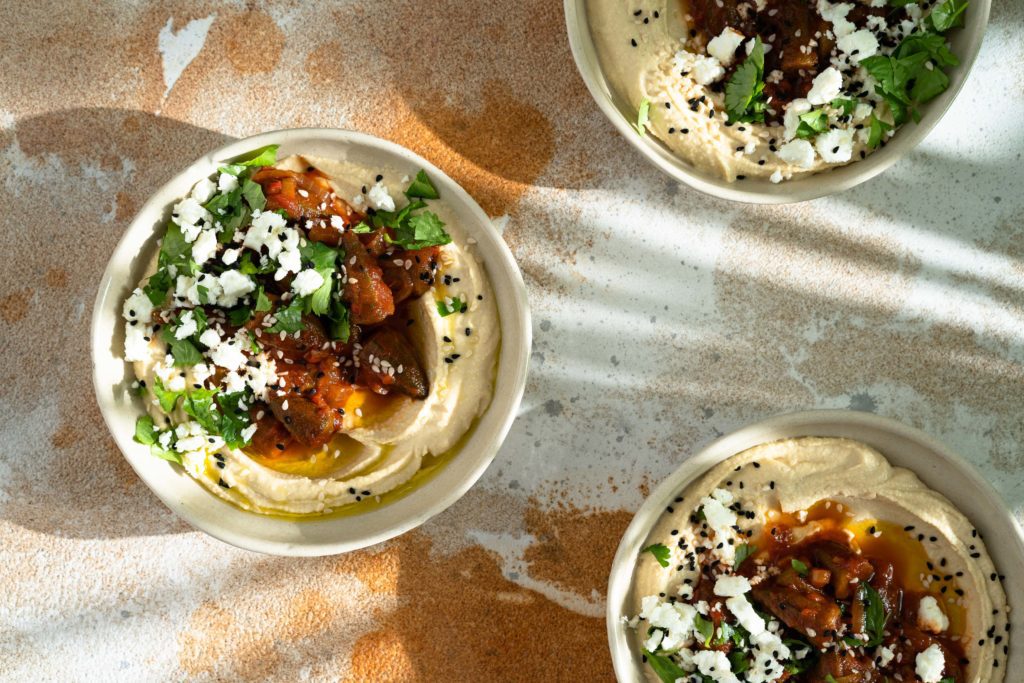 Print recipe
Ingredients
100

g

Feta

1/2

Bunch

Coriander

2

TL

Sesame

2

TL

Black cumin

Chilli flakes (optional)

Olive oil for drizzling
Preparation
Divide the hummus between plates / bowls and top with okra in tomato sauce.

Crumble the feta over the arranged plates / bowls.

Coarsely chop the coriander and garnish the plates with it.

Garnish the plate with sesame seeds and black cumin.

Sprinkle with chilli flakes if desired and drizzle with a little olive oil.
Notes
Recipe contains affiliate links. 
If you liked the recipe, I am very happy about a small tip. You are helping me to bring more great recipes to the blog. Thank you so much 🙂
Donate here: continue to Paypal
Be sure to try the ratatouille shakshuka or the wonderfully fruity cherry kebab.