Lebanese pea stew - Yakhnet Basella
Comfort food or soul warmer: home cooking has many names, but always conveys a nice homey feeling. And for the Lebanese pea stew, you don't even need to make a trip to the Levant, because you can get all the ingredients quite conveniently even in the smallest supermarket around the corner. In addition, the stew is hot and delicious in no time on the table - promised 😉
Delicious stews only in the cold season?
For me, stews can be served all year round. I don't shy away from cooking delicious home cooking even in summer when the temperatures are warm. Why save the good stuff just for autumn and winter?
In the Levant, stews are usually served with buttered rice. This is also the case with Yakhnet Basella, which is often just called Basella. You can probably already guess: Basella means pea/s in Arabic. This does not mean chickpeas (which are called hummus), but the sweet, small, green peas. And speaking of sweet and small... As a child, basella was one of my favourite foods ever. And so were my siblings. I don't know what it is, but we were generally very united when it came to my mum's stews and ate everything quietly and with relish. That was always the case with potato stew or fasolia, for example. And we also liked to sweat in the summer or in our favourite jumpers in the winter.
Basella tastes great with ground beef or vegan mince
By the way, Basella is also a great after-work dish, as the pea stew takes no longer than 40 minutes - all inclusive! Quickly sauté onions and garlic in olive oil, add ground beef, canned tomatoes and peas and season with cinnamon, salt and pepper - done. And while the stew is still bubbling away, you can prepare the butter rice. By the way, I recently tried the stew with vegan minced meat. That tastes really good too!
But regardless of whether it's veggie, vegan or with meat, the stew has a wonderfully light sweetness thanks to the fine peas, but is still nice and hearty and an absolute treat for the heart. By the way, I like to add a few fine carrots to my recipe - so I like to use this mixture of canned peas and carrots. Of course, you can also leave out the carrots and use fresh or frozen peas. Either way: I wish you a good appetite.
---
Recipe for Lebanese pea stew "Basella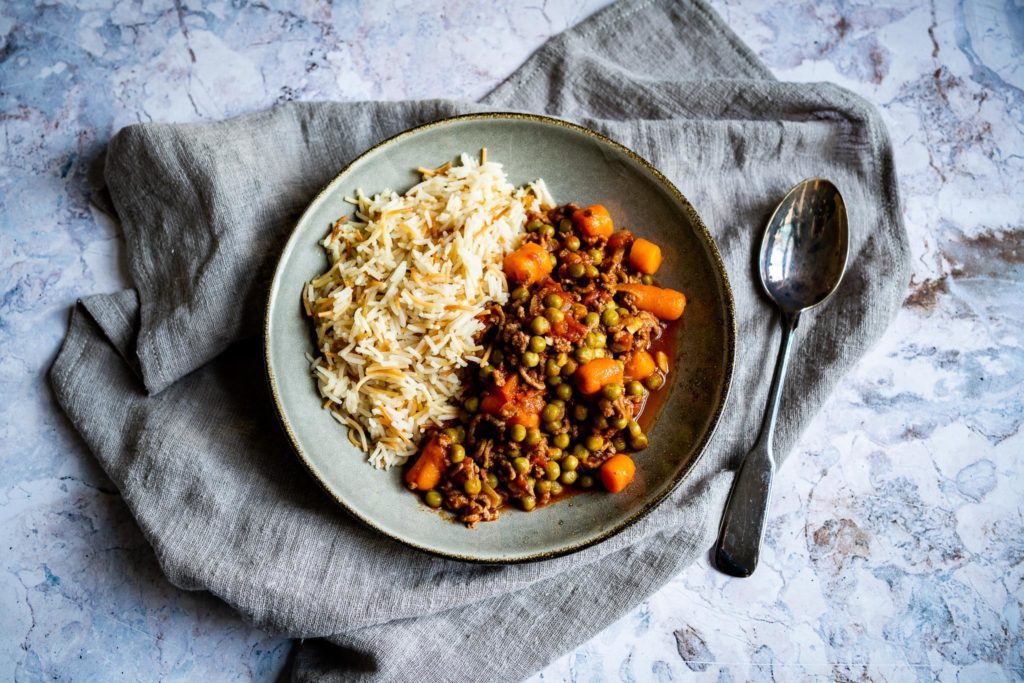 Print recipe
Preparation
Peel and chop the onion and garlic.

Chop the canned tomatoes.

Sauté the onions with olive oil in a saucepan on medium heat for about 3 minutes.

Add the garlic and minced beef and sauté on a higher heat for another 10 minutes.

Add the tomato paste and fry briefly.

Add chopped canned tomatoes, peas (+ carrots) and water and mix well.

Season with cinnamon, salt and pepper and simmer for about 15 minutes on medium heat with the lid on. Meanwhile, prepare the butter rice.
Notes
*Recipe contains affiliate links. 
If you liked the recipe, I am very happy about a small tip. You are helping me to bring more great recipes to the blog. Thank you so much 🙂
Donate here: continue to Paypal
Be sure to try the Lebanese spinach stew.