Make your own pomegranate syrup: Everything you need to know.
In my larder, besides za'atar and sumac of course, there is one ingredient I always have to keep on hand: Pomegranate syrup. In fact, I used to buy my syrup ready-made - until one day a friend gave me a bottle of homemade pomegranate syrup. After that, bought syrup was no longer an option for me. And so began my little adventure in pomegranate land.
Making your own pomegranate syrup is super easy - if the timinig is right
To make really good pomegranate syrup, you really only need three ingredients: Pomegranate juice, a little sugar and lemon juice. Just put it all in a pot, simmer it for a long time and you'll end up with the best syrup for your pantry.
So I stood in the kitchen and tried my luck. To save time and money, I used ready-made juice (100%). You can get it in any well-stocked supermarket. Of course, I could have used fresh pomegranates and juiced them - but I was lazy and wanted to try them first. So I turned on the cooker, put everything in a pot and off I went. I let my timer run to check and then came back to the pot after an hour....
The timing
Arriving at the pot, horror awaited me. The juice was gone and a deep red mass was bubbling at me (yes I know, neglect is a bitch I didn't deserve it any other way!). Timing when boiling down syrup is super important! If you're even 5 minutes late, the result is a nasty lump of pomegranate "caramel" that you won't want to enjoy.
The second attempt was much better and the third was finally perfect! Since the time for boiling down varies according to the amount of juice, I tried out a few quantities.
Example: Different quantities with different cooking times
300 ml pomegranate juice, 1 tbsp sugar, 1 tsp lemon juice:
approx. 60 ml syrup
lasted approx. 17 minutes
500 ml pomegranate juice, 2 tbsp sugar, 1 tbsp lemon juice:
approx. 100 ml
lasted approx. 30 minutes
1.5 litres pomegranate juice, 6 tbsp sugar, 3 tbsp lemon juice:
approx. 300 - 320 ml
lasted approx. 90 minutes
Rule of thumb: You always get a maximum of 1/3 of the original amount of pomegranate juice.
How to tell when your pomegranate syrup is ready
The last few minutes of boiling down are particularly critical for the consistency. If you miss this moment, your syrup will be too thick and you won't be able to use it. So be there 5-10 minutes before the end of the time and watch the process.
If the bubbles slowly become thicker, your syrup is as good as ready. You can tell when it's ready by holding a tablespoon in the simmering syrup and looking at the back to see if a reddish film has formed. If you can draw a line in the film with your finger (be careful, it could be hot!), your syrup is ready.
Please also note that the syrup becomes more solid as it cools down. It must therefore still be liquid when hot.
SOS: Help when things don't go smoothly
Syrup was on the cooker too long:
As I said, it is important that you return to the pot early enough and accompany the syrup for the last few minutes. If it boils down too long, it will become thick and really solid. Unfortunately, the syrup is then ruined and you can no longer use it. By the way, your pot will then be occupied for a longer period of time. Syrup is super hot! So please be careful. If it happens to you, the syrup has turned to caramel and the pot is no longer available, you should keep calm and fill the pot with warm water and let it stand. When everything has cooled down, you can pour warm to hot running water from the tap into the sink. Gradually, everything will dissolve by itself.
Syrup is too liquid after cooling:
If your pomegranate syrup is still a little too liquid, you can simply heat it up again and give it a few more minutes on the cooker, after which it should be perfect once it has cooled down. You can also time yourself. Unfortunately, every cooker runs a little differently and I can only give you a rough guide. But feel free to use the spoon example as a guide.
Make your own pomegranate juice
If you want to do everything yourself, you can of course get fresh pomegranates and juice them. There are also different methods, which I would like to explain to you briefly:
Halve and squeeze:
Probably the easiest method is to simply cut the pomegranate in half and squeeze it in a fruit press. Note, however, that this is where you will make the biggest loss. It is guaranteed that the entire fruit will not leave its juice. And you have to strain the juice through a cloth afterwards. You also have to strain the juice through a cloth afterwards so that you don't have any more particles in the juice - and you don't want any particles in your syrup 😉
Remove the seeds, mash and wring out:
A slightly more effective method is to remove the seeds from the pomegranate, puree them in a blender and then pass the mixture through a cloth. This way you can be sure that every seed is taken. However, coring is a little more time-consuming and you will also get soaked more quickly if you do not core the apple under water (small tip).
And if you don't like either method and you have a real juicer at home, you know what to do anyway.
Is the syrup worse with finished juice?
Honestly? No! I am super happy with the syrup I made from the juice I bought. But when you buy it, make sure that it is 100% pomegranate juice without additives.
What you can do with pomegranate syrup
Pomegranate syrup tastes sour, super fruity and slightly tart and can be used for sweet and savoury dishes. In the Levant, for example, people like to use it to deglaze spicy roasted meat or vegetables. The fruity note then provides a wonderful contrast to the roasted flavours. But you can also use the syrup to refine salads (in dressings) or for desserts and drinks.
Here are some examples in which I have used pomegranate syrup so far:
But whatever you use your own pomegranate syrup for, it's guaranteed to be something special.
---
This is how you make your own pomegranate syrup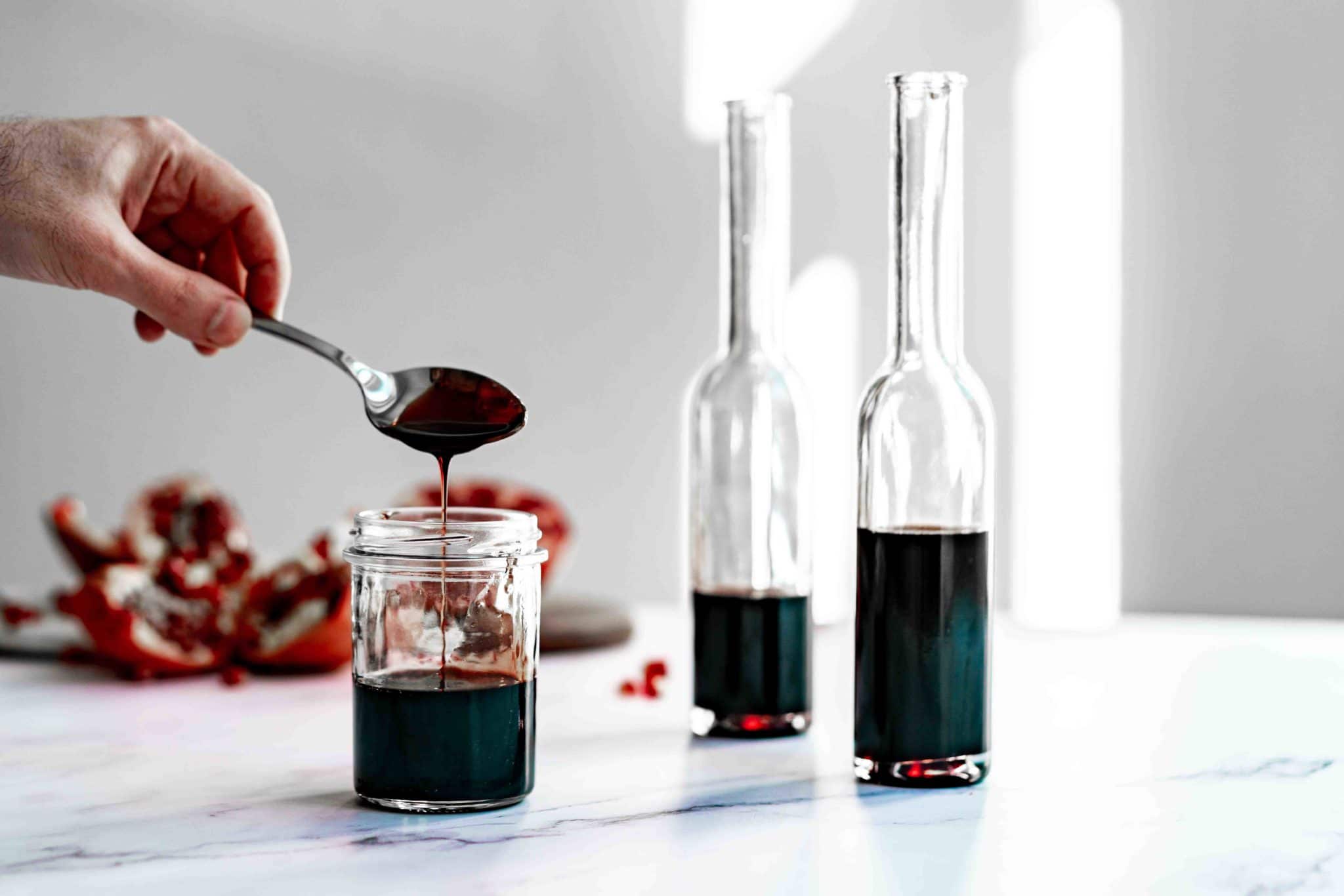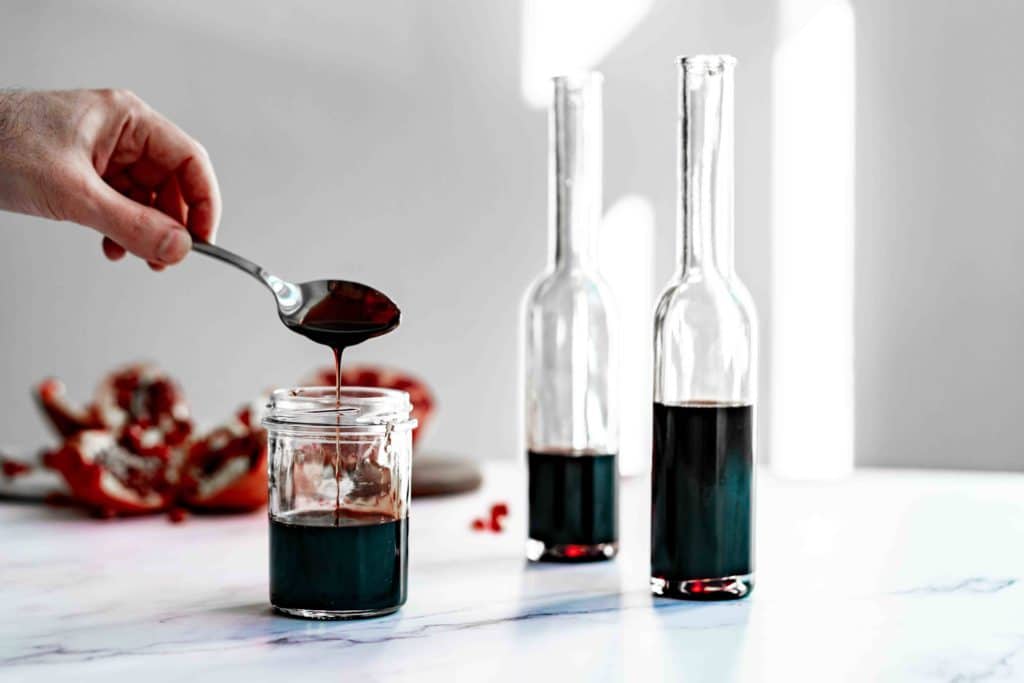 Print recipe
Ingredients
1,5

L

Pomegranate juice

100%

6

TBSP

Sugar

3

TBSP

Lemon juice
Preparation
Mix the pomegranate juice with the sugar and lemon juice in a saucepan until the sugar has dissolved.

Bring the juice to the boil briefly and then turn the heat directly to medium.

Simmer the pomegranate juice for approx. 80 - 90 minutes until a syrup is formed.

Allow the syrup to cool and pour into a sterile container. The syrup will keep in the refrigerator for at least 4 weeks.
Note: It is important that you are in the last quarter of an hour and check how your syrup is doing. The last few minutes are critical. Every cooker heats slightly differently, so it may take a little longer or a little shorter. Shorter is not a problem - but if the syrup boils down too long, it will turn into caramel (you probably don't want that). If you want to make less than 1.5 litres of juice into syrup, make sure you shorten the time!
Notes
Recipe contains affiliate links. 
If you liked the recipe, I am very happy about a small tip. You are helping me to bring more great recipes to the blog. Thank you so much 🙂
Donate here: continue to Paypal
Nutritional values
Calories:
3
kcal
|
Carbohydrates:
1
g
|
Protein:
0.01
g
|
Fat:
0.02
g
|
Saturated Fat:
0.004
g
|
Polyunsaturated Fat:
0.003
g
|
Monounsaturated Fat:
0.003
g
|
Sodium:
0.5
mg
|
Potassium:
11
mg
|
Fiber:
0.01
g
|
Sugar:
1
g
|
Vitamin A:
0.001
IU
|
Vitamin C:
0.01
mg
|
Calcium:
1
mg
|
Iron:
0.01
mg