Lentil stew with noodles - "Raschta"
This recipe drove me to the brink of madness. Not because the lentil stew is difficult to prepare. On the contrary! My challenge was rather to photograph this delicious piece of Levantine culinary art. Lentils are not particularly photogenic - and I am sometimes not particularly patient with my subject. Why? Because I always make the same mistake and photograph hungry....
Mum are there worms in there?
First of all, no, no worms are or were harmed for this dish!
Before my fervent love for this delicious lentil stew called "Raschta" began, even as a child I liked to raise my right eyebrow when I was not sure about something (or had questions). Of course, back then I had to see the lovingly homemade thick noodles in the stew like this, because I had an earthworm phase in which I was on the hunt for these things every day to hold them up in front of my fellow human beings.
And suddenly I was served a plate with lentils and these noodles in it. "You'll get that back one day," my mother once threatened. That's it! This had to be her moment of revenge. With my eyebrow still raised, I looked at my father, who then sat down at the table, wished me a good appetite and enjoyed spoonful after spoonful. I stretched to see if the contents of his plate looked like mine. It did.
All right! I'll try...
I poked around the noodles some more and then finally took my first spoonful. The plate was empty faster than my mother could have offered a second helping. This lentil stew has become one of my favourite stews ever!
When I started cooking myself at some point, I appreciated Raschta even more. The lentil stew is really super quick to make. If I dawdle, it takes me about 45 minutes. First I prepare the noodles. Just knead flour, water and a pinch of salt, roll out and cut into strips. That's it.
Then I quickly chop the onions and garlic and fry them with some minced meat (vegan minced meat also works!), add the lentils and deglaze with vegetable stock. Then season with cinnamon, cumin, salt and pepper and after 20 minutes I add the noodles.
Levantine lentil stew: So simple and so good!
I love this lentil stew! Something this good doesn't always have to be complicated. Raschta always reminds me of this moment in my childhood and I have to smile every time. I hope I haven't scared you off with the "worm story" now. Because then you would really be missing out on a great Levant classic.
---
Recipe for Levantine lentil stew "Rashta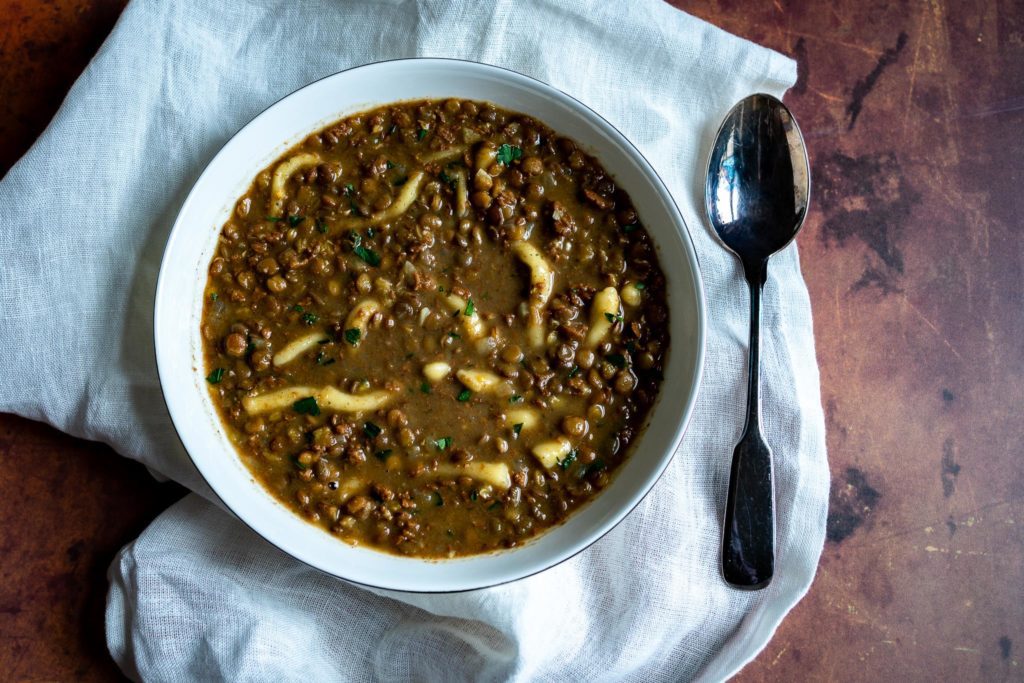 Print recipe
Ingredients
For the stew
1300

ml

Vegetable broth

250

g

Green lentils

250

g

Ground beef or vegan mince

2

Onions

2

Garlic cloves

4

TBSP

Olive oil

1

TBSP

Pomegranate syrup

alternatively: lemon juice

1,5

TSP

Cumin

1

TSP

Cinnamon

Salt, pepper
For the noodles
150

g

Flour

80

ml

Water

1

pinch

Salt
Preparation
Prepare pasta
Mix the flour with a pinch of salt and then knead with water to form a firm dough.

Roll out the dough on a floured work surface and cut into strips. Shorten the strips as desired and roll them briefly in your hands.
Lentil stew
Peel and finely chop the onions and garlic.

Heat the olive oil in a saucepan over a high heat and sauté the onions and garlic for about 2 minutes.

Add the mince and fry for approx. 5 minutes. Turn down the heat in between if necessary.

Add the lentils and mix briefly. Deglaze with vegetable stock and simmer on medium heat for about 20 minutes.

Season with salt, pepper, pomegranate syrup, cumin and cinnamon.

Add the noodles and cook, stirring, in the stew for about 10 minutes.
Notes
*Recipe contains affiliate links. 
If you liked the recipe, I am very happy about a small tip. You are helping me to bring more great recipes to the blog. Thank you so much 🙂
Donate here: continue to Paypal
Be sure to try the pea stew, the potato ste w or the lentil and chard stew.