"It's called kafta, not köfte!" Again and again I have to say this to friends when I serve them these delicious Lebanese kebabs made of minced meat and parsley. Well, Köfte at least goes in the right direction, but the meatballs differ in the spices. And it's just the Turkish version and not the Lebanese.
What is Kafta?
Kafta is the Lebanese equivalent of the German frikadelle, the Turkish Köfte or the Ćevapčići of the Balkans. The basic recipe is very changeable and finds its home in a wide variety of dishes. Whether in the oven with tomatoes and potato slices, as oval meatballs from the grill, hidden in pita bread or in a strong tomato sauce - the spicy kebab skewers are always welcome on my plate.
The basic recipe
For my family's basic recipe, you'll need:
Ground beef or lamb
Onions
flat leaf parsley
Pomegranate syrup
Cinnamon
Salt and pepper
The beauty of Kafta is the quick preparation time: onion and parsley are chopped in no time, add fresh minced meat, a handful of spices & herbs and your basic mixture is ready. You can't get the grill or oven preheated any faster. You can then put the mass directly on skewers or form into balls and cook. What awaits you then is an absolute taste grenade. The usual suspects on the grill quickly look boring. Especially when you serve Kafta with a good blob of hummus and a portion of taboulé.
The insider tip
My recommendation is sumac onions. Sumac is a somewhat sour spice that is extracted from sumac berries. If you want to learn more about sumac, I encourage you to read my extensive post. The fruity, tart and tangy sumac onions go great with kafta. You can find the recipe for it here.
Either way - you'll love it, I'm sure. Bon appétit.
---
Recipe for Kafta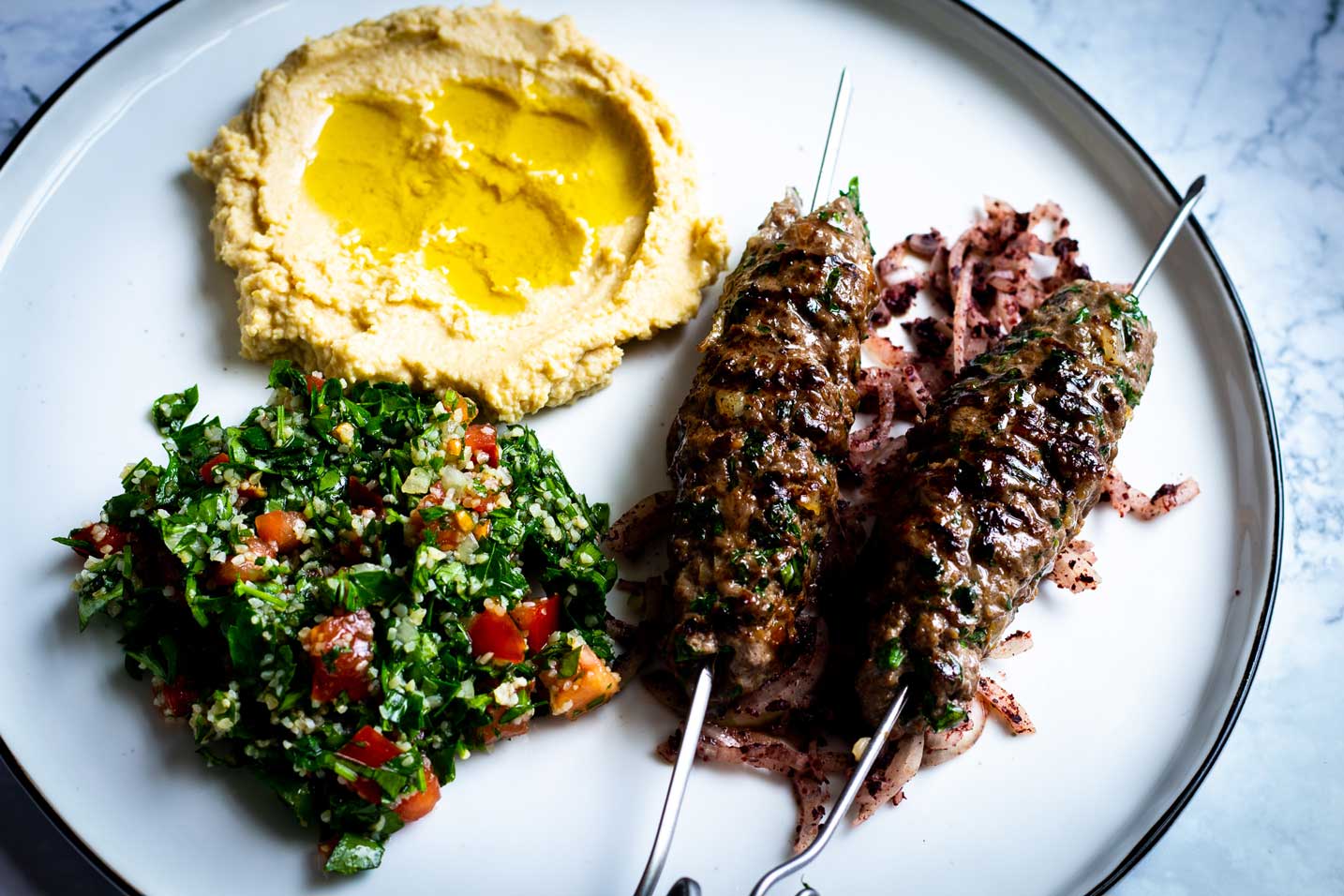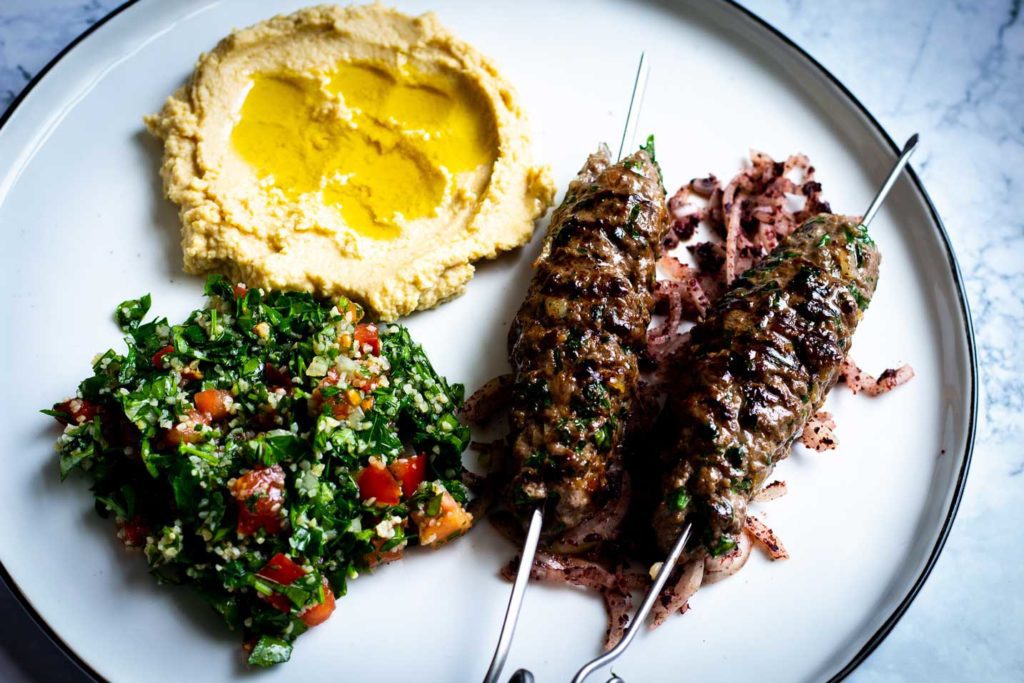 Print recipe
Save recipe
Saved!
Preparation
Finely chop the onion and parsley.

Mix the chopped onion, parsley, pomegranate syrup and cinnamon with the minced meat to form a mixture. Season to taste with salt and pepper.

Grill or roast the kafta either on the grill, in a pan or in the oven.

You can put the kafta on skewers or use it as a meatball.
Notes
*Recipe contains affiliate links. 
Nutritional values
Calories:
330
kcal
|
Carbohydrates:
3
g
|
Protein:
22
g
|
Fat:
25
g
|
Saturated Fat:
10
g
|
Polyunsaturated Fat:
1
g
|
Monounsaturated Fat:
11
g
|
Trans Fat:
2
g
|
Cholesterol:
89
mg
|
Sodium:
85
mg
|
Potassium:
380
mg
|
Fiber:
1
g
|
Sugar:
1
g
|
Vitamin A:
22
IU
|
Vitamin C:
2
mg
|
Calcium:
30
mg
|
Iron:
3
mg
Also try kafta on labneh, the potato stew with kafta and definitely the cheese pearl couscous with kafta and chili butter.