As soon as the first rays of sunshine appear, a wild barbecue desire awakens in me - the desire to march to the hardware store, grab a big bag of charcoal and carry it home triumphantly on my shoulder. There I tear open the sack and enjoy the escaping scent of freshly killed charcoal. Hmmmm... Then I load the barbecue with it and light a fire. I quickly put the grill grate on top and I'm ready to go. First, I always put two aubergines on the grill - one for Baba Ghanoush and one for this aubergine salad.
Okay... I wasn't completely honest. I don't go to the DIY store to buy charcoal - I don't even have a proper barbecue 🙁
But that's only because I don't have a balcony, a terrace or anything like that. So I get out the sterile electric grill and reminisce about past barbecue adventures.
On my last visit to Lebanon, we got a small and very spartan barbecue and grilled kafta and chicken parts by a small river. Meanwhile, my sister and my mother made taboulé. At 32 °C, the barbecue wasn't quite as great as you'd imagine. I was sweating to no end and actually preferred to make taboulé - or jump into the river 😀
Okay... it was a stream - a little stream... There was water moving forward! But it would have cooled me off for sure.
Back to the aubergine salad. This salad is the perfect accompaniment to your grilled food. The grilled aubergine gives it a nice smoky flavour, yet the tomato and herbs make it wonderfully fresh. And if, like me, you don't have the opportunity to grill, you can also make the salad at home. Just put an aubergine in the hot oven and prepare the rest of the ingredients: Tomatoes, fresh parsley and mint. Toast some bread and your delicious dinner is ready.
---
Recipe for Lebanese aubergine salad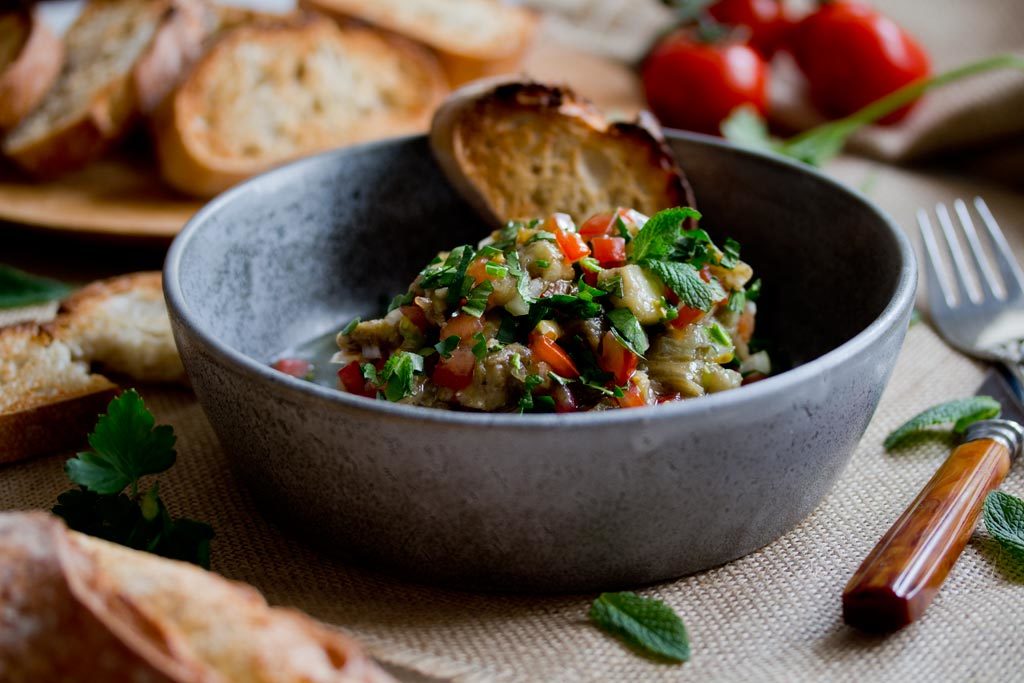 Print recipe
Ingredients
Preparation
Either put the aubergine on the grill and grill it for 15 minutes all around until it is nice and soft.

OR: Preheat the oven to 250 °C.

Pierce the aubergine with a knife and place in a baking dish in the oven for 35 minutes. Let them cool down a little afterwards.

Chop the onion and cut the tomatoes into small cubes.

Pluck the mint leaves from the stem and then chop the leaves.

Peel the aubergine and cut the flesh into small cubes.

Now mix the aubergine, tomatoes, onion, parsley and mint.

Season the aubergine salad with cinnamon, salt and pepper.
Notes
The salad goes well with crispy toasted baguette and various grilled dishes.
*Recipe contains affiliate links.
If you liked the recipe, I am very happy about a small tip. You are helping me to bring more great recipes to the blog. Thank you so much 🙂
Donate here: continue to Paypal