Cheesecake with Za'atar Base & Sumac Berries
I know, everyone kind of freaks out about cheesecake. I'm no different. I've been making a really delicious cheesecake for years. The steps are perfect and everything happens almost automatically, until one day I had the bizarre idea of mixing some za'atar into the buttery biscuit base. I tried it and that's when my experimental mood really got going.
Cheesecake with Za'atar
Talk about freaking out: I love contrasts in food! Everyone probably knows salted caramel and I'm really into it. So why shouldn't za'atar work as well? Let's recall the ingredients of za'atar. It's mostly thyme. Then there's sesame seeds, sumac and a pinch of salt. Mixed with butter and crumbled butter biscuits, it makes an absolutely heavenly base for a really delicious cheesecake.
It's kind of super weird when you take a piece and first have the very familiar taste of cheesecake in your mouth and then the other flavours slowly make themselves known. First cheesecake, then thyme with sesame seeds and finally a delicate hint of salt. Perfect!
Sumac and the berries
Okay, so we have the base. But you can also garnish cheesecake so beautifully with all kinds of wonderful things. How about something fruity to go with the sweet cake? A berry compote in itself brings a super fruity note and a fresh acidity. But boost it with some sumac and rose water. It's a real party in the mouth.
In combination with chopped pistachios and of course the delicious cheesecake, there is really only one thing left to do: Happy Ausrasting!
P.S.: If you ever have guests over who are not very keen on experimenting - the cheesecake actually looks quite harmless on the outside 😛
---
Recipe for cheesecake with za'atar base & sumac berries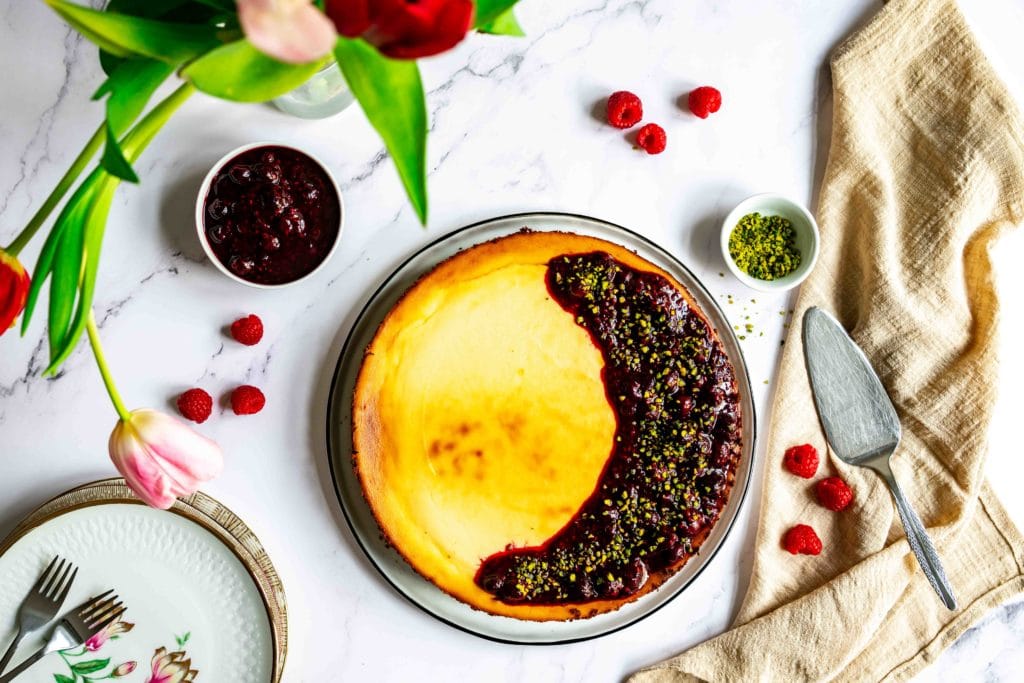 Print recipe
Ingredients
For the Za'atar floor
200

g

Butter cookies

Wholemeal also works

100

g

Butter

3

TL

Za'atar
For the cream cheese mixture
600

g

Cream cheese

230

g

Low-fat curd cheese

150

ml

Cream

200

g

Sugar

1

Egg

3

TBSP.

Cornstarch

2

TBSP

Lemon juice

1

TSP

Rose water
For the sumac berries
300

g

Berries (e.g. raspberries & blueberries)

Frozen or fresh

3

TBSP

Sugar

1

TSP

Rose water

1

EL

Sumac
Preparation
Za'atar soil
Preheat the oven to 180 °C.

Crush the butter biscuits properly. Please do not crush them completely.

Mix crumbly biscuits with za'atar and butter and place in a springform pan lined with baking paper, spreading with your hands and pressing down a little.

Bake the base in the oven for approx. 10 minutes.
Cream cheese mixture
Mix all the ingredients together. Please do not beat, as this will cause air to rise. The cake would then rise and collapse at the end. Mix everything slowly until it becomes a creamy mixture.
Bake cheesecake
Pour the cream cheese mixture onto the biscuit base and carefully smooth it out.

Bake the cheesecake for approx. 40 - 45 minutes at 180 °C in a preheated oven. Then allow to cool completely.
Sumac berries
Combine berries (defrosted if frozen) with sugar in a saucepan and bring to the boil briefly, then simmer over medium heat for about 5 minutes.

Add the sumac and rose water and mix well.
Garnish cheesecake
Serve the sumac berries with the cheesecake or spread them directly on top. Garnish with chopped pistachios if desired.
Notes
Recipe contains affiliate links.
If you liked the recipe, I am very happy about a small tip. You are helping me to bring more great recipes to the blog. Thank you so much 🙂
Donate here: continue to Paypal
How about tahini buns, marble cake with tahini, babka or classic knefeh?