Stuffed peppers with minced meat in tomato sauce
Stuffed peppers with minced meat in tomato sauce are an absolute comfort food for me. This comfort food is a real classic not only in the Levant, but rightly so internationally! Every family has its own recipe - and here you get ours.
What are stuffed peppers?
If you have actually managed to spend your life never having tried this delicacy, now it's high time! As the name suggests, this dish consists of peppers stuffed with minced meat. Especially when it comes to the filling, there are really quite different recipes. I fill my peppers with a spicy mixture of minced meat, tomatoes and basmati rice.
Peppers and the perfect stuffing
In the supermarket, look for good quality peppers. They should still be fresh and crisp. Even if you can choose the color of the peppers yourself, I personally always like to go for the red or yellow peppers. These are a little sweeter in taste and go great with the fruity tomato sauce.
For the filling of the peppers I usually take ground beef. But you can also use other minced meat, e.g. plant-based minced meat, if you don't eat meat. To the mince I then add freshly diced tomatoes, some chopped parsley, chopped onions, uncooked basmati rice and a good pinch of cinnamon.
The ingredients are then simply mixed together. This is really quite quick and easy. To fill the peppers, they must of course first be opened. I cut off the top of the lid. Make sure that the lid remains intact, because you still need it. Of course, it also works without, but it always looks a little better with a lid.
After the peppers are seeded, you can fill them directly with the minced mixture and your stuffed peppers with minced meat are ready. Now you just have to prepare the delicious tomato sauce. This is also super easy and goes quickly.
By the way: If you have some of the filling left over, you can make tasty little meatballs out of it and add them to the tomato sauce.
The fruity tomato sauce
For the tomato sauce, all you really have to do is put strained tomatoes in a pot with some tomato paste, water, spices and garlic and mix it. That's really it. Then cook the stuffed peppers with minced meat until the peppers are cooked and the filling is cooked through.
The special thing about my tomato sauce is the mixture of garlic, cinnamon and dried mint. This is then really the taste of the Levant!
The cooking time is about 40 minutes, depending on the size of the peppers. Then the peppers are cooked and the filling is juicy and really fluffy due to the basmati rice.
Side dishes for stuffed peppers
Stuffed peppers with minced meat taste great on their own. However, I like to serve Lebanese butter rice or bulgur with it. However, boiled potatoes or pearl barley also go very well with the peppers.
Freeze, thaw and heat stuffed peppers
Sometimes it happens that not everything is eaten or you have something cooked for later. Stuffed peppers with minced meat can be frozen and enjoyed later. Make sure the peppers are completely cooled before you freeze them airtight in a fresh box or freezer bag. They will last about 6 months in the freezer.
To defrost, simply place them in the refrigerator for a few hours or overnight. Then you can either warm them up in a baking dish in the oven at about 150 °C for about 30 minutes. To prevent the peppers from drying out, cover them with aluminum foil.
If you want to do it quickly, you can of course heat the stuffed peppers in the microwave. Make sure that the inside takes a little longer to get hot.
I wish you lots of fun cooking and of course a good appetite!
---
Recipe for stuffed peppers with minced meat in tomato sauce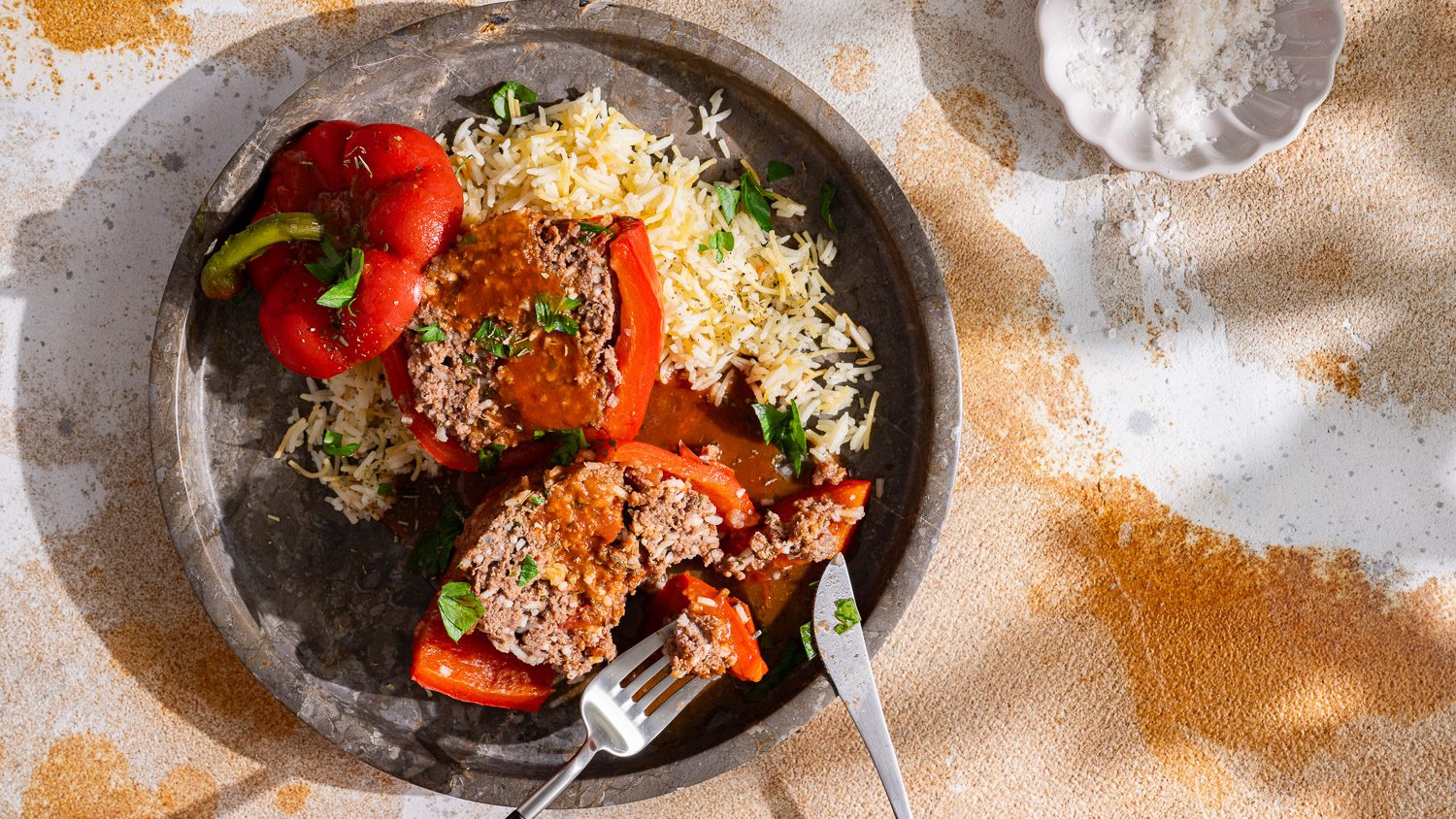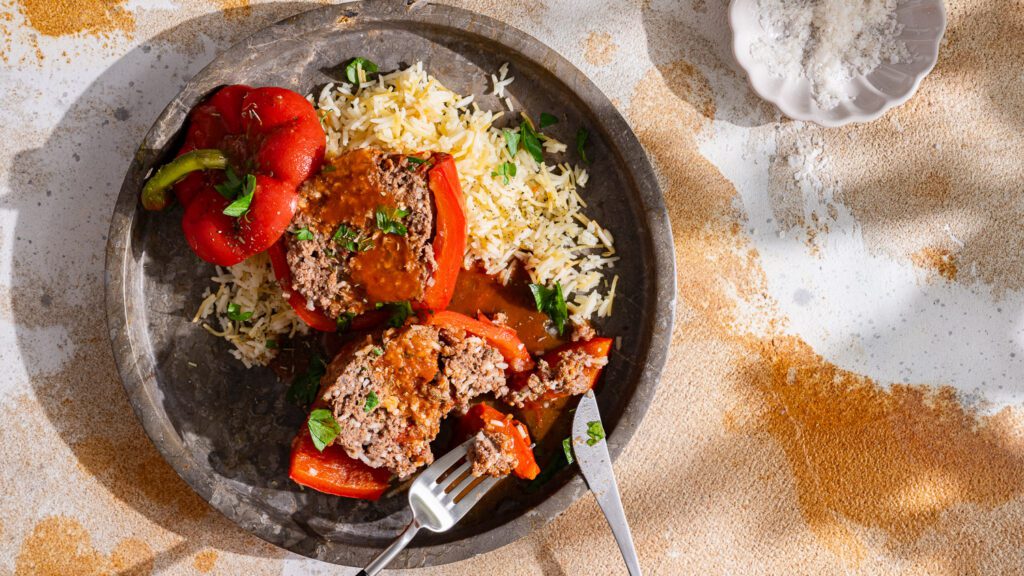 Print recipe
Save recipe
Saved!
Ingredients
For the stuffed peppers
4

Paprika

600

g

Ground beef

80

g

Basmati rice

2

Tomatoes

2

Onions

15

g

Parsley

1

teaspoon

Cinnamon

Salt, pepper
For the sauce
700

g

strained tomatoes

800

ml

Water

2

Tablespoon

Tomato paste

1

Garlic clove

1

Bay leaf

2

teaspoon

dried mint

1

teaspoon

Cinnamon

Salt, pepper
Preparation
Preparation stuffed peppers
Wash the peppers, cut off the top of the stalk like a lid and remove the seeds.

Wash basmati rice until water is no longer milky. Pour off the water.

Wash the tomatoes and cut into cubes.

Peel and finely chop the onion.

Wash and finely chop the parsley.

Mix all the ingredients for the filling together and season with cinnamon, salt and pepper.

Fill hollowed out peppers with minced meat mixture and replace lid.
Preparation tomato sauce
Put the strained tomatoes and tomato paste in a large pot, fill with water and heat.

Add the bay leaf, cinnamon, mint, salt and pepper and bring the sauce to the boil over a high heat.

Peel and press the garlic and add to the sauce.

Add stuffed peppers to tomato sauce and simmer, covered, over medium heat for about 40 minutes.

Meanwhile, prepare butter rice according to recipe.

For garnish, wash and coarsely chop a handful of parsley.

Stuffed peppers with minced meat in tomato sauce garnish with parsley and serve with butter ice cream.
Notes
Recipe contains affiliate links.
Nutritional values
Calories:
682
kcal
|
Carbohydrates:
66
g
|
Protein:
34
g
|
Fat:
31
g
|
Saturated Fat:
12
g
|
Polyunsaturated Fat:
1
g
|
Monounsaturated Fat:
13
g
|
Trans Fat:
2
g
|
Cholesterol:
107
mg
|
Sodium:
358
mg
|
Potassium:
1267
mg
|
Fiber:
7
g
|
Sugar:
12
g
|
Vitamin A:
1783
IU
|
Vitamin C:
34
mg
|
Calcium:
149
mg
|
Iron:
7
mg
You are now in the mood for more home cooking and comfort food? Then try also the following recipes: