Melon salad with feta and olives
As soon as the first watermelons are on the market, the big knocking starts for me. I run from melon to melon and hold my ear to it and begin my extensive investigation. What does the perfect melon sound like? It sounds a little hollow, but still not too hollow - you know what I mean?! The sound must be balanced, harmonious and somehow juicy. Anyway, I always need the most perfect watermelons for my melon salad with feta and olives.
Besides taboulé and fattoush, there is hardly a better salad for me in summer. The sweet freshness of watermelon combined with hearty feta, aromatic olives and parsley is an absolute dream. I add a cool homemade lemonade and the summer cooling programme begins: Lift your legs and enjoy!
When it comes to olives, I am always an absolute advocate of olives with stones. They have more flavour, but have to be nibbled off. In order not to spoil the fun of the melon salad and not to have to bite on a stone again and again, I prefer to use the already pitted olives. I know I could pit them myself by hand, but... noooo. The salad also lives from the fact that it's so quick to prepare. Oh yes: If you, like me, are also totally into coriander, then swap the parsley for it. It tastes a whole lot different.
The big thumping continues after dinner, by the way: on my full belly 😀
---
Recipe for melon salad with feta and olives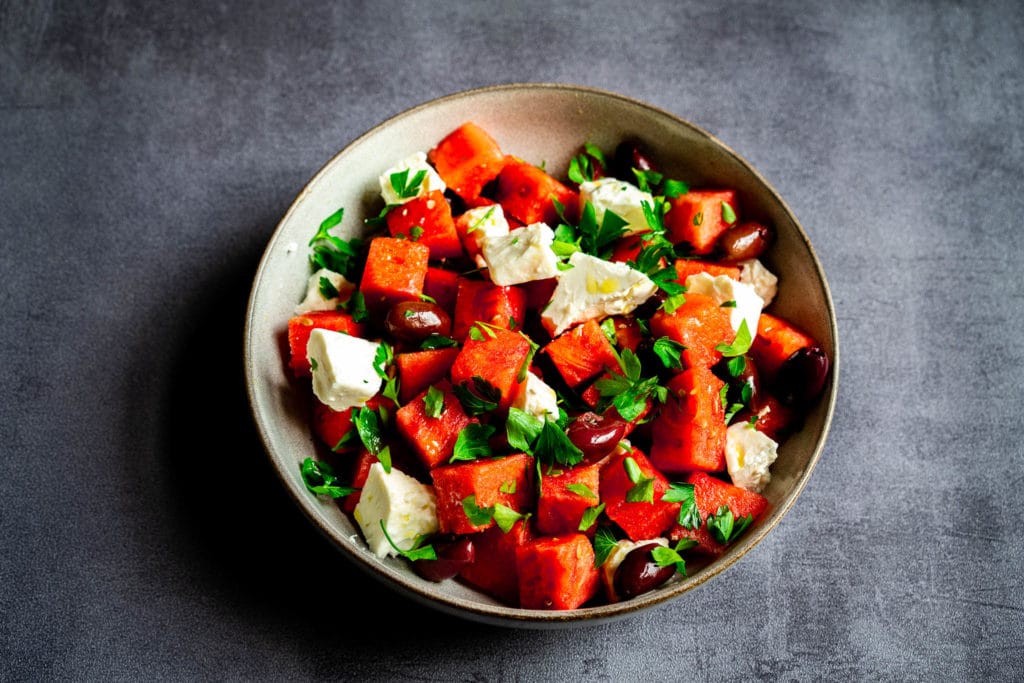 Print recipe
Ingredients
1

KG

Watermelon

200

g

Feta

3

Handful

Flat leaf parsley

150

g

Olives

2

El

Olive oil
Instructions
Cut the melon open and cut the flesh into bite-sized cubes.

Coarsely chop the parsley.

Crumble the feta over the melon.

Add the olives and parsley.

Dress the salad with olive oil and serve.
Notes
*Recipe contains affiliate links.