Baked aubergine on labneh with za'atar crumble
I'm not really a big fan of frozen food, but sometimes I do "treat" myself. Especially when time was short or my day was so full that I couldn't manage to make myself something decent to eat. Then sometimes I just put a strange fish fillet with crumbly stuff on it in the oven. It said "À la Bordelaise". At some point I had the idea: can you also make baked aubergine on labneh "À la Bordelaise"?
Marketing lies!
During my research, I came to the shocking realisation that Dr. Iglu had been lying to me all these years and that it wasn't a bordelaise on the fish at all, not even an "à la". (Sorry, I have to wipe away a tear for a moment...). Bordelaise is not crumbly stuff at all, it's actually a warm sauce from the Bordaux! With wine in it!
But anyway, the crumbly stuff on top has always turned me on. And so I hijacked this "idea" and interpreted it Levantine.
Baked aubergine on labneh
Labneh is one of the most popular classics in the Levant. The fresh yoghurt cheese is usually drizzled with olive oil and then simply dipped in fresh pita bread. But labneh is incredibly versatile and harmonises perfectly with falafel or kafta, for example.
Personally, I'm a big fan of aubergines. Whether as baba ghanoush or simply deep-fried with a little hummus - aubergines always go. And it was the combination with labneh and the flavours of za'atar and coriander that really got me going lately. So I developed a recipe that combines my love of fake bordelaise with baked aubergines and labneh.
The crumble does it!
And here it is! The recipe is super easy! The absolute highlight is the crumble (what a surprise!) that goes on top of the baked aubergine. I simply spread olive oil on a flatbread and sprinkled it with za'atar, then toasted it properly in the oven. Then I put everything in the blender with fresh coriander and roasted cashews. Make sure you don't blend the crumble too finely, because then the nice crunchy texture would be lost.
Once you've got the crumble ready, it's really quite quick: bake the aubergine in the oven, place on labneh and top with the wonderfully aromatic za'atar crumble. Then add a few dashes of olive oil, some seeds and coriander and your baked aubergine is ready. à la B... on labneh with za'atar crumble.
---
Recipe for Baked Aubergine on Labneh with Za'atar Crumble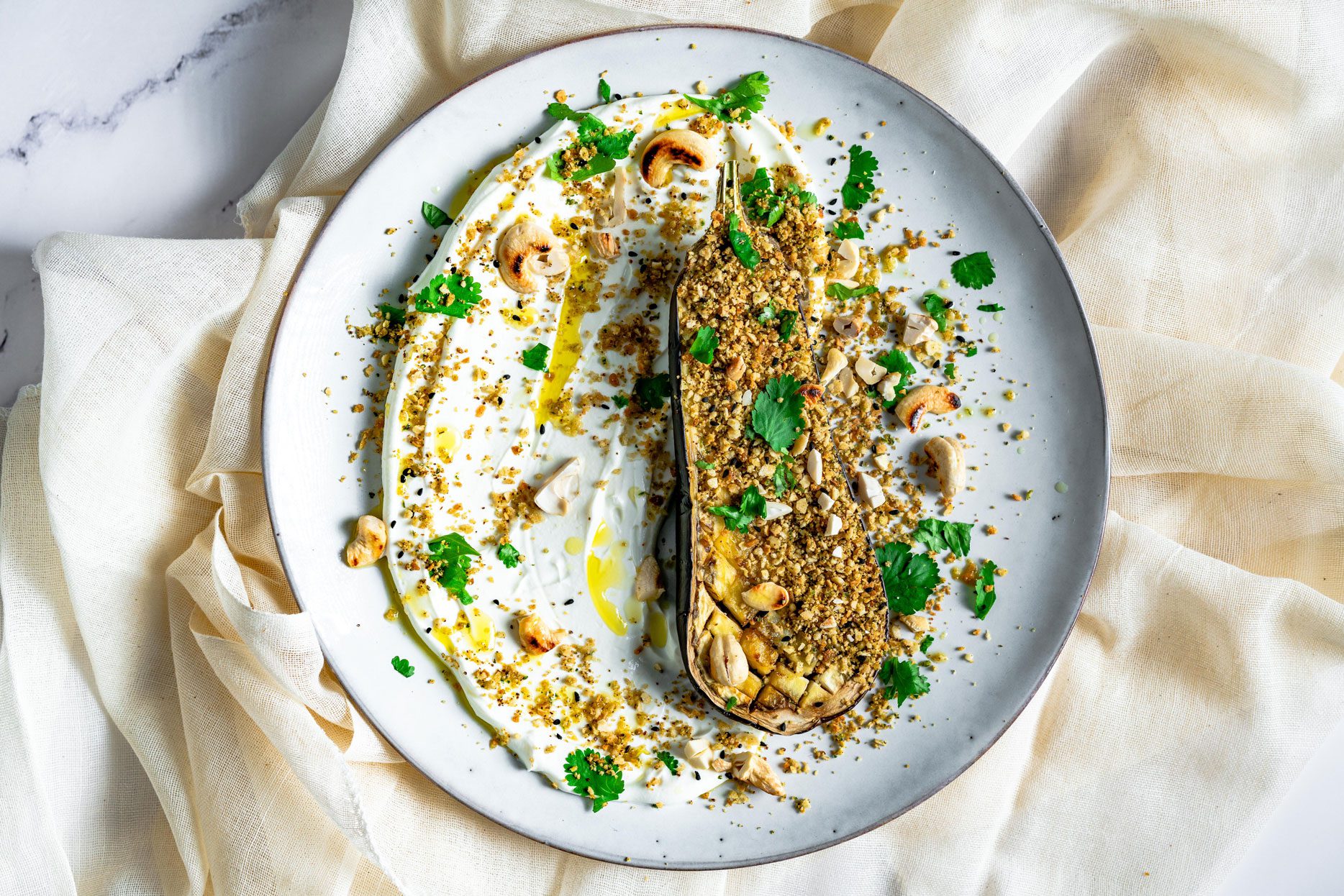 Print recipe
Ingredients
For garnishing
1

Handful

Cashew nuts

roasted and chopped

1

Handful

Coriander

coarsely chopped

2

TL

Black cumin
Preparation
Za'atar Crumble
Preheat the oven to 180 °C.

Brush the pita bread with olive oil and sprinkle with za'atar.

Place the pita bread in the preheated oven for approx. 5 - 6 minutes and toast.

Toast the cashews briefly in a non-stick frying pan for a few minutes on high heat.

Break the toasted pita bread into small pieces and mix with all the ingredients in a blender. Caution: Do not blend too finely - it should still be crunchy in your mouth.
Aubergine
Preheat the oven to 200 °C.

Cut the aubergine in half lengthways and, using a sharp knife (please be careful!), score the cut surfaces diagonally on both sides.

Lightly salt the cut surfaces and leave to soak for approx. 10 minutes. Then dab off moisture with a kitchen towel and brush cut surfaces with olive oil.

Bake the aubergine halves in the oven for approx. 30 minutes with the cut side facing up.
Sideboards
Spread the labneh on plates and top with baked aubergine.

Salt the aubergine and sprinkle with a generous amount of Za'atar Crumble.

Garnish with cashews, coriander, black cumin, salt, pepper and olive oil.
Notes
Recipe contains affiliate links. 
If you liked the recipe, I am very happy about a small tip. You are helping me to bring more great recipes to the blog. Thank you so much 🙂
Donate here: continue to Paypal