Zhug: Hot chilli coriander sauce
My friends know that I have a really pronounced weakness for coriander. My dream is still to roll around in a field of coriander one day. But not everyone likes the good herb. In fact, before I cook for friends, I often have to check to see if I can use cilantro or else I'll get one stuck on the spot. But anyone who loves coriander will also love this deliciously sheer chilli coriander sauce called Zhug.
It tastes like soap!
Detractors claim that coriander tastes like soap. Personally, I've never tasted soap, so it's hard for me to understand how anyone can make that comparison. But Zhug actually contains not only a lot of coriander, but also parsley, a little mint, lots of garlic, spices and, of course, plenty of chilli. Before you make a hasty exit, let me reassure you. Zhug is famous for its spiciness, but since you're making the recipe yourself, you can decide for yourself how hot you want it to be 😉 .
There are three different variants of Zhug: A green, a red and a "brown" variant. The chilli used (red or green) is decisive here. So if you choose red chilli, you have red Zhug. Brown is the variant with tomato as an additional ingredient. For the recipe, I used regular chillies from the supermarket and mixed red and green. Apart from the quantity, you can also influence the heat level with the type of chilli.
Zhug: From Yemen to the Levant
Zhug originally comes from Yemen and has found its way to the Levant. Especially in Israel, zhug, or zhoug, is very popular. The sauce goes perfectly with roasted vegetables, falafel, fish and meat. By the way, my neighbours told me today that Zhug also goes great with Maultaschen. Sounds perfect, doesn't it?
By the way, Zhug is super quick to whip up. Just throw everything together in a blender or puree with a hand blender, season to taste and your hot chilli and coriander sauce is ready. I've given a suggestion for the amount of chilli in my recipe. However, you are of course free to use less or more.
---
Recipe for Zhug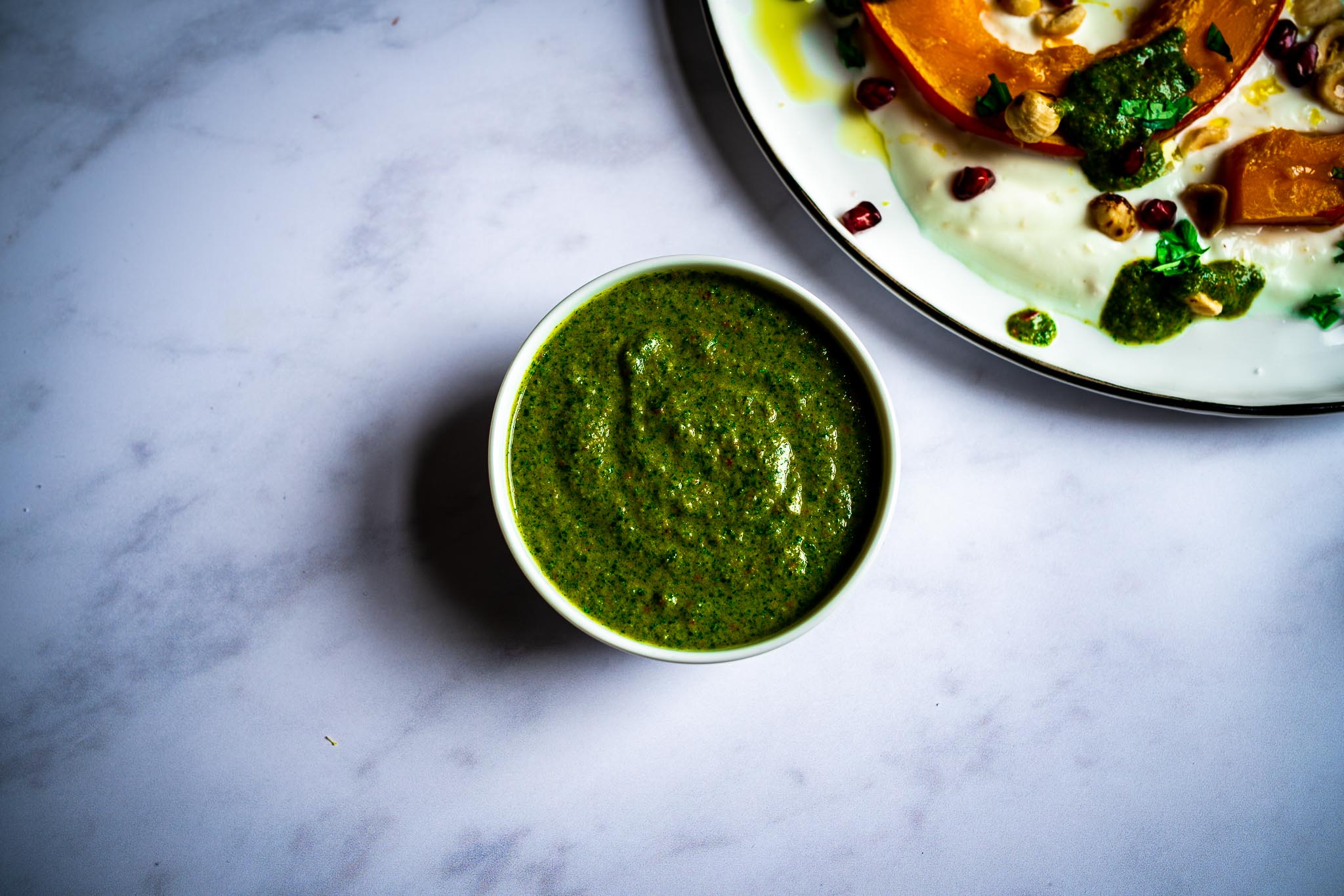 Print recipe
Save recipe
Saved!
Ingredients
40

g

Coriander

20

g

Flat leaf parsley

10

g

Mint

2

Garlic cloves

3

Chilis

according to choice and spiciness

2

TBSP

Lemon juice

1/2

TSP

Cumin

1/2

TL

Cardamom

1/2

TSP

Coriander seeds

ground

150

ml

Olive oil

Salt
Preparation
The spiciness is entirely up to you. You can use more or less chillies than indicated in the recipe. You can also decide for yourself what kind of chilli you want to use.
Roughly cut off the stems of the coriander and parsley and discard.

Remove the seeds from the chillies. Discard the seeds. Coarsely chop the chillies.

Finely puree all ingredients in a blender or with a hand blender.
Notes
* Recipe contains affiliate links. 
Nutritional values
Calories:
7
kcal
|
Carbohydrates:
0.1
g
|
Protein:
0.02
g
|
Fat:
1
g
|
Saturated Fat:
0.1
g
|
Polyunsaturated Fat:
0.1
g
|
Monounsaturated Fat:
1
g
|
Sodium:
0.3
mg
|
Potassium:
4
mg
|
Fiber:
0.02
g
|
Sugar:
0.04
g
|
Vitamin A:
31
IU
|
Vitamin C:
1
mg
|
Calcium:
1
mg
|
Iron:
0.03
mg
Be sure to try the fruity and spicy mango sauce Amba.