Make falafel yourself: The authentic recipe!
I have a very personal relationship with falafel, the crispy meatballs made from chickpeas. They were part of my family's integration when we came to Germany as refugees from Lebanon in 1984. Falafel were largely unknown outside the Levant back then. Today, fortunately, things are quite different and anyone can easily make falafel themselves at home. Here I show you how it works.
What exactly are falafel?
For all those who do not yet know this incredibly delicious oriental specialty from the Levant: Falafel are small crispy meatballs made of chickpeas, herbs and spices. They are deep-fried and can be served plain, with sauce in a wrap or in a bowl. 
Falafel are also usually always part of a mezze, a kind of tapas of the Levant, where many other delicious small dishes and salads come together and are enjoyed comfortably throughout the evening.
I got the authentic recipe for falafel from my mother. The ingredients are:
Chickpeas
Garlic
Coriander seeds
Cumin (cumin)
fresh coriander
flat leaf parsley
Onion
Salt
optional: baking powder
There are also recipes that include a portion of fava beans in addition to chickpeas.
The secret for really good falafel
I keep seeing supposedly authentic recipes for falafel that come with canned, pre-cooked chickpeas. You should definitely not do that! 
If you use cooked chickpeas, you'll have to use additional flour or chickpea flour and the falafel batter will get really lumpy and fall apart during frying. 
If you want great and really authentic falafel that won't fall apart, use dried chickpeas instead, soaking them in fresh water for at least 12 hours beforehand. You don't have to cook them afterwards. You can use them directly with the other ingredients. 
There are recipes that also mix some baking powder into the falafel batter. You can do this if you want your falafel to rise a bit. This will make them a little fluffier. But then again, you run the risk of the falafel crumbling when you fry them. I usually prefer to leave out the baking powder or use very very little of it.
How to prepare falafel
On my birthdays - or those of my siblings - my parents always liked to invite the neighbors and their children. And now guess what they always had for dinner! That's right, falafel! Everyone was always very enthusiastic!
The falafel dough is actually quite quick and easy to make. You need to soak the chickpeas in fresh water for at least 12 hours. I always do this before I go to bed, then the chickpeas are ready for lunch. 
Then you can just throw the fresh herbs, spices, onion and garlic into a blender and puree it all into a fine paste. There are blenders that don't pack the whole amount at once, but then you can just split the amount and blend it together afterwards. 
If you have a strong blender, you can also use it. In my experience, it's usually much faster than using a large blender. So you don't necessarily need a big food processor to make falafel.
I then let the falafel mixture sit in the refrigerator for about an hour before I process it further. When it is then ready, everything goes very quickly. 
To form the falafel, you can either buy a falafel maker or simply form the small meatballs with two spoons or even by hand. If you form them by hand, always moisten your hands with some fresh water beforehand.
After that, the little things can already in the hot oil to be fried from all sides nice golden brown. The oil should have a temperature of about 180°C. 
I have always watched my mother with great pleasure as she let the little things slide into the hot oil and it then always started to bubble directly. After that, I always had to eat a falafel directly. 
Falafel are super crispy on the outside and deliciously tender on the inside. The fresh herbs give them their beautiful green color inside. If you ever get in a supermarket or restaurant from the inside pale or even yellow falafel, you have unfortunately not caught a good one. 
By the way, you can also easily prepare falafel in a hot air fryer. Just look here here.
Varied & delicious!
Fresh falafel taste very good to me personally also pure. But even better are falafel with tahini sauce. This combination is the classic and is served in Lebanon as well as in the rest of the Levant. 
But of course that was not quite it! Falafel go quite well with
You can serve them with the above delicacies in a bowl you put together yourself, side by side for dipping, or enjoy them classically as a wrap with fresh tomatoes, parsley, tahini sauce, and pickled beets. 
If you wrap falafel in a wrap, press them first. You can really squeeze them, because then they absorb the sauce much better. This makes your wrap so really nice juicy and tasty. 
Tips & Tricks
Personally, I always eat falafel fresh. If you have some left over and want to eat them the next day, I would definitely heat them up again briefly in the oven or deep fryer, otherwise they taste a bit dry. 
You can also freeze the cooled falafel very well for later use. To do this, you should let the fried falafel cool down really well and then place them side by side on a large plate in the freezer for about 1 hour.
You should do this "pre-freezing" so that the falafel do not stick together later in the freezer bag. After the hour, the falafel are hard and can be frozen in a freezer bag or fresh box for up to 6 months.
If you want to take the falafel out of the freezer at some point, you should let them thaw completely before heating them up. 
Falafel can also be sprinkled with sesame seeds or dipped in sesame seeds before frying. You can also add some sesame seeds to the falafel batter. 
In some regions of the Levant you can also get crispy falafel with a hole in the middle. Then they look like small bagels. The advantage of this is that after frying, the falafel are pulled onto a dare stick to drain and store. Practical, isn't it?
A healthy snack?
The myth is that falafel may have originally come from Egypt, where they used to be served as a meat substitute. This is still true today, because falafel are purely vegetable, i.e. vegan, and in addition to a lot of protein, they also contain plenty of fiber and are gluten-free.
Falafel are also full of good B vitamins and minerals, such as iron, magnesium and phosphorus.
Making authentic falafel yourself is really not difficult at all! You don't need so many ingredients, which you can get in almost any supermarket or online. The preparation is really easy and the most important thing is: they are absolutely delicious! Bon appetite!
---
Recipe for authentic falafel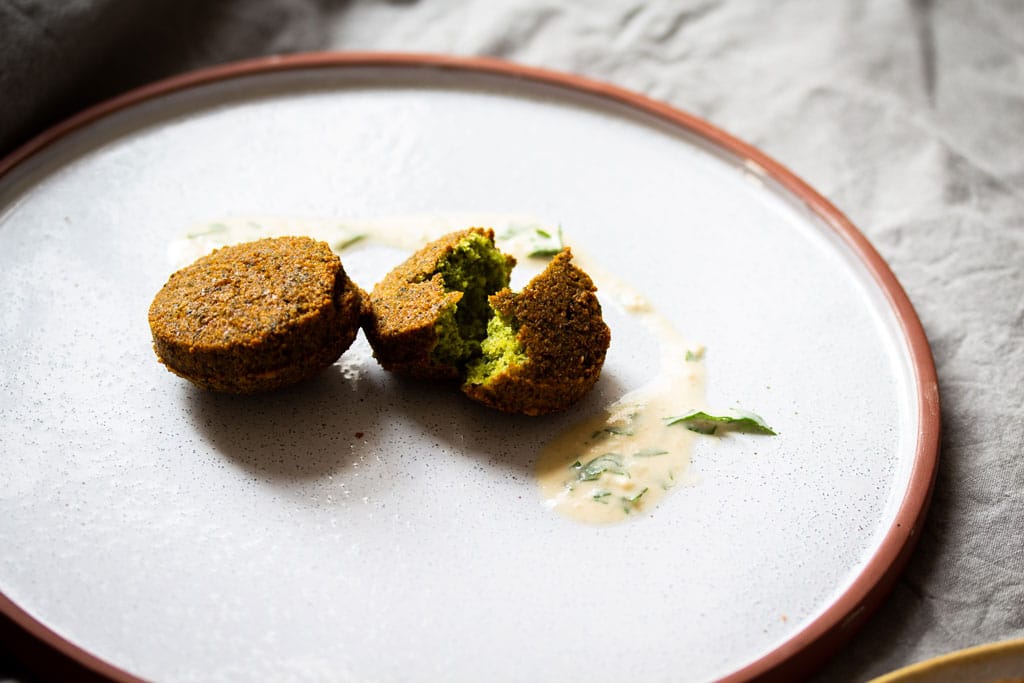 Print recipe
Save recipe
Saved!
Ingredients
250

g

dried chickpeas

2

Garlic cloves

1

Onion

15

g

Coriander

fresh

20

g

flat leaf parsley

2

TSP

Cumin (cumin)

1

TSP

Coriander seeds

ground

1

TSP

Salt

Oil for frying
Preparation
Soak the chickpeas in water overnight. (At least 12 hours)

Peel the onion and garlic. Cut the onion into quarters.

Strain the chickpeas in a sieve.

Blend the chickpeas with the garlic, onion, coriander (fresh and ground), parsley, cumin and salt in a powerful blender until homogeneous. To avoid overloading your food processor, you can also produce the mixture in 2 - 4 parts and mix by hand afterwards.

Transfer the mixture to a bowl, flatten and place in the fridge for approx. 1 hour to infuse.

Heat the deep fryer or a pot with the oil.

Now shape the mixture with a falafel scoop and place it in the hot oil. If you don't have a portioner, you can shape the mixture with spoons or your hands. The taste remains the same 🙂

Fry the falafel for approx. 3 minutes until golden brown.
Nutritional values
Calories:
49
kcal
|
Carbohydrates:
8
g
|
Protein:
2
g
|
Fat:
1
g
|
Saturated Fat:
0.01
g
|
Polyunsaturated Fat:
0.01
g
|
Monounsaturated Fat:
0.02
g
|
Sodium:
25
mg
|
Potassium:
124
mg
|
Fiber:
1
g
|
Sugar:
0.3
g
|
Vitamin A:
179
IU
|
Vitamin C:
3
mg
|
Calcium:
31
mg
|
Iron:
1
mg
You can find all the information about chickpeas in the chickpea guide. Falafel are also available as croutons for salads.