Baba Ghanoush - Eggplant Cream
While hummus has already won many fans, baba ghanoush is still really more of an insider. You can find all kinds of hummus in the supermarket, but so far I've never found this fantastically smoky aubergine cream. At least none that you can actually enjoy. Yet neither one nor the other should be missing from a good mezze! Baba Ghanoush is vegan and an absolute taste bomb!
Baba Ghanoush: Straight from the fire
We don't really have a BBQ without baba ghanoush. Especially because you can put the aubergine on the grill first. Ideally directly over the flame or right into the glowing coals. This gives the aubergine its wonderful smoky aroma, which gives the cream its characteristic flavour. If you don't have the option of grilling the aubergine, you can also put it in the oven at high heat and then use smoked salt to give it a boost of flavour. However, the cooking time is considerably longer in the oven. On the grill it's really super fast.
If you have a gas cooker at home, I envy you. My mum has a little grid that she puts directly on her cooker to roast the aubergine on. It's super practical because you don't always have to start the grill. I bought a camping cooker for it - it works very well too!
Perfect for dipping!
Baba Ghanoush should not be pureed with a blender, as the beautiful texture will be lost. The flesh of the aubergine is so wonderfully soft after cooking that you can simply mash it with tahini, garlic and lemon juice with a fork and then blend it. The flesh will eventually break down and you will get a nice textured cream.
The recipe for baba ghanoush varies greatly from country to country in the Levant. In Syria, for example, a good portion of yoghurt is added. If you want to make a real Levantine BBQ, then you shouldn't miss out on Baba Ghanoush. Serve with fattoush or tabouleh and shish taouk.
---
Recipe for Baba Ghanoush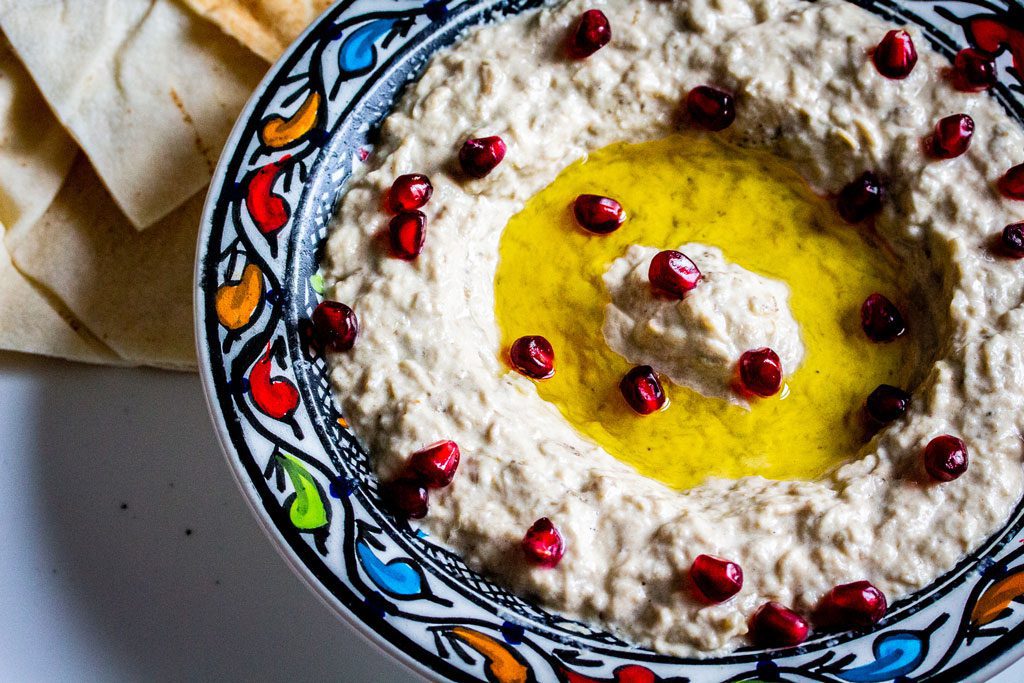 Print recipe
Ingredients
1

Eggplant

3

EL

Tahini

1

Garlic clove

1/2

Lemon

Salt, pepper
Preparation
Wash the aubergine and make small slits in it with a knife.

Cook the aubergine at high heat (225°C) in the oven or on the grill. It can take up to 30 minutes for the aubergine to cook through in the oven. Depending on the size, it sometimes takes a little longer, sometimes a little shorter. on the grill it is much quicker. It is ready when the flesh is buttery soft and the skin is crispy. After cooling, the aubergine collapses.

After cooling, peel the skin off the flesh. Please be careful, the inside can still be very hot, even if it does not appear so.

Crush the garlic with salt in a mortar until it becomes a mousse.

Squeeze the lemon and mix with the garlic.

Add the flesh of the aubergine and mash while mixing.

Add the tahini and continue to stir. The consistency should be loose and creamy. The flesh of the aubergine will fray and remain slightly fibrous. This is the way it should be.

Before serving, you can optionally pour a drizzle of olive oil over your baba ghanoush and garnish with pomegranate seeds and olives.
Notes
*recipe contains affiliate links
If you liked the recipe, I am very happy about a small tip. You are helping me to bring more great recipes to the blog. Thank you so much 🙂
Donate here: continue to Paypal
Nutritional values
Calories:
152
kcal
|
Carbohydrates:
34
g
|
Protein:
6
g
|
Fat:
3
g
|
Saturated Fat:
0.4
g
|
Polyunsaturated Fat:
1
g
|
Monounsaturated Fat:
1
g
|
Sodium:
12
mg
|
Potassium:
1149
mg
|
Fiber:
15
g
|
Sugar:
18
g
|
Vitamin A:
120
IU
|
Vitamin C:
40
mg
|
Calcium:
65
mg
|
Iron:
2
mg
Learn all about Levantine cuisine in my article.