Halloumi grill plate with butter rice and fattoush - Community recipe #2
Again, I asked the community on Instagram what the next recipe should be. The result is this opulent vegetarian halloumi barbecue plate with fattoush, butter rice, yoghurt sauce and a deliciously fresh and fruity pomegranate relish. It's not something you can eat in between meals, but it's definitely something for an incredibly tasty barbecue or for the weekend.
The briefing of the Instagram community
On Instagram I got the following order:
Main course
vegetarian
Halloumi
Grilled
Light sauce
Fruity note
A salad with it
The perfect vegetarian barbecue dish!
When I prepare and photograph a recipe for the blog, it goes without saying that I eat it immediately afterwards. Food waste is not an option for me. And I can tell you: I really enjoyed this barbecue plate! There are several components on it that harmonise so well with each other that I couldn't stop eating. I haven't feasted this well in a long time. The subsequent gorging on the couch was gold! Thanks again to everyone who developed this recipe with me via Instagram.
Rice can also be smoked
I love the classic butter rice anyway, but if you also lightly smoke it, it gets another great flavour boost. Of course, the Halloumi grill dish is also delicious with regular butter rice, so don't worry. But if you want to add a little extra flavour, you have at least two options for smoking the rice.
You can transfer the butter rice into a grill tray and place it on the grill and close the lid. Another option is to smoke the rice directly in the pot. To do this, make a well in the finished rice and place a piece of aluminium foil in it. Place a piece of glowing charcoal on the aluminium foil (be sure to use untreated natural charcoal!) and a few smoke chips. Close the lid and 10 minutes later your rice tastes like pure barbecue pleasure! Together with the yoghurt sauce and the pomegranate relish, it becomes a real spectacle. (I'm hungry again...)
Halloumi grill plate with fattoush
For me, savoury grilled food always needs a fresh side dish with a pleasant acidity. Besides tabouleh, fattoush is one of my favourites here and goes great with halloumi. The wonderfully fresh salad with ingenious sumac dressing also adds another note: crispy fried pita bread. I always have to be careful not to snack on the pita bread while preparing Fattoush....
So the mixture on this plate is quite something. Even if the many components take a little more time, the bombastic halloumi grill plate is definitely worth it - and not just for vegetarians.
If you would like to develop a recipe with me, please subscribe to my channel on Instagram.
---
Recipe for Halloumi Grill Plate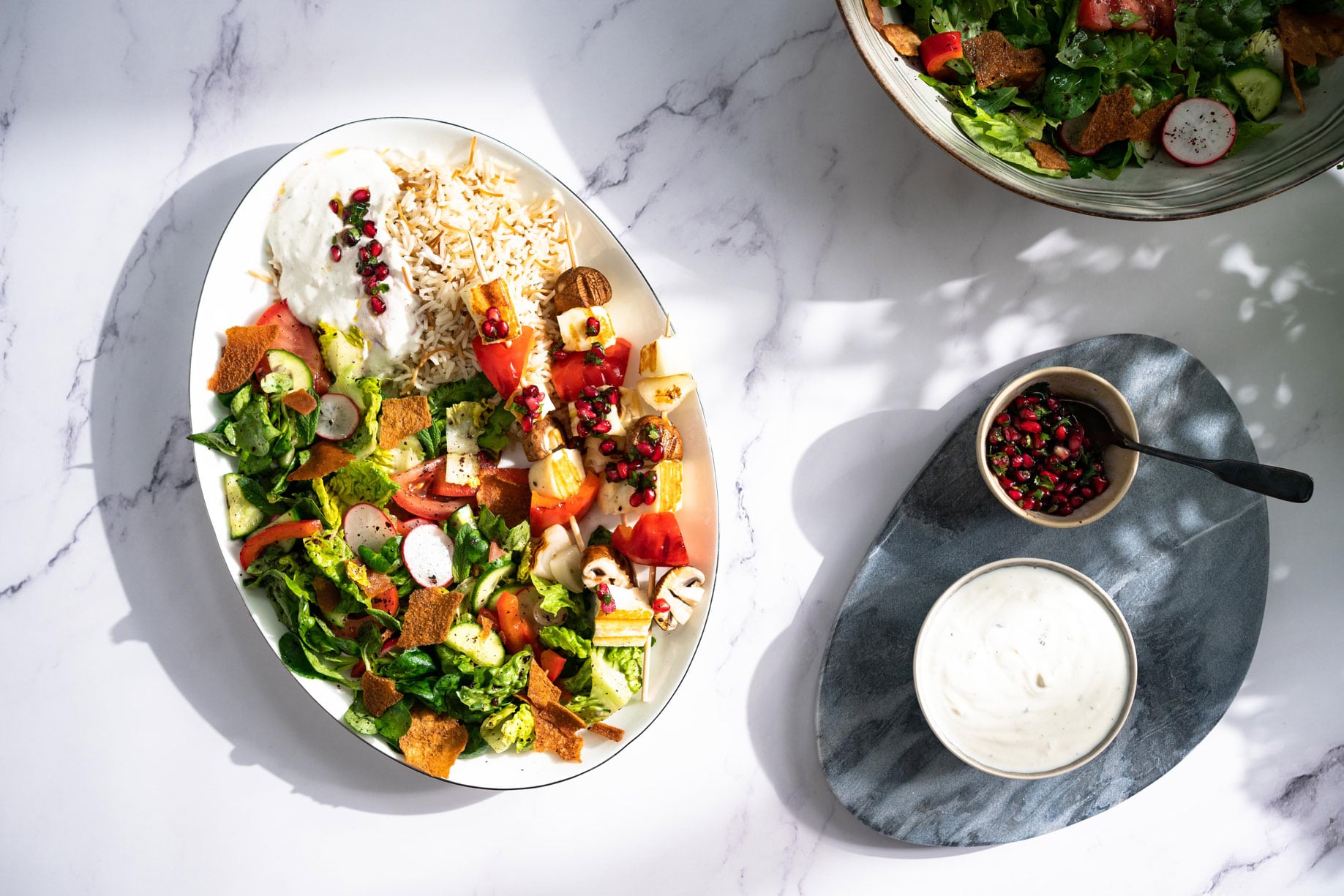 Print recipe
Equipment
Grill skewers

Grill / grill pan
Ingredients
Yoghurt-mint sauce
250

g

Yogurt 10% (alternatively vegan yogurt)

100

ml

Water

1

Garlic clove

1

TBSP

Tahini

1/2

TSP

dried mint

Salt
Pomegranate Relish
80

g

Pomegranate seeds

10

g

Coriander

2

TBSP

Olive oil

1

TBSP

Red wine vinegar

Salt, pepper
Halloumi vegetable skewers
250

g

Halloumi

4

Mushrooms

1

Onion

1/2

Paprika
Preparation
Prepare the fattoush and butter rice according to the recipe.
Yoghurt-mint sauce
Peel the garlic and crush it finely with a little salt in a mortar.

Add crushed garlic, mint and tahini to the yoghurt and mix.

Mix yoghurt with water and heat in a saucepan for approx. 5 minutes (do not boil!). Season the sauce with salt.
Pomegranate Relish
Chop the coriander and mix with the pomegranate seeds and the remaining ingredients. Press the seeds lightly with a pestle and mix again. Season to taste with salt and pepper.
Halloumi vegetable skewers
Cut the halloumi into cubes (cubes must be large enough so that they do not break when skewered).

Peel and quarter the onion. Cut the peppers into squares and halve the mushrooms.

Skewer the halloumi and vegetables alternately on a skewer and then grill or fry on the barbecue or in a pan for approx. 2 minutes per side.
Optional: Smoke butter rice
Mehode 1: Pour the finished butter ice cream into an aluminium bowl and smoke for approx. 10 minutes on the grill over indirect heat with the grill lid closed.

Method 2: Use a spoon to make a small hollow in the finished butter rice in the pot. Heat untreated natural charcoal and bring to a glow. Cover the hollow with aluminium foil, place the glowing charcoal in it and sprinkle with some smoked chips. Smoke for approx. 10 minutes with the lid closed.
Halloumi Grill Plate Dressing
Plate with halloumi skewers, butter rice and fattoush. The yoghurt sauce goes perfectly with the rice. The relish goes well as a topping for the rice and the skewers.

Get some of all the components on your fork when you eat - bon appétit.
Notes
Recipe contains affiliate links. 
If you liked the recipe, I am very happy about a small tip. You are helping me to bring more great recipes to the blog. Thank you so much 🙂
Donate here: continue to Paypal
You want to grill? Then try hummus, baba ghanoush or kafta.