Beetroot salad with yoghurt
Sometimes it's the seemingly small things that make us happy. For example, a bowl of creamy hummus with freshly baked pita bread that is still nice and warm - heaven, that's just lovely. By the way, this simple yet super delicious beetroot salad with yoghurt also belongs to this category.
Dip everything in a rich pink
I'm a big fan of simple recipes with few ingredients, but when combined correctly, they set off a little firework. The beetroot salad with creamy yoghurt definitely belongs in this category for me. Beetroot and yoghurt alone go perfectly together and don't need much more than a pinch of salt. It is also wonderful to see what happens to the yoghurt when you fold in the cooked beetroot. The salad is also a little visual experience in that respect, when everything gradually turns a rich pink.
To add a little more refinement and finesse, I add a touch of garlic and the freshness of dried mint. So.... you can of course give yourself the full garlic dose instead of a hint, the decision is yours. And if you dare, add a small teaspoon of harissa. Or maybe even two? Don't worry, the yoghurt softens the spiciness well. Then all that's really missing is a little topping. I like to add some dried mint, black cumin and good olive oil to the beetroot salad. By the way, the salad goes perfectly with other mezze, such as falafel, sambousek or makali. But you're sure to love it solo, too.
---
Recipe for beetroot salad with yoghurt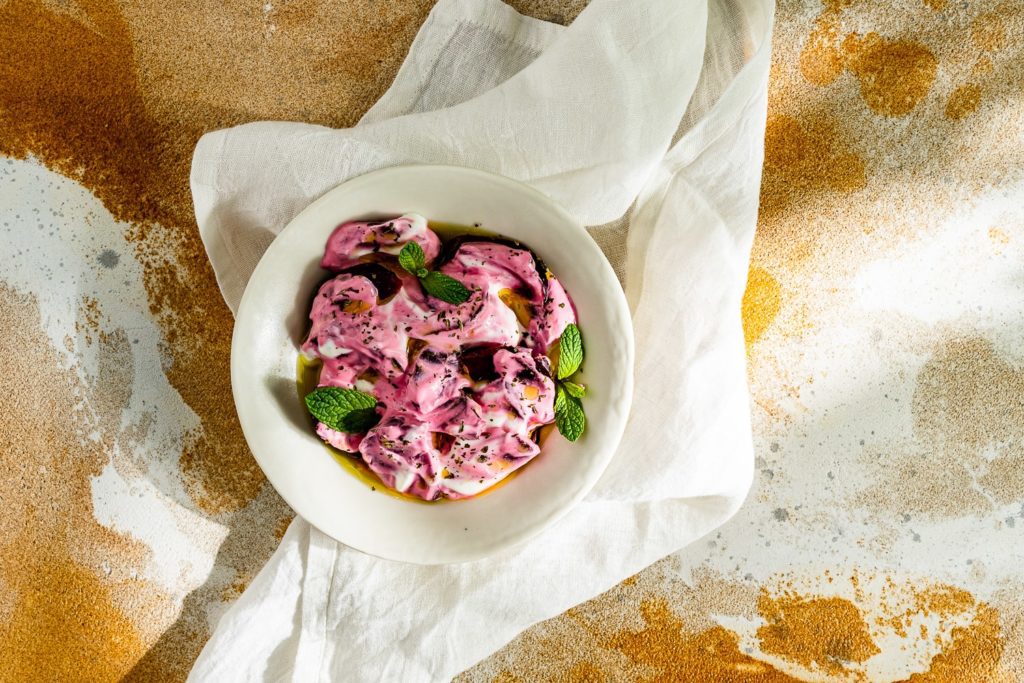 Print recipe
Ingredients
500

g

Beet

cooked

250

g

Yogurt (10%)

1,5

TSP

dried mint

1/2

Garlic clove

1/2

TL

Harissa

1/2

TSP

Black cumin

Salt
Instructions
Cut the beetroot into bite-sized pieces.

Peel the garlic and crush it with a little salt in a mortar.

Mix the garlic with the harissa, yoghurt and dried mint.

Season with salt and garnish with black cumin and olive oil. 
Notes
Recipe contains affiliate links. 
Try the beetroot salad with chickpeas, the beetroot carpaccio or the chickpea salad.