Sambousek with minced meat - Levantine dumplings
It doesn't really matter what holiday it is: there MUST be Sambousek! Birthdays, New Year's Eve, Christmas, Ramadan, Chanouka, Name Day, Earth Day... It doesn't matter! Every festive day must be used to munch on sambousek! And since these small, deliciously filled dumplings are not available in shops, you have to meticulously prepare them yourself, of course. A Sisyphean task - at least that's what I used to think.
A classic for every mezze!
It's really like that! Whenever one of my siblings or I have a birthday, my mother produces these delicious sambousek with mince filling in her closet. And whenever one of us comes into the kitchen, you are met directly by mum's pitiful look that seems to whimper "Please help me, I can't take any more...". But my siblings and I are heartless beasts. We give her a kiss on the cheek, stroke her back, steal a ready-made sambousek in the process, and run off smacking each other. Yep.....we are small, mean, greedy, ungrateful ...
Well, in any case, these Levantine empanadas are of course not the only delicacy on the mezze table. They must be accompanied by at least tabouleh, hummus, baba ghanoush, pita bread, spinach pockets and a few kafta. I wonder who prepares it...
Sambousek - the Levantine empanadas
All joking aside: Of course we also helped. But of course at least half of the sambousek was snacked away right in the kitchen, even before the actual meal. As a child, the preparation always looked hellishly difficult to me. But now I know that the filled dumplings are actually quite easy to make. It just takes a little time.
The dough does not need yeast and only needs a little rest before it is processed further. The filling of minced meat, onions, spices and pine nuts is really made in no time at all. By the way, the sambousek in the photo were made with vegan mince - and it tastes just as good as the animal ones. Sambouek is also available with feta - in case you need a little variety.
Once the dough and filling are prepared, all you have to do is roll out, cut out, fill and seal. Then place the dumplings in the hot frying oil and fry until crispy. Sealing the dumplings is an art in itself. You can either twist the edges in by hand or press them with a fork. I find both patterns pretty - and it makes absolutely no difference to the taste 😉
A packet of love
For me, sambousek are definitely little parcels full of love. I know that my mother loves to prepare them for us. And I know that each little package is made by hand and with dedication. So when I've been to visit my mother and I go back home to unpack my backpack and find a bag full of sambousek, my heart swells and I think of a very special person with every bite.
---
Recipe for Sambousek with minced meat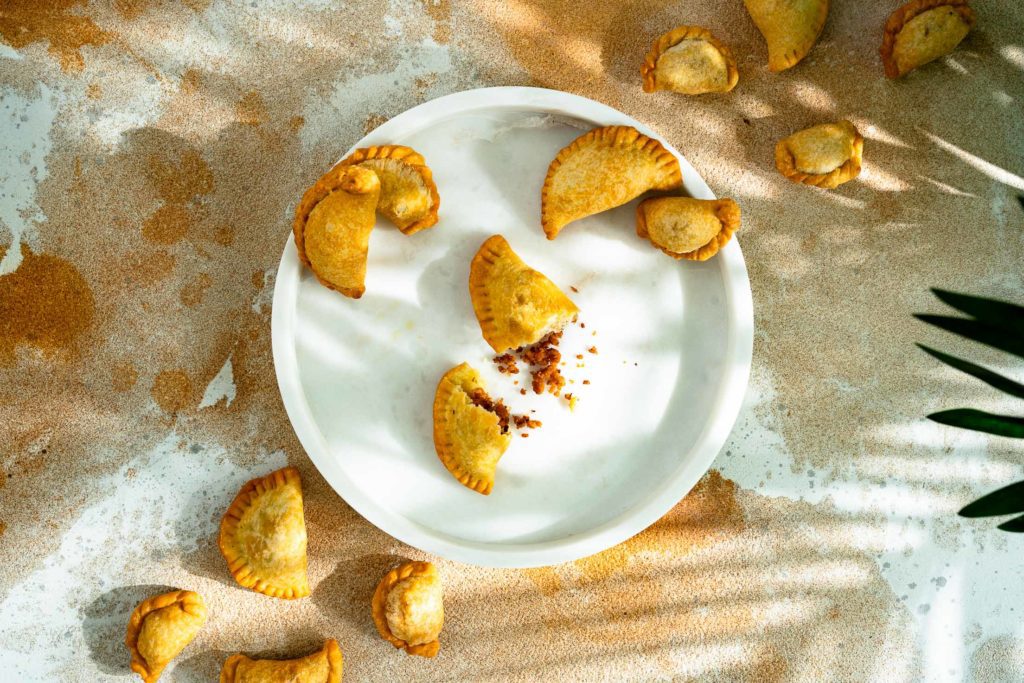 Print recipe
Save recipe
Saved!
Ingredients
Dough
250

g

Flour

1

TSP

Salt

120

ml

Water

50

ml

Olive oil
Mince filling
Preparation
Dough
Mix the flour and salt together. 

Add the water and olive oil, meanwhile knead into a dough. 

Shape the dough into a ball and leave to rest for approx. 30 minutes. 
Mince filling
Peel and finely dice the onion. 

Heat the olive oil in a pan and fry the onion until translucent. 

Add the mince and fry until crumbly.

Season with salt, pepper, cinnamon and sumac. 

Briefly toast the pine nuts in a second pan without oil and add to the mince mixture. 
Prepare Sambousek
Roll out the dough thinly on a floured work surface. 

Cut out the dough with a round mould (e.g. with a drinking glass). You can determine the diameter yourself. Sambousek can be made large or small.

Place approx. 1 - 2 tsp of filling in the centre of the circles and fold the circle together. 

Either press the edges together with a fork or mould them inwards with your fingers. 

Heat the oil in a pan to approx. 160 °C and deep-fry the sambousek in it for approx. 2 minutes until golden brown. 
Notes
Recipe contains affiliate links.
Nutritional values
Calories:
527
kcal
|
Carbohydrates:
10
g
|
Protein:
4
g
|
Fat:
53
g
|
Saturated Fat:
5
g
|
Polyunsaturated Fat:
14
g
|
Monounsaturated Fat:
33
g
|
Trans Fat:
0.3
g
|
Cholesterol:
9
mg
|
Sodium:
29
mg
|
Potassium:
61
mg
|
Fiber:
0.5
g
|
Sugar:
0.3
g
|
Vitamin A:
0.5
IU
|
Vitamin C:
0.4
mg
|
Calcium:
6
mg
|
Iron:
1
mg
Be sure to try the spinach pockets or the hummus with minced meat.