Chocolate mousse with allspice
I'm probably causing shocks and gasps now when I say that I don't necessarily need a delicious dessert after a good meal. But when I think of this incredibly creamy and fluffy chocolate mousse with allspice, I'm actually floating straight to cloud nine. What this classic becomes when you add a single spice is insane. But I don't leave it at that. To really take the flavor to a whole other level, I add a few drops of the best olive oil and a few flakes of coarse sea salt on top.
Welcome to chocolate dessert heaven
Such a chocolate mousse is not a particularly difficult matter. Fortunately, you don't need tons of ingredients either. But these few ingredients have to be especially good! Fine dark chocolate is the basis for this classic. The better the chocolate, the better your mousse afterwards! In addition, there are eggs, sugar and cream - so far the classic. My chocolate mousse gets a little Levante boost, though! Allspice is one of my favorite spices and a basic in Levantine cooking. The clove pepper, as allspice is also called, you can actually get in any well-stocked supermarket. And what the spice conjures up here in the chocolate mousse, is really terrific!
The combination of dark chocolate and allspice I have not thought up myself. Friends of mine were on the wonderful French island of Guadeloupe and brought me a little souvenir from there: A bar of the finest dark chocolate with allspice. This mixture I found so incredibly delicious that I wanted to experiment with it. The result is this delicious chocolate mousse with allspice.
A chocolate mousse inspired by the world
So the recipe for the delicately spicy chocolate mousse was ready, but my mind kept wandering. I remembered my last vacation in Barcelona. There we were lucky enough to enjoy a really quite fantastic lunch. For dessert, we had a classic chocolate mousse with an incredible twist: it was topped with olive oil and fine flakes of sea salt. No kidding, I thought it was so good it almost brought tears to my eyes. And so I then combined the idea of chocolate with allspice and a topping of olive oil and sea salt.
The chocolate mousse is an incredibly fluffy and creamy dream: bittersweet with a subtle hint of spice, plus the freshness of the best olive oil and a pinch of sea salt that elevates the taste of the entire dessert to new levels. Bon appetit!
---
Recipe for chocolate mousse with allspice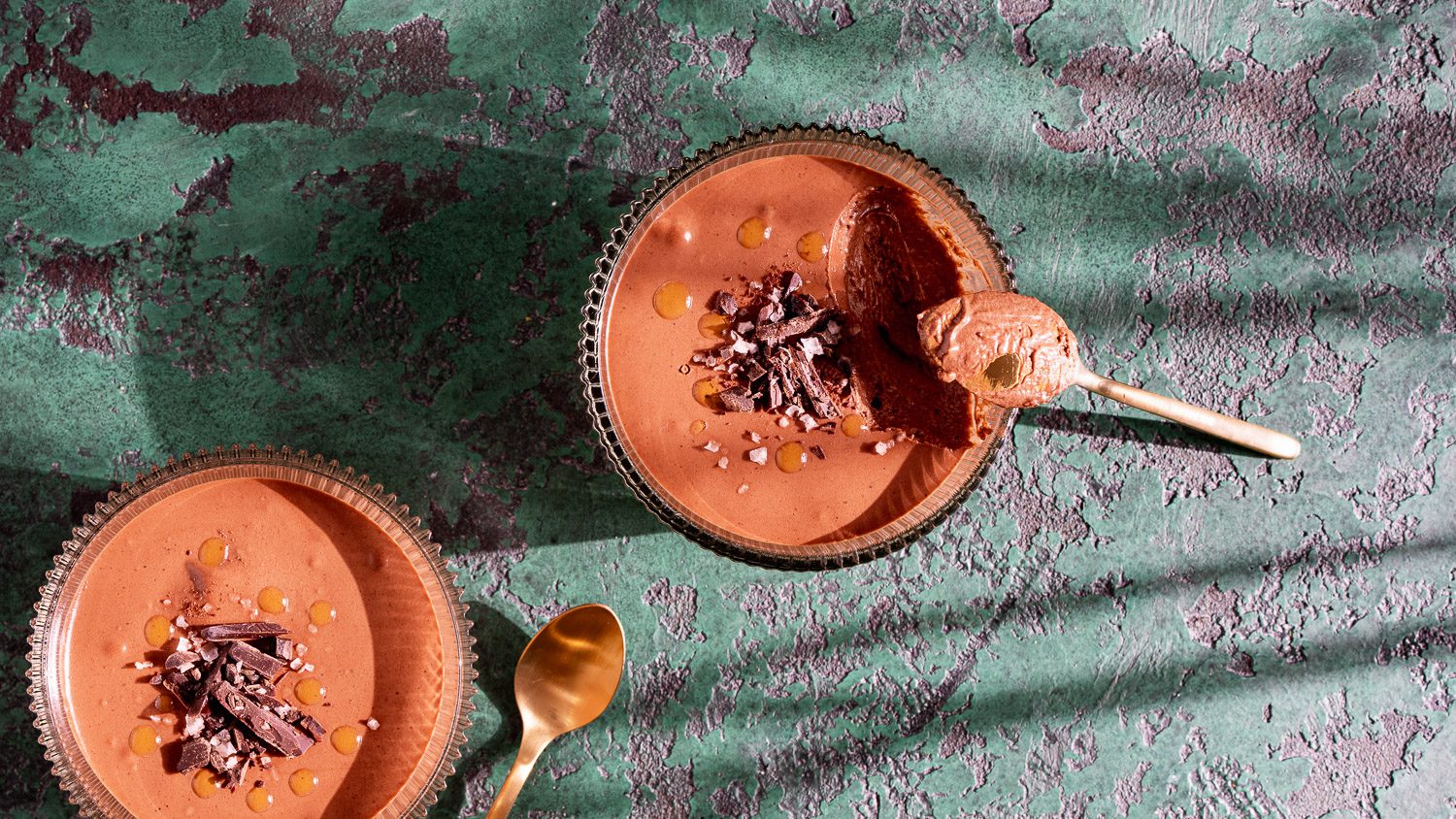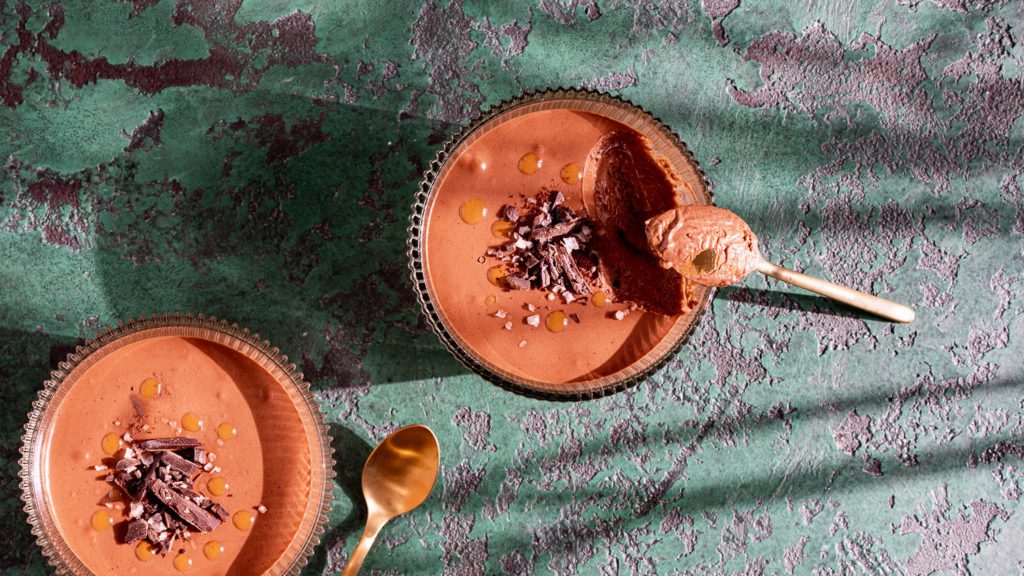 Print recipe
Save recipe
Saved!
Ingredients
For the mousse
150

g

Dark chocolate

1,5

TSP

Allspice

3

Eggs

1

TBSP

Sugar

100

ml

Whipped cream
For garnishing
2

TSP

grated chocolate

1

TSP

Olive oil

1

TSP

coarse sea salt
Preparation
Chop chocolate, melt over a water bath, stir in allspice and set aside.

Separate the eggs and beat the whites with 1 pinch of salt until stiff. 

Also whip the cream until stiff.

Beat the egg yolks with the sugar over a bain-marie until foamy. Remove from heat and stir in chocolate.

Carefully fold the cream into the chocolate mixture, then the beaten egg whites. Do not stir more than necessary so that the mass does not become too liquid.

Chill chocolate mousse in the refrigerator for at least 4 hours, preferably overnight.

To serve, garnish the mousse with grated chocolate, coarse sea salt and olive oil.
Notes
Recipe contains affiliate links.
Nutritional values
Serving:
105
g
|
Calories:
379.8
kcal
|
Carbohydrates:
27
g
|
Protein:
6.9
g
|
Fat:
26.5
g
If you're in the mood for more desserts, I recommend the milk pudding with passion fruit or the sweet Knefeh Minis.