White beans cream soup with roasted chickpeas
That a wonderfully creamy and aromatic soup does not necessarily need cream, I have already proven with the fruity tomato soup with white beans. This vegan bean soup is by itself by the tender white beans from house super creamy and in addition still full of good proteins.
The power of white beans
I love white beans not only because they taste really incredibly good to me and I like this natural butteriness in the consistency so. I am sometimes actually just super lazy and then have no desire to cook elaborately. But then I don't want dry bread either - especially not if I also want to pay attention to the nutritional values and I'm going all "protein hulk" anyway. And proteins are not only super healthy, they also make long full! White beans always come in handy, because I can also process them directly from the can, pre-cooked. Either there is then a delicious bean salad or I make myself directly in no time a delicious bean puree from it - or just this delicious creamy bean soup.
I'm sure you can see where I'm going with this: White beans are healthy little protein drops that are also pretty darn tasty and quick and easy to make. You don't need a lot of ingredients for this cream of bean soup. Onion, garlic, vegetable broth, and a good dab of tahini to give it a slightly nutty flavor as well. Like chickpeas, I like to season beans with cumin. Somehow the mix always goes together pretty darn well, and the spice is also supposed to help with digestion. Win-win. First you sauté the veggies a bit in olive oil and then add the beans. Then deglaze everything with vegetable broth, let it simmer a bit, and puree it until creamy. That's it - super easy, right?
As a topping, I recommend crispy roasted chickpeas, which you can then season with a little za'atar and sea salt. And if you like, sprinkle a few chili flakes on top - that not only looks great, but also gives the cream of bean soup some pizzazz. Enjoy your meal!
---
Recipe for white bean cream soup with roasted chickpeas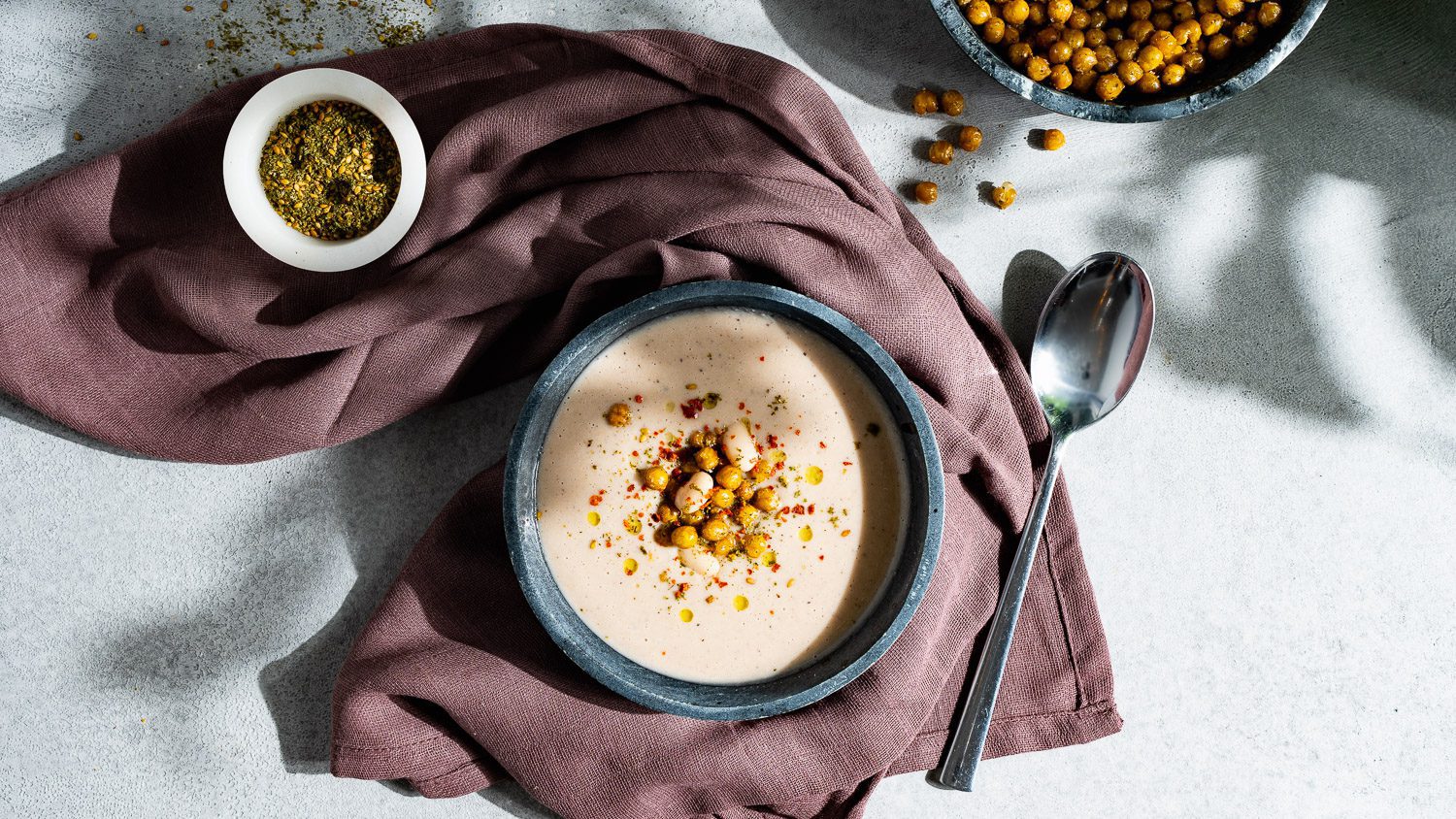 Print recipe
Save recipe
Saved!
Ingredients
For the bean soup
Preparation
Drain white beans through a sieve and rinse with cold water.

Peel and coarsely chop the onion and garlic.

Heat oil in a large pot and sauté onion and garlic. 

Add spices and beans and fry briefly. Pour in vegetable broth and simmer for about 5 minutes.

Remove pot from heat and finely puree beans with a hand blender.

Stir in tahini and season with salt and pepper.

Garnish white bean soup with roasted chickpeas and chili flakes and serve.
Notes
Recipe contains affiliate links.
Nutritional values
Serving:
385
g
|
Calories:
315
kcal
|
Carbohydrates:
37.1
g
|
Protein:
14.2
g
|
Fat:
9.5
g
If you love soups, then you should definitely try the chicken soup with pearl couscous.