Shikaf: Lebanese fruit cocktail
When you order a cocktail in Lebanon, you usually get a shikaf in your hand. If you're new to the fruit cocktail, you'll ask yourself, "Spoon or slurp?" Rest assured, you don't have to choose! Start with the spooning and then slurp the rest. Shikaf is both cocktail and dessert.
Shikaf is like a holiday
This fruit cocktail not only looks deliciously like a holiday, it tastes like one too! The base is a variation of freshly pureed smoothies, delicious fruits, a few ice cubes and a great topping of a rosewater cream, crunchy nuts and sweet honey. How does that sound to you?
Shikaf is like a sugary summer song that you can remix to your heart's content. This version is my favourite: mango-pineapple and strawberry-banana smoothie as a base. Add fresh strawberries, mango, pineapple, kiwi and blueberries. The recipe should inspire you to make your own mix in the future. You can also spice up shikaf with fresh mint or thyme, for example, and use other fruits according to your mood.
Do not forget the topping
But there is one constant in every Shikaf fruit cocktail: the cream! In the original, the Lebanese pudding "Ashta" is used for this. Ashta is very similar to mascarpone, but not quite as creamy. Mascarpone is also higher in fat and therefore the perfect flavour carrier for me. The cream is super quick to mix and gives the whole thing a really quite unusual touch. Then there are the crunchy nuts, which give the cocktail a different texture.
With or without alcohol?
Even though the original Shikaf comes without alcohol, you can of course let your imagination run wild here as well. If you like, add a shot of gin, vodka or arak to the fruit cocktail. Just don't overdo it 😀
I hope you have fun experimenting and, above all, enjoying it. Feel free to give me your feedback in the comments on how you liked Shikaf, what your favourite mix is or whether you slurp or spoon it first. I'm really looking forward to it 🙂
---
Recipe for shikaf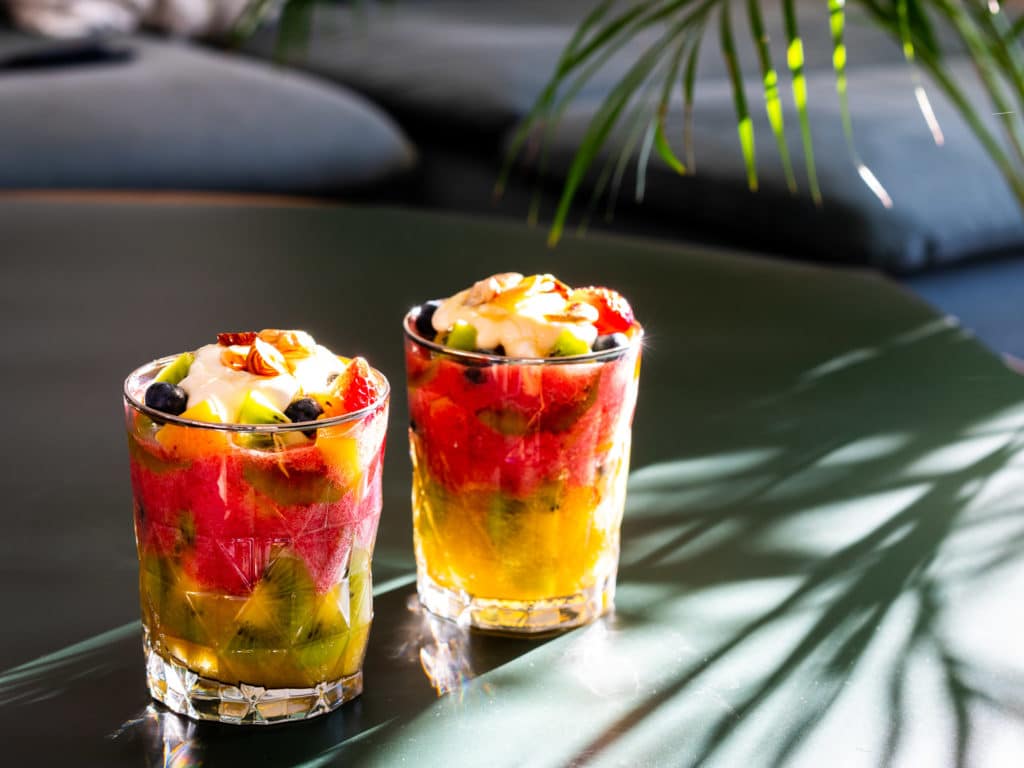 Print recipe
Ingredients
Strawberry smoothie
200

g

Strawberries

1

Banana
Mango-pineapple smoothie
150

g

Mango

150

g

Pineapple

1

Orange
Fruits (proposal)
150

g

Strawberries

150

g

Mango

150

g

Pineapple

2

Kiwis

1

Handful

Blueberries
Topping
1

Handful

Nuts

To taste

Honey

At will
Preparation
Prepare smoothies
For the two types of smoothie, peel the fruit, cut into small pieces and, using a blender or hand blender, puree both types individually one after the other and set aside - do not mix 😉
Fruits
Peel, core and chop the fruit.
Cream
Whip the mascarpone with the milk and rose water to a cream.
Serve
Divide the ice into glasses and pour the mango smoothie first. Then add most of the sliced fruit and top up with the strawberry smoothie. Please leave some space for the cream and the nuts.

Top the cocktail with the cream, the remaining fruit, nuts and some honey.
Notes
*Recipe contains affiliate links. 
If you liked the recipe, I am very happy about a small tip. You are helping me to bring more great recipes to the blog. Thank you so much 🙂
Donate here: continue to Paypal